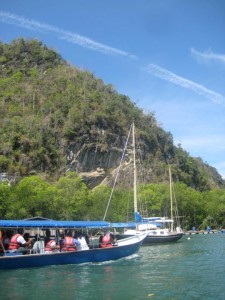 Instead of just the sand, sea and sun in the beaches of Langkawi, tourists could decide on something more than just that, and the alternative would be the unique Kilim River Cruise trip. Basically, this trip carries tourists through the Kilim River and allows them to experience nature in various forms which would have the tourists left in awe, as these sights are rarely seen in the big city or in fact, anywhere else!
Once in Langkawi, tourists need not worry about how they would be able to get hold of this 'cruise trip', as there are numerous tour operators that offer 'Kilim River Cruise' packages, which includes a tour guide to explain the surroundings in detail, and of course, a hired boat to get around with.
The cruise trip may take between one to four hours, depending on the packages of the cruise that are chosen. The simple-looking boat would bring the tourists through Kilim River and as they sail along this long river, tourists would be able to feel the breeze through their hair and digest the scenic views of Langkawi.
One of the stops that these 'cruises' would make would be at the Bat Cave. With the guidance of their tour guide, tourists may explore the cave and witness hundreds of bats hanging off from the ceiling of the caves. Kudos to the photography fans, as they are allowed to take pictures of this rare sight.
Once being back on the boat, the boatman would steer it towards a middle area of the river, and tourists that have eyes as sharp as eagles, would spot their 'kind' up in the air! That is right, as the boatman has reached the White Bellied Sea Eagles' territory for 'eagle feeding' time. To attract more eagles to that vicinity, the boatman would demonstrate a 'show' by throwing some chicken skin into the river. Within minutes, tourists would be astonished as the eagles swoop down to the river and grab the chicken skin as swift as lightning!
This trip would bring a peace of mind to visitors, as the boat slowly cruises down towards the end of the river. Along the way, the tour guide would also explain the ecosystem of the mangrove forest as they pass by. This would be an eye-opener to tourists as they may not come across such spectacular sight of nature. As you can see, not only is the cruise relaxing and insightful, but also educational!
As they continue touring, visitors may also come across fishes in the sea and a floating fish farm cum restaurant (or more commonly known as the Hole In The Wall), whereby they may stop to feed the stingrays there, and have a meal to end the trip on a sweet note.