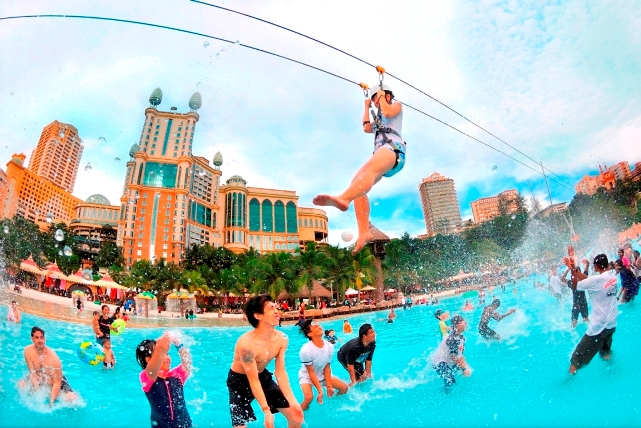 Selangor is an exciting state that offers so many exciting and unique destinations that ranges from shopping paradises, exciting theme parks, nature walks and exciting adventures. There is hardly a dull moment in Selangor as you traverse the many interesting sights, cultures and heritage that make this state a unique and charming one.
Sunway Lagoon is a great destination to visit in Selangor. A theme park in the middle of the bustling city, this is definitely a great destination to get away from the bustling city and just enjoy yourself, indulging in interesting sites, cooling off in the pool and petting some of the most lovable creatures available here. Sunway Lagoon is the place to be to spend an amazing weekend with the family or a loved one.
The surf pool is a must-try. There is nothing better than being pushed around by the waves in the wave pool. Slither through the pools, float lazily through the channels designed here for your pleasure. The pools are designed to illustrate the waters of Africa and you will definitely love the amazing features that have been incorporated into the design of the pools.
Take a walk through the Wild Wild West where you will encounter some of the best this world has to offer you. The native Indians here await you and do not miss the gun slinging cowboys. Get on all the rides and let your hair down for a day or two as you traverse the world of the west. Get your fill of adventure at the World of Adventure; where everything is fast, furious and fun. Take the rides that will sometimes spin you a complete rotation over and scream your lungs out as you traverse the high seas on the first ever 360-degree Rotating Pirate Ship in Malaysia. Brace yourself for the walk off the plank on the pirate ship as you take in the spectacular view from the longest pedestrian suspension bridge in the world that hangs over the many pools.
If you are almost done for the day with all the excitement and thrills, head over to the wildlife park where you will see some of the most loveable creatures. With over 150 species of animals spanning from across the globe, enjoy yourself as you learn more about these unique creatures. The animal kingdom is in Sunway Lagoon and you can walk through the pathway and check out the animals that call the park their home.
There are so many things to do and see in Sunway Lagoon and one day will definitely never be enough for you to enjoy thoroughly here in this amazing theme park. Sunway Pyramid Shopping Mall is just next to the park where you can shop, eat and relax after the tiring water activities in Sunway Lagoon. Sunway Resort & Spa and Pyramid Tower Hotel are both within walking distance to this tourist hotspots.