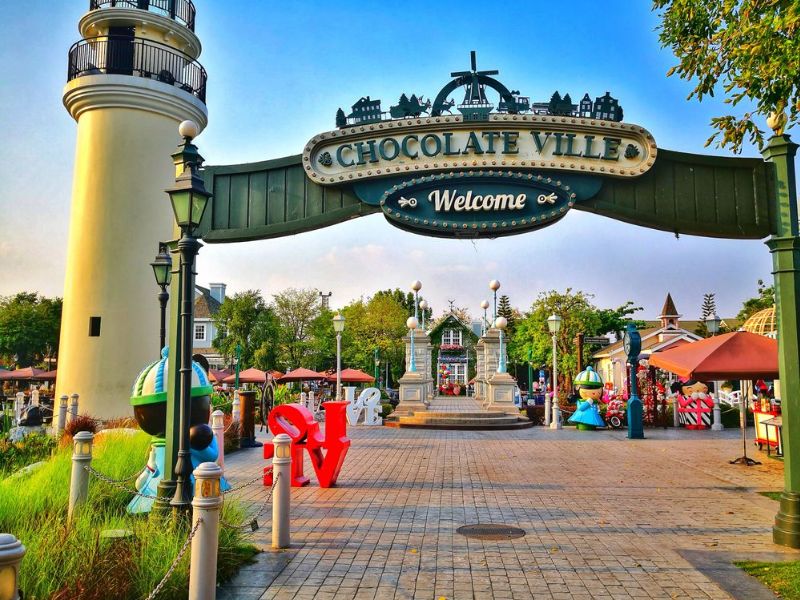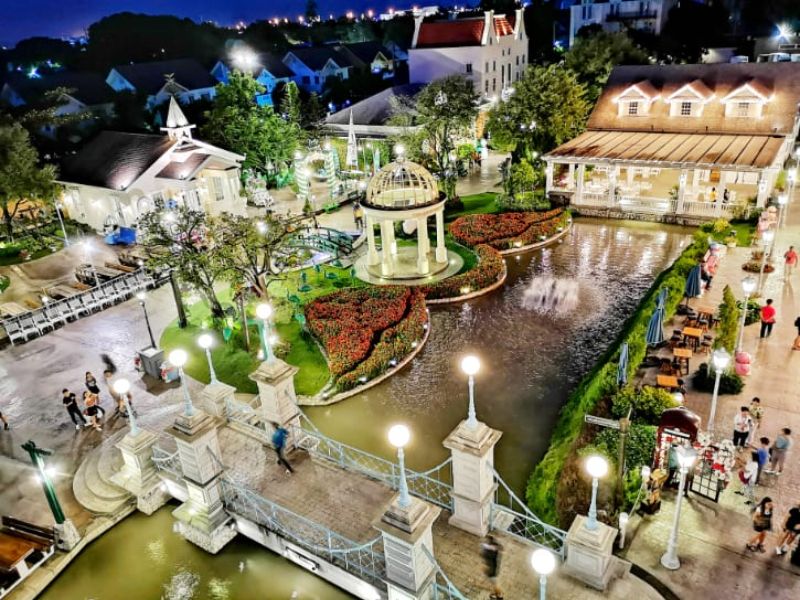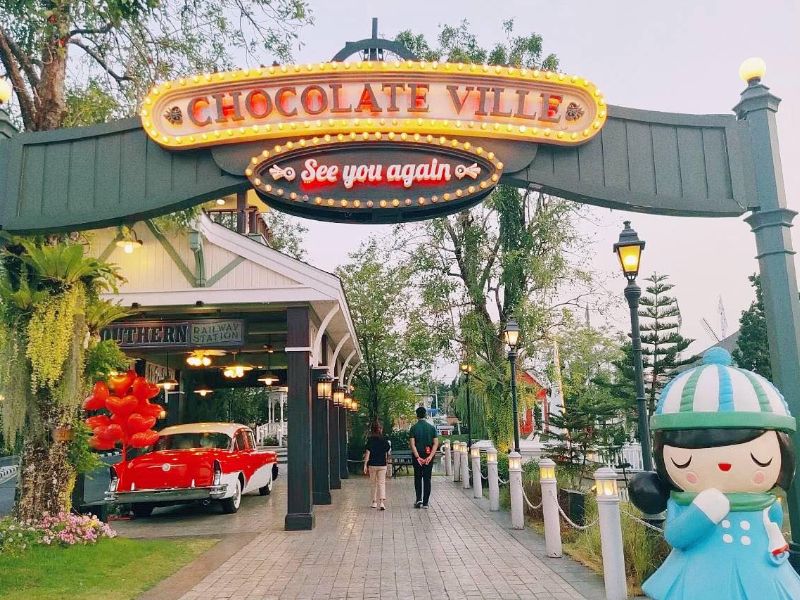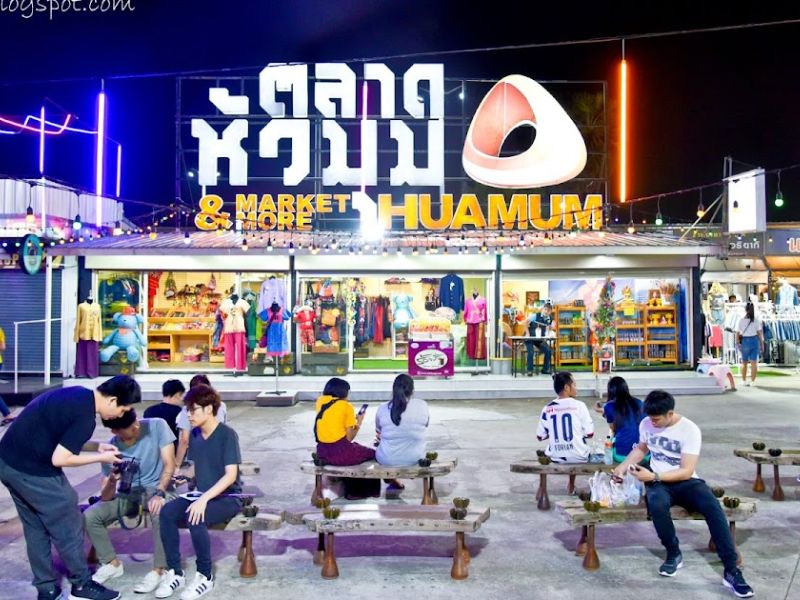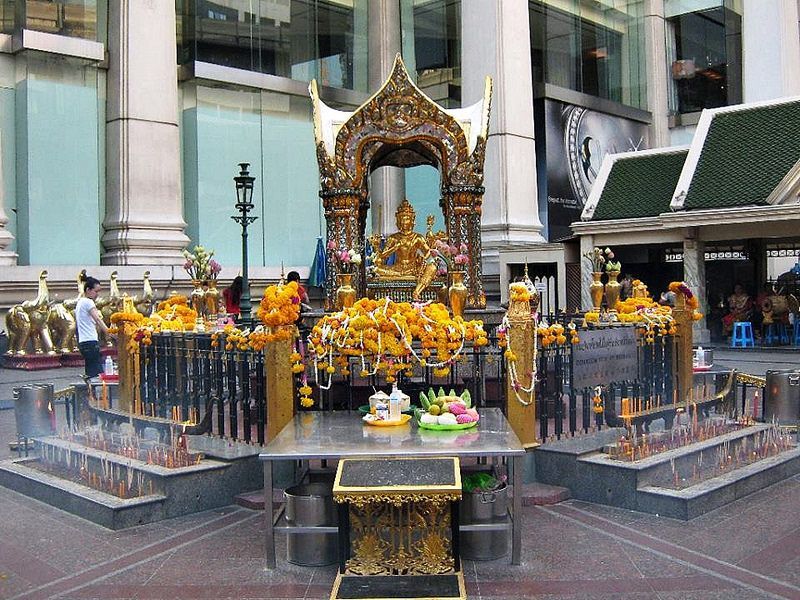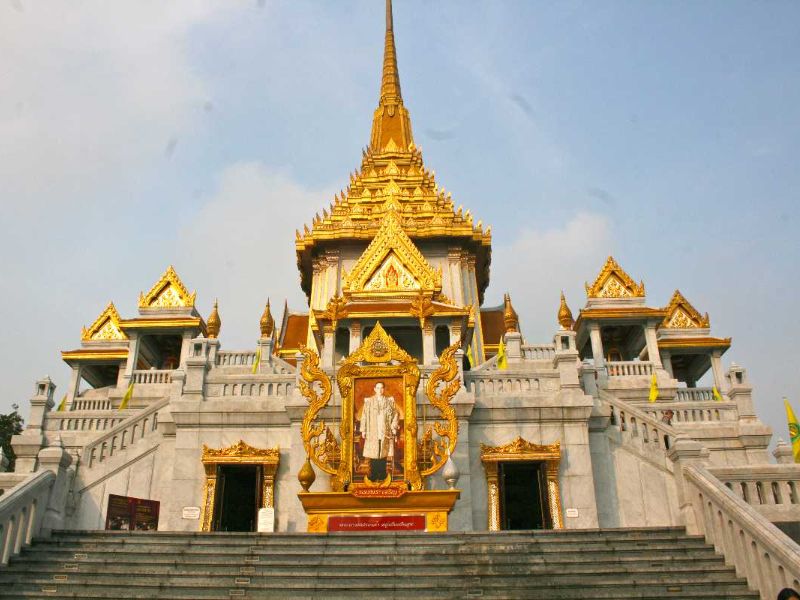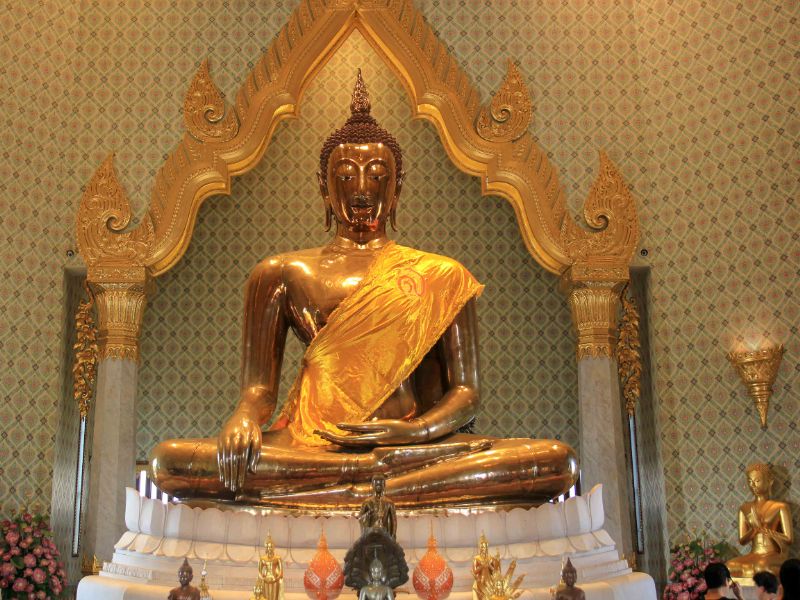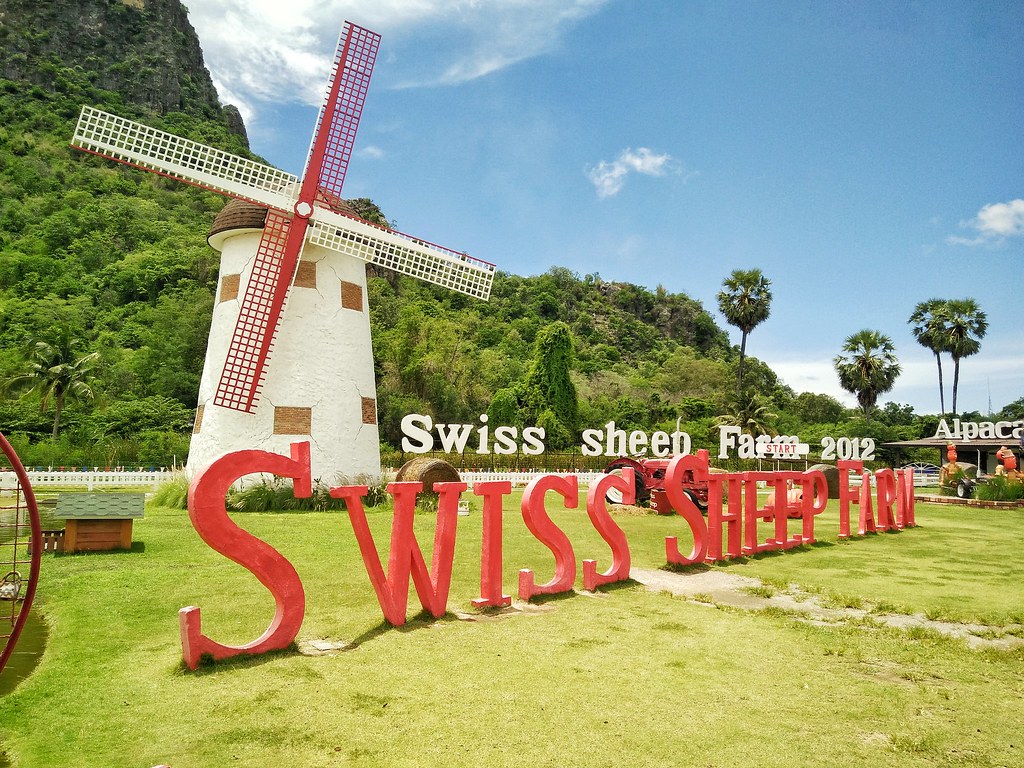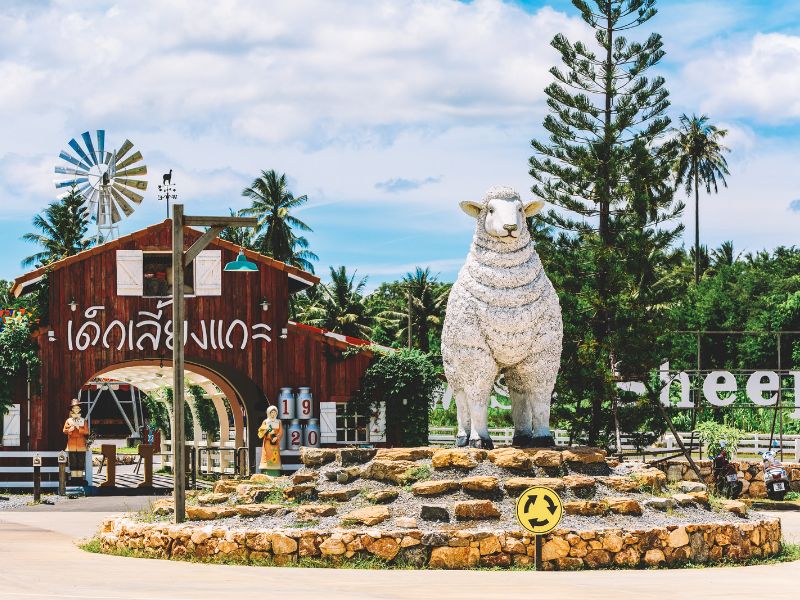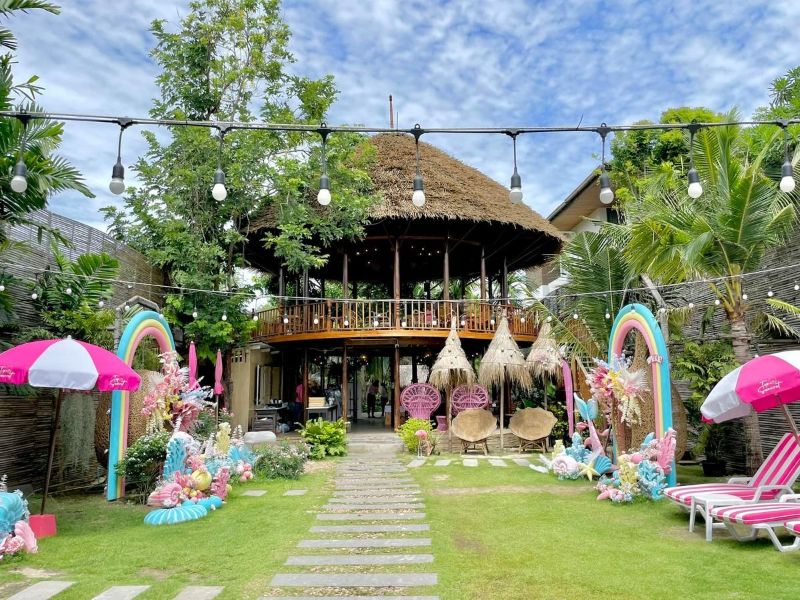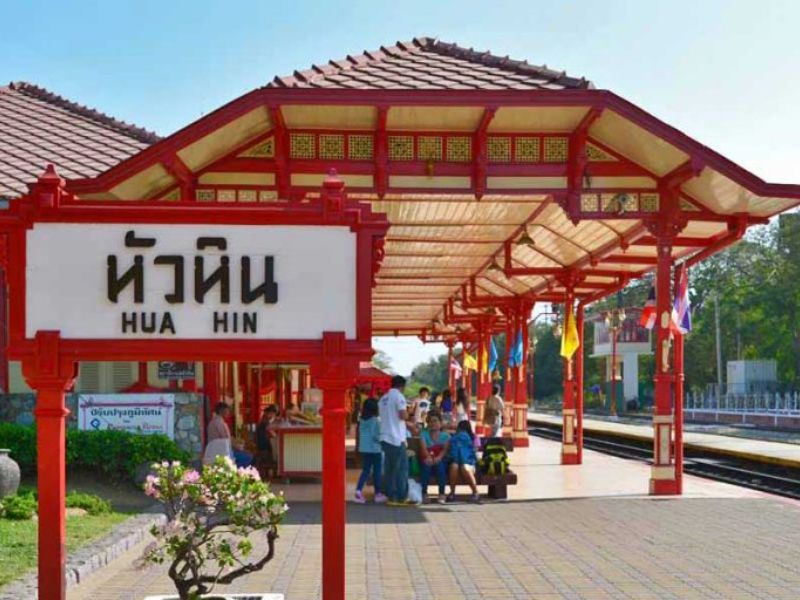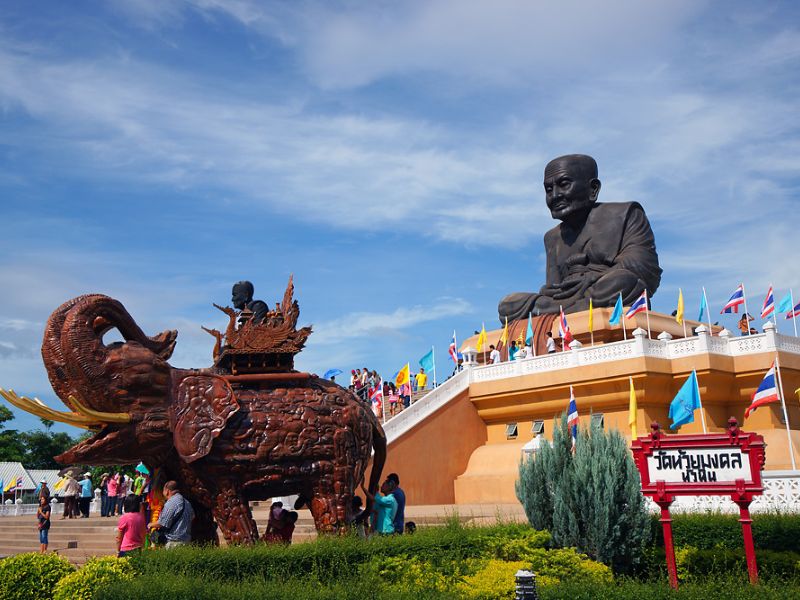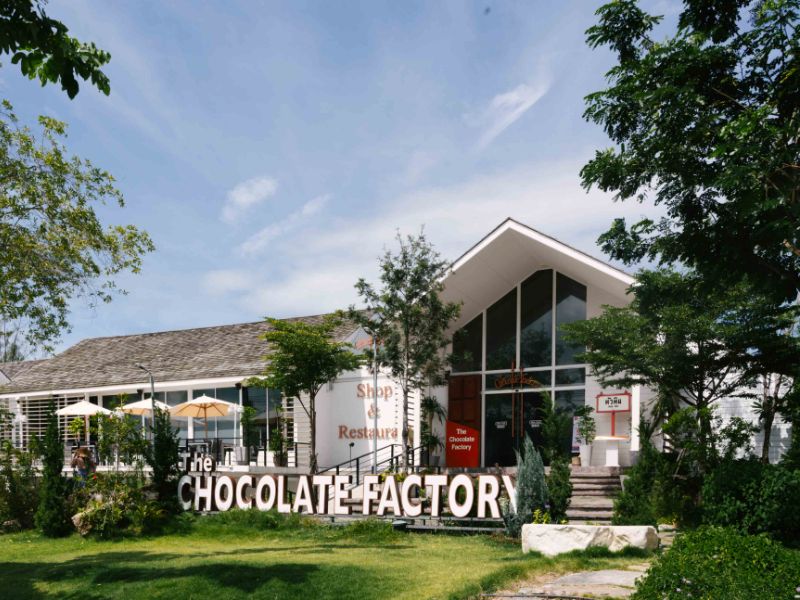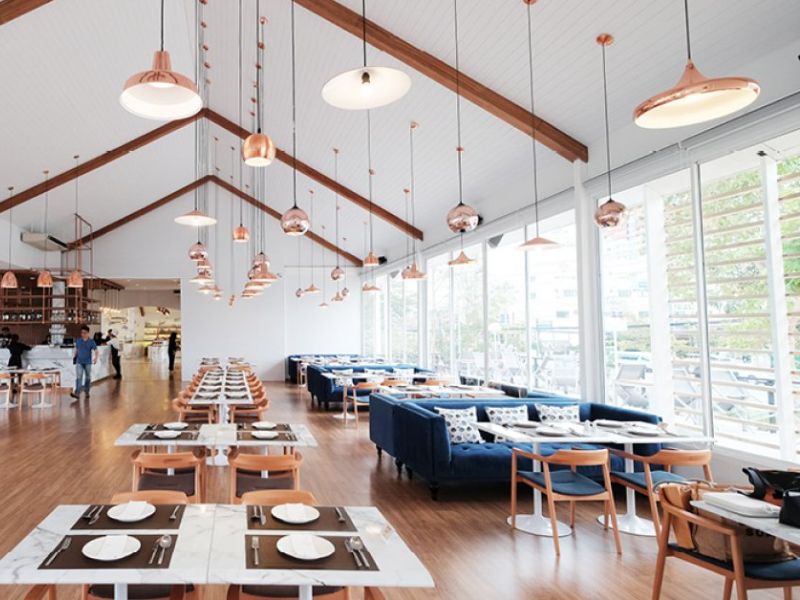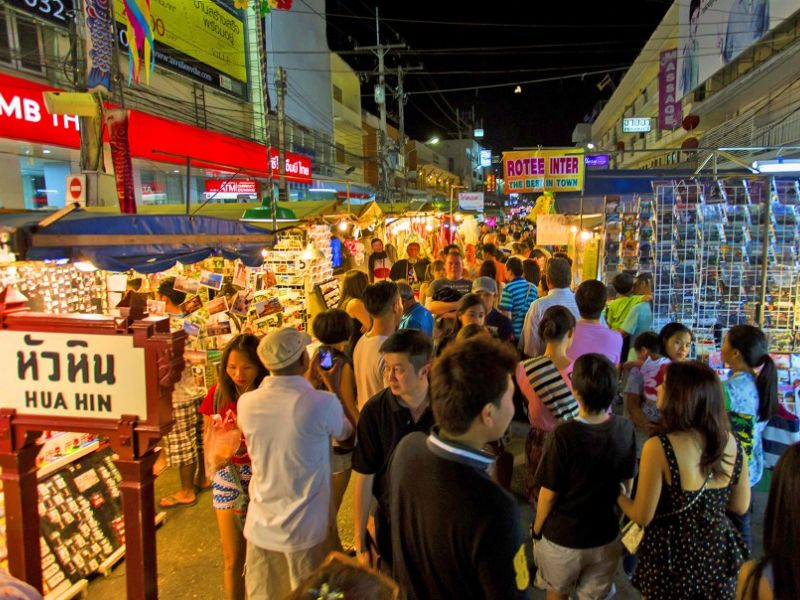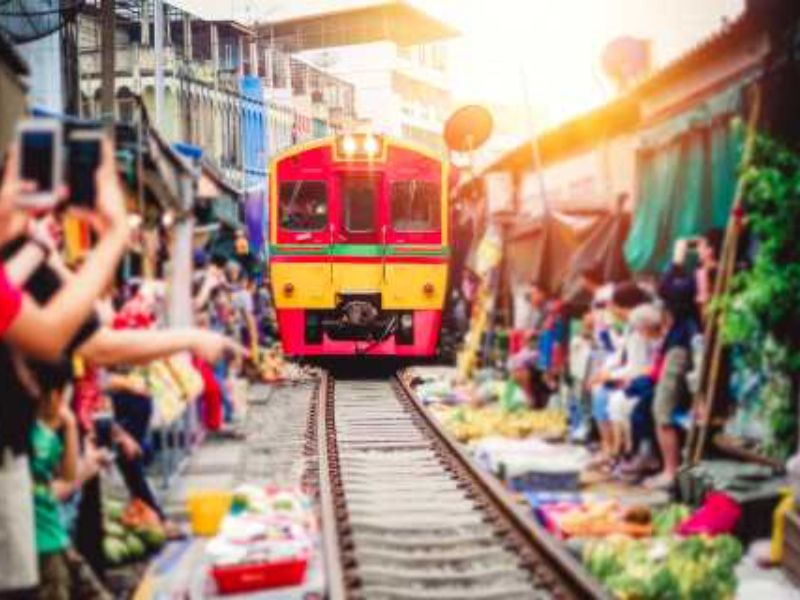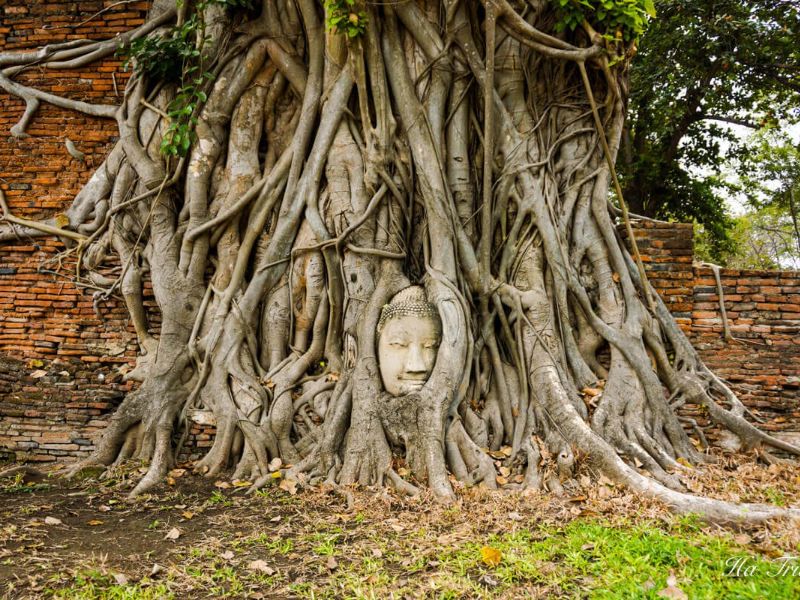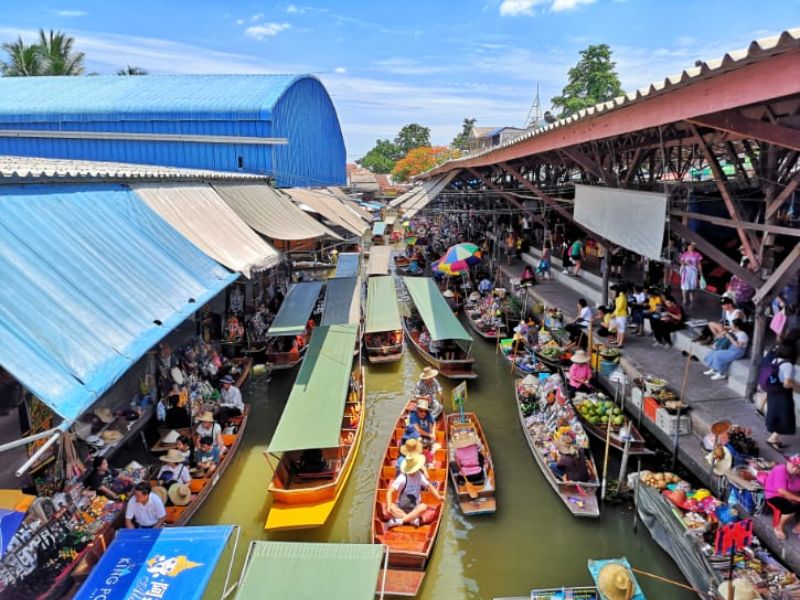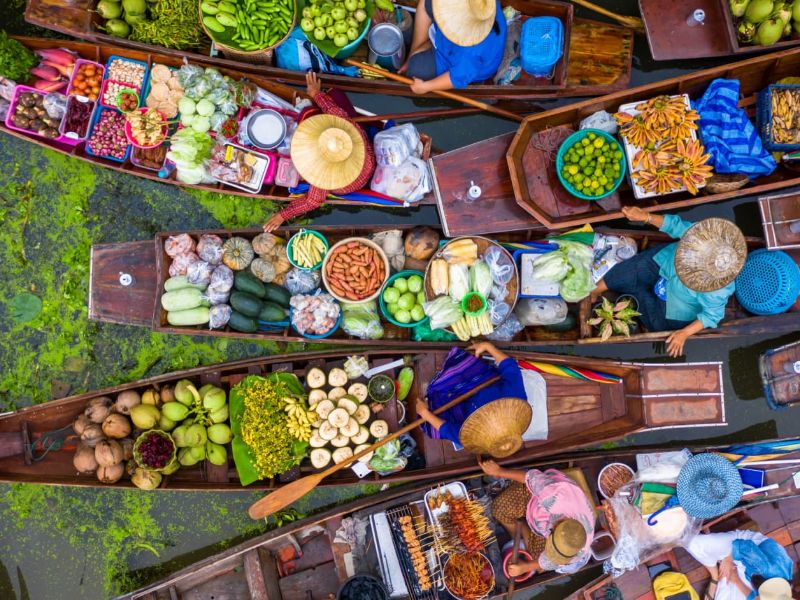 Chocolate Ville Park Entrance
Wat Traimit-Golden Buddha
Swiss Sheep Farm Entrance
Hua Hin Vintage Train Station
Restaurant in the Chocolate Factory
Damnoen Saduak Floating Market
Bangkok Damnoen Saduak Floating Market

329 reviews
From
RM
1,280
- RM
1,775
---
Latest online promotion for 5D4N Bangkok + Hua Hin Family Getaway Package, book with Holidaygogogo to save more! Chat with us today to find out more!
Tour Highlights
Embark on an unforgettable family odyssey to the revered Four Face Buddha, a sacred pilgrimage for blessings and good fortune. 

Explore the majestic Wat Traimit Withayaram, home to a mesmerizing Buddha statue crafted from pure gold. 

Delve into the rich history of the enchanting Hua Hin Railway Station, one of Thailand's oldest and most splendid train stations. 

Uncover the wonders of MaeKlong Railway Market, known as Hoop Rom Market, where daring stalls intertwine with the railway. 

Experience the magic of the Temple within a Tree, a hidden gem brimming with enchantment, offering a glimpse into Thailand's mystical heritage.
---
Itinerary:
---
Day 1
Welcome to Bangkok, a vibrant and thrilling city that promises an unforgettable adventure for your family! As you step off the plane, get ready to be greeted with warm smiles and open arms by our friendly staff at the airport. Welcome to Bangkok, where unforgettable family moments await!
Key attractions highlight: Chocolate Ville
Chocolate Ville
Chocolate Ville is an enchanting destination in Bangkok that families will adore. It's a special open-air restaurant that offers a one-of-a-kind experience for visitors. This delightful spot is famous for its European village ambiance and captivating views. 
Hua Mum Market
Step into the captivating world of Hua Mum Market, an extraordinary night market adventure that will delight the whole family. Prepare to be enchanted by a kaleidoscope of colors, sounds, and flavors as you wander through this bustling marketplace. Discover an array of affordable fashion, charming crafts, and mouthwatering street food that will surely tickle your taste buds. 
Indulge in relaxation and find solace in your cozy haven, where serenity and coziness eagerly await. Let the peaceful ambiance embrace your family, allowing you to recharge and prepare for the wonders of tomorrow.
Tour Summary:
Meet & greet from Bangkok Intl airport
Visit Chocolate ville
Dinner
Hua Mum local night market
Check in hotel
Meal Plan: Dinner
---
Day 2
Key attractions highlight: Wat Traimit
Four Face Buddha
Embark on an exciting family adventure to the esteemed Four Face Buddha in Bangkok. Join locals and tourists on a journey to seek good fortune and blessings, as this sacred shrine is believed to fulfill wishes. Observe the continuous stream of offerings as dedicated workers regularly clear them away. Approach the Buddha with respect, perform three gentle bows, and carefully arrange incense, candles, and garlands in their designated spots. Don't forget to walk in a clockwise direction around all four faces, embracing the spiritual atmosphere and togetherness of this cherished outing.
Wat Traimit
Embark on a marvelous journey to Wat Traimit Withayaram and uncover its captivating history. This extraordinary temple, crafted through the collaboration of three talented Chinese artisans, holds a truly precious treasure—a magnificent Buddha statue cast entirely in pure gold. Prepare to be amazed as you delve into the fascinating story behind this remarkable masterpiece alongside your family. 
Swiss Sheep Farm
Discover the delightful Swiss Sheep Farm, a charming Swiss-themed sanctuary located across from Santorini Park. This enchanting farm welcomes families with its picturesque grasslands and offers an array of shooting corners to capture beautiful scenery. At the Swiss Sheep Farm, both adults and children can experience the joy of getting up close and personal with a variety of friendly animals, including sheep, goats. 
Top Seacret Beach Cafe
Welcome to Top Seacret Beach Café! Step into a beautifully decorated Balinese-style café that spans two floors and introduces a brand new seaside seating area. Take a seat by the sea and marvel at the breathtaking view while being serenaded by live music every night. 
Embark on a fun-filled family escapade, savoring the joy of a delightful dinner with your loved ones. Afterward, settle into a cozy hotel room where the whole family can rest and recharge for the amazing adventures that await you.
Tour Summary:
Breakfast at hotel, check out
Visit to Four Face Buddha
Visit to Wat Traimit (Golden Buddha)
Visit to Gem Gallery & Leather Shop
Lunch
Depart to Chaam & Hua Hin
Visit Swiss Sheep Farm
Stop at Top Seacret Beach Café (Incl 1 drink per pax)
Dinner
Check in hotel
Meal Plan: Breakfast, Lunch & Dinner
---
Day 3
Start your exhilarating day with a delicious breakfast, fueling up for a day packed with adventure and joy. Prepare to immerse yourselves in captivating sights and thrilling experiences that will create lifelong memories for the whole family.
Key attractions highlight: Wat Huay Mongkol
Hua Hin Railway Station
Visit the enchanting Hua Hin Railway Station, a historic gem that will captivate the entire family. Immerse yourselves in the rich heritage of Thailand as you explore one of the country's oldest and most magnificent train stations, boasting extraordinary architecture and timeless beauty.
Wat Huay Mongkol
Experience the awe-inspiring Wat Huay Mongkol, a must-visit for families seeking spiritual blessings and vibrant culture. Marvel at the colossal 12-meter-tall and 10-meter-wide statue, majestically perched on a grand mound, visible from afar amidst the towering trees. Discover why this cherished destination attracts Thai visitors nationwide, as they pay homage to Luang Phor Thuad, seeking favors, good fortune, health, and eternal happiness.
Bluport Hua Hin Resort Mall
Discover the extraordinary BLUPORT HUA HIN RESORT MALL, a shopping paradise infused with the essence of the world's beloved resort towns. Unleash your inner fashionista as you explore over 1,000 renowned brands in fashion, beauty, lifestyle, and technology. With entertainment complexes designed to delight both families and friends, this mall offers endless fun and excitement. 
Hua Hin Beach
Experience the allure of Hua Hin's picturesque and family-friendly beaches. With its prime location on the Gulf of Thailand, the warm and inviting seas offer year-round swimming and beach activities. While weekends and holidays may bring a bustling atmosphere, it remains a beloved beach destination, attracting visitors from near and far. 
Return to your cozy hotel, where comfort and tranquility await. Unwind, recharge, and reflect on the amazing adventures of the day, cherishing the special moments created with your family.
Tour Summary:
Breakfast at Hotel
Hua Hin Vintage Train Station
Huay Mongkol Temple
Lunch
Hua Hin Bluport Mall
Hua Him Beach
The Chocolate Factory
Dinner on own cost at Hua Hin night market
Back to hotel
Meal Plan: Breakfast, Lunch & Dinner
---
Day 4
Start your day with a delightful breakfast, energizing your family for an unforgettable day filled with joy, laughter, and endless fun together.
Key attractions highlight: Maeklong Railway Market
MaeKlong Railway Market
Discover the incredible MaeKlong Railway Market, also known as Hoop Rom Market, a must-visit destination in Samut Songkhram Province. Explore a wide variety of fresh seafood, vibrant fruits, aromatic vegetables, and an assortment of both fresh and dried foods, meats, and other delightful goods. Uncover the charm behind its "life-risking" nickname and witness the remarkable sight of the railway in action.
Temple within a Tree
Experience the enchantment of the Temple within a Tree, a captivating hidden gem in Thailand. Discover the first Buddhist temple nestled beneath the majestic roots of a magnificent Banyan Tree. 
Damnoen Saduak Floating Market
Step into the enchanting world of Damnoen Saduak Floating Market, hailed as the "Venice of the East" by European explorers of old. Immerse your family in the vibrant atmosphere of one of Thailand's most beloved floating markets. Join the bustling scene as locals and visitors alike gather to shop, indulge in delectable treats, and soak up the rich heritage of these timeless water markets. 
Relish a delightful lunch together, savoring flavors that tantalize the taste buds. Then, enjoy a comfortable transfer back to Bangkok, cherishing the cherished moments created on this family journey.
Tour Summary:
Breakfast at hotel, check out
Depart to Maekhlong Railway Train Market
Temple in a Tree
Damneong Saduak Floating market with boat ride
Lunch
Back to Bangkok
Free honey drink
Dinner on own cost at Jodd Fair night market
Check in hotel
Meal Plan: Breakfast, Lunch & Dinner
---
Day 5
Greet the morning with a delectable breakfast, bidding farewell to your snug hotel. Treasure cherished moments as you embark on a family exploration, savoring the remaining time together before the homeward journey. Reflect on extraordinary experiences, forging everlasting memories as your family adventure nears its end.
Tour Summary:
Breakfast at hotel
Check out
Transfer to airport
Meal Plan: Breakfast
---
Includes:
4 nights accommodation
Meals as stated in itinerary meal plan
2 ways airport transfer
All the way with 1 tour guide (mandarin or English) & 1 driver.
5 days transportation, accommodation (as per selected) & tour entrance fee as per stated.
---
Excludes:
Return air ticket to and from Bangkok
Tour guide tipping 400thb/per person (est. RM50-55)
Tours & entrance fee that not stated in program
Meals that not stated in program.
Travel insurance

(strongly recommended to purchase)
Other expenses not stated in the "Includes" section
---
Important notes:
Itinerary and package content is subject to last minute changes due to weather or operational issue.
Activity stated (if included) is provided on complimentary basis, no refund will be made for cancellation of activities due to weather or operational issue.
Other terms and conditions for booking.
All the photos shown are for reference purpose only, there may be different design/decoration/setup on actual unit.
Hotel room type subject to availability and the rate are subjected to change without prior notice.
All package requires a minimum of 4 pax and above
Package are valid for arrival & departure at Don Mueang airport & Suvarnabhumi airport.
Pick up transfer from hotel will arrange 4 hours before passenger departure flight time.
Infant 24 months below – FOC , passport copy is required when sending booking for verification
Van will be using for the number of pax below 9 pax and tour bus will be using for the pax above 10
---
Price:
Pricing is based on per person basis
Traveling Period: 01 June 2023 – 31 October 2023
4-5 pax
6-7 pax
8-9 pax
10-12 pax
13-14 pax
3 Stars
Adult
RM 1700
RM 1395
RM 1255
RM 1440
RM 1280
Child with bed
RM 1615
RM 1325
RM 1195
RM 1370
RM 1215
Child no bed
RM 1275
RM 1050
RM 945
RM 1080
RM 960
4 Stars
Adult
RM 1775
RM 1470
RM 1335
RM 1515
RM 1355
Child with bed
RM 1685
RM 1400
RM 1265
RM 1440
RM 1285
Child no bed
RM 1335
RM 1105
RM 1000
RM 1135
RM 1015
---
6 Benefits for booking with Holidaygogogo Tours Sdn Bhd, no more worry of SCAMMER!
1 to 1 personalized customer service & tour suggestion. We want to make sure you get the fastest response and latest information, even during weekends or public holidays. 

Licensed travel agency under

Ministry of Tourism MOTAC

&

 

Malaysian Association of Tour and Travel Agents MATTA

. Click above link and enter our company name Holidaygogogo Tours to check our license and membership. We are not scammers. 

More than 10 years experience in the tourism industry. We are serious in doing business. 

5 star customer rating in

Google

&

Facebook

. We let our customers judge us publicly, only agencies who provide the best service dare to do so.

Regular on site inspection to ensure product quality is met according to customer requirements. 

Reservation is done with complete paperwork and supporting documentation. We don't collect payment without any documentation, we will ensure all the reservations are done before collecting payment.
Customer Reviews for Holidaygogogo: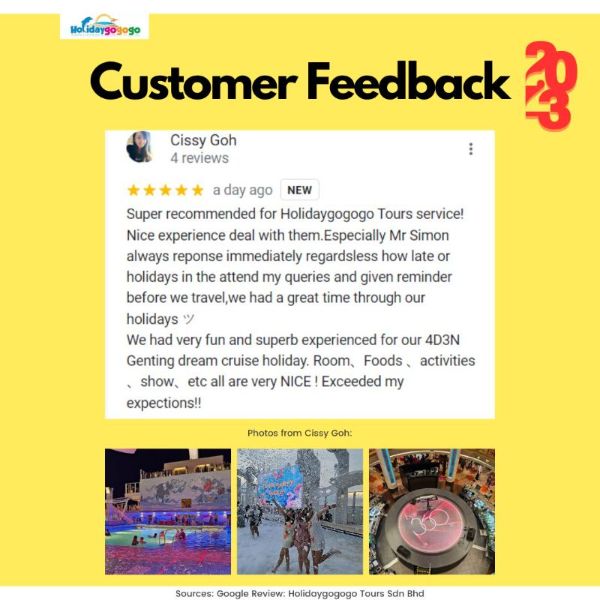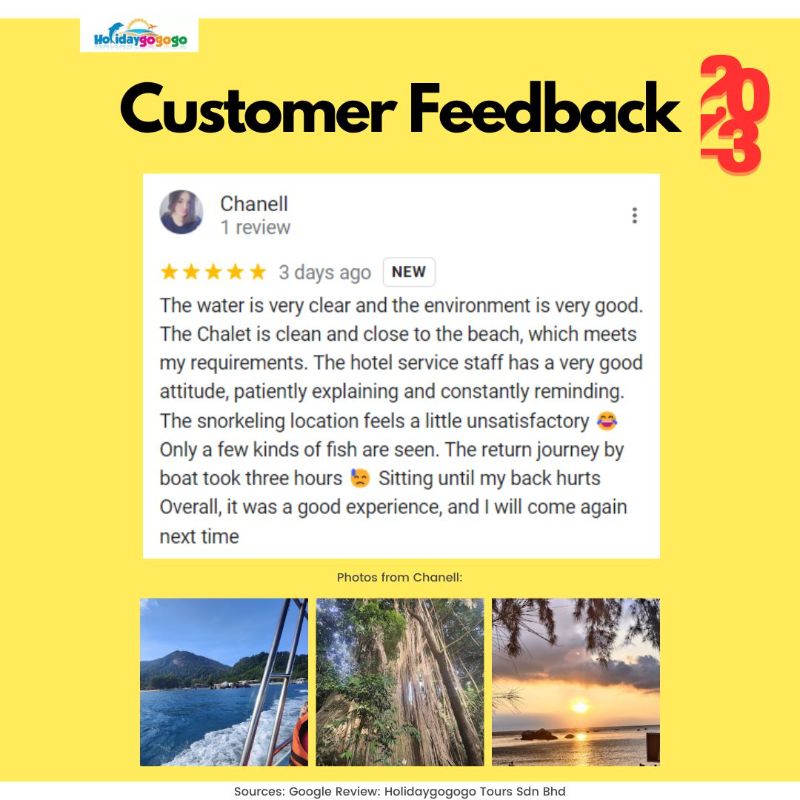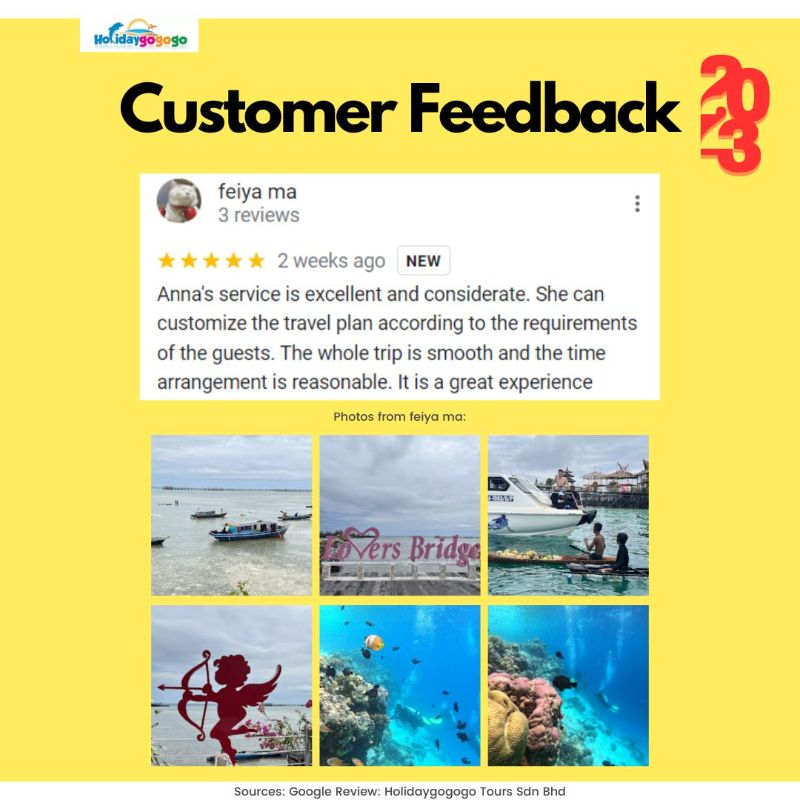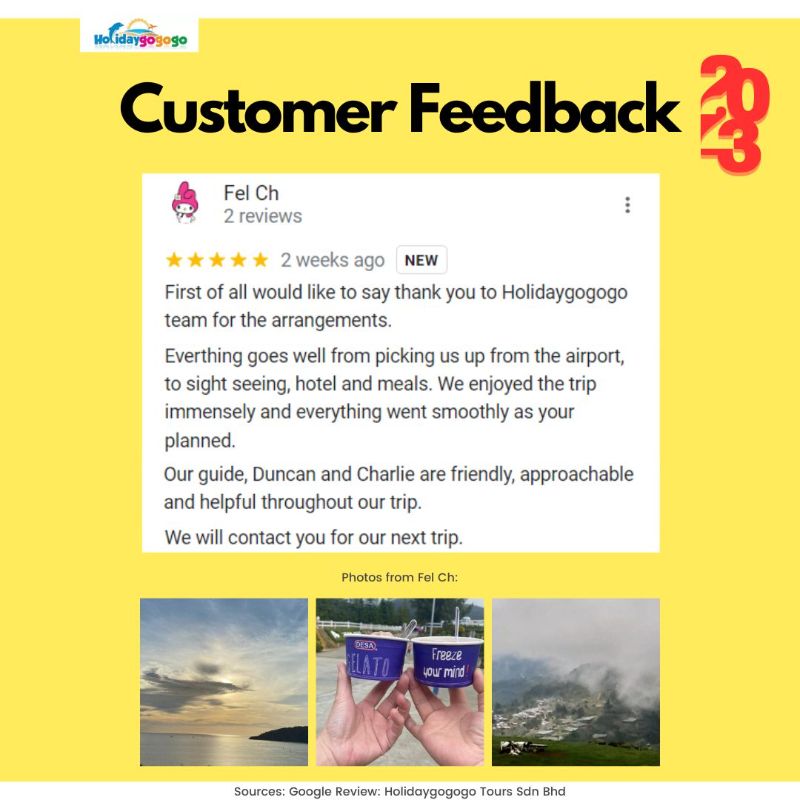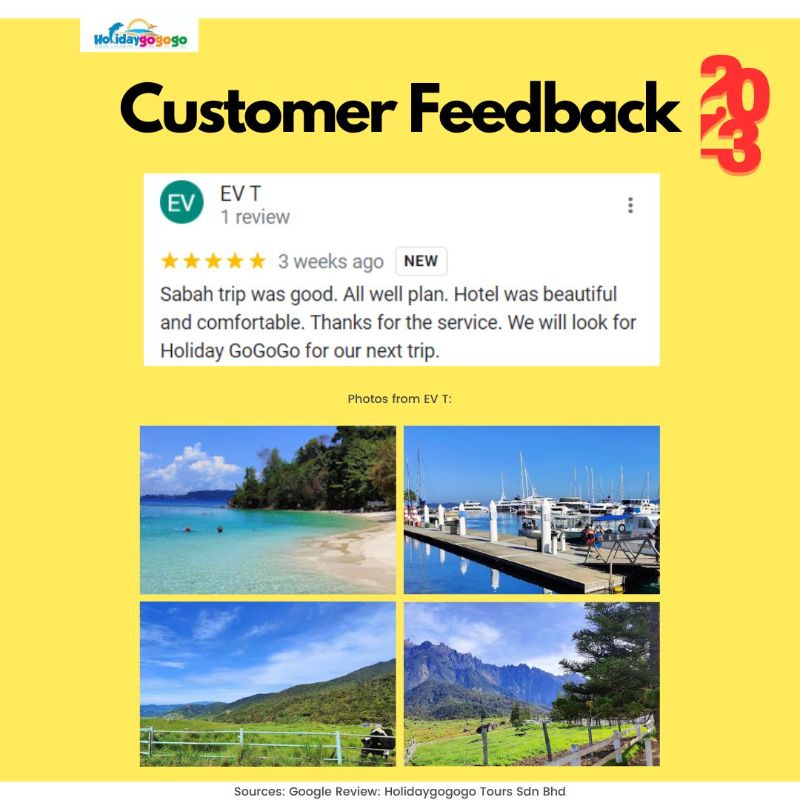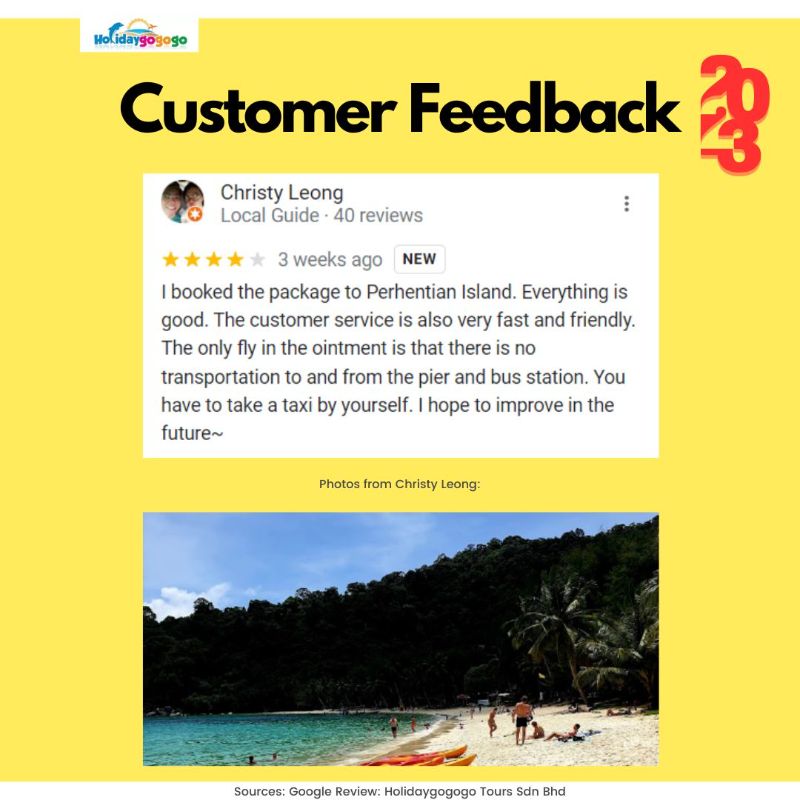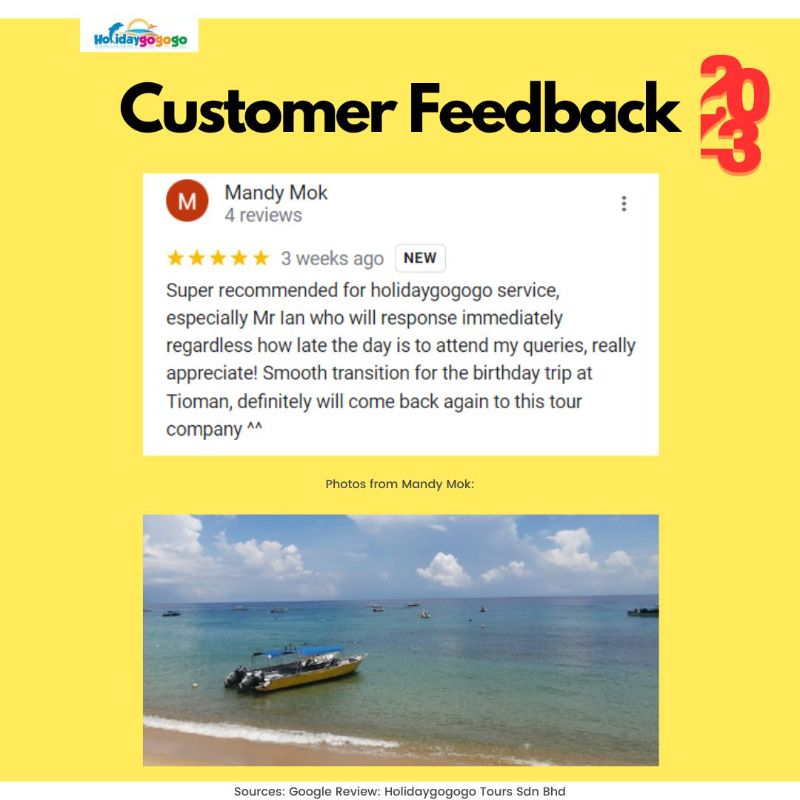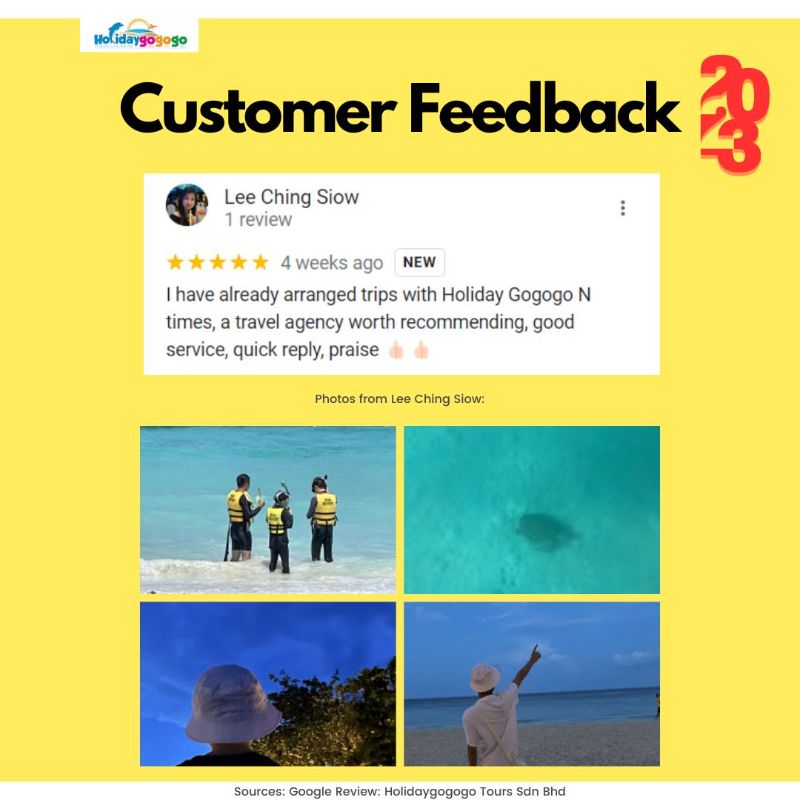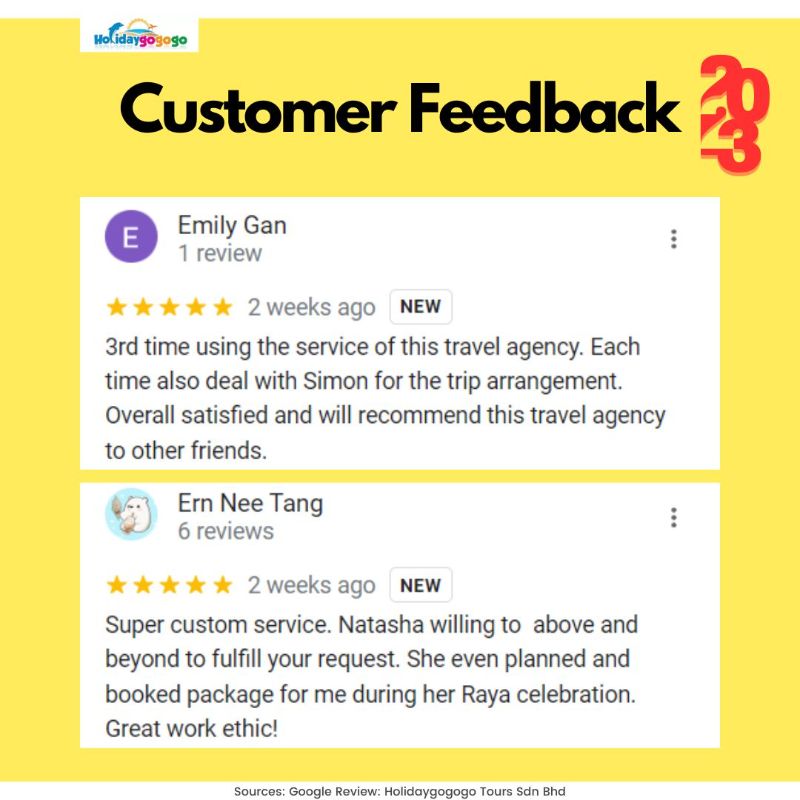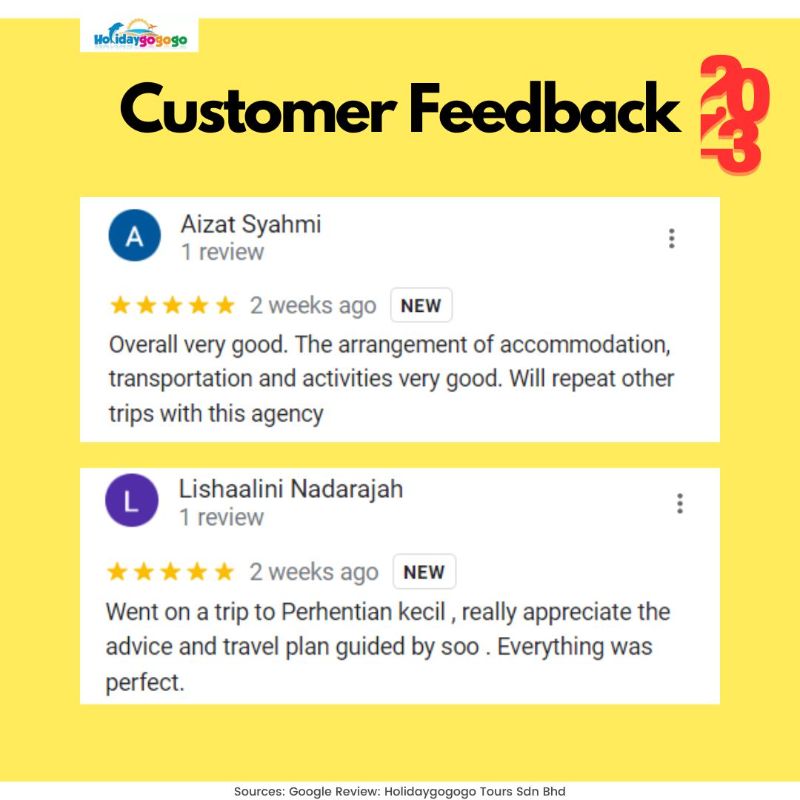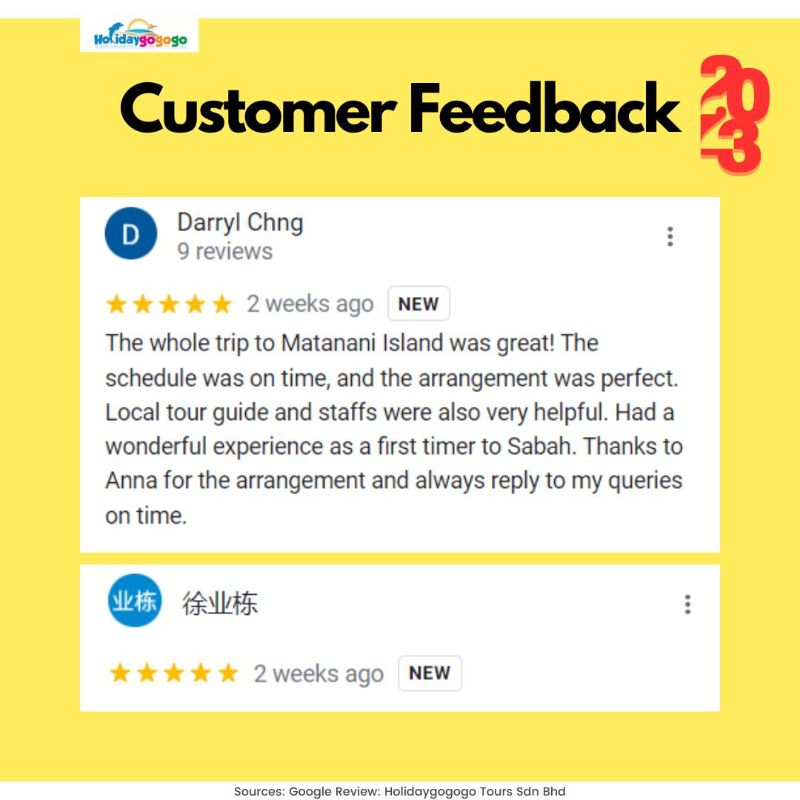 holidaygogogo travel agency review
holidaygogogo travel agency review
holidaygogogo travel agency review
holidaygogogo travel agency review
holidaygogogo travel agency review
holidaygogogo travel agency review
holidaygogogo travel agency review
holidaygogogo travel agency review
holidaygogogo travel agency review
holidaygogogo travel agency review
holidaygogogo travel agency review

---
Whatsapp:
Please WhatsApp us by clicking the WhatsApp Button.
---
Enquiry Email:
---
Related Tours & Packages:
---
Rating & Review: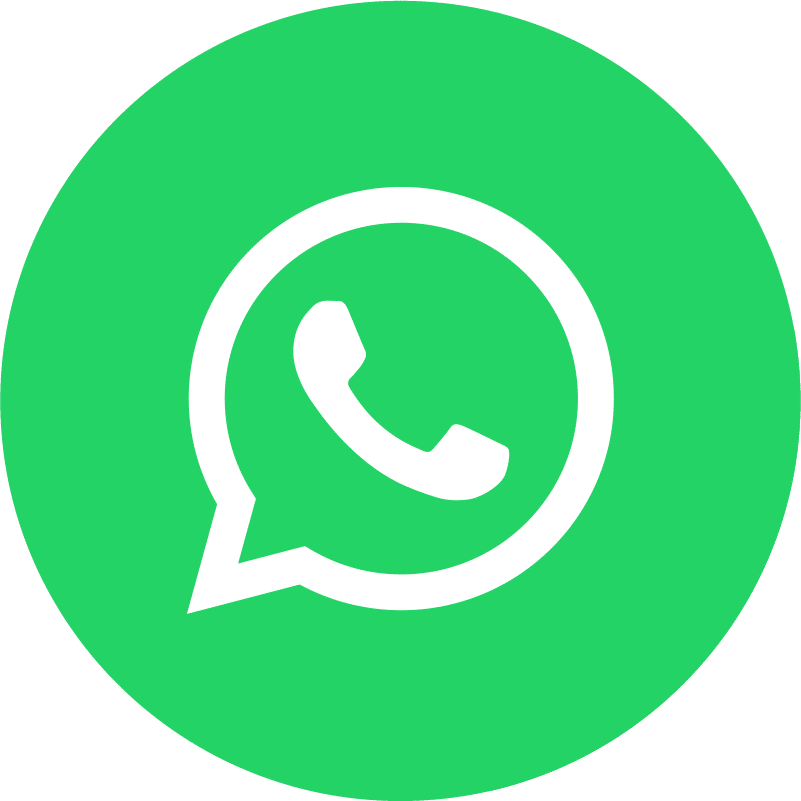 HolidayGoGoGo
Average rating:
0 reviews