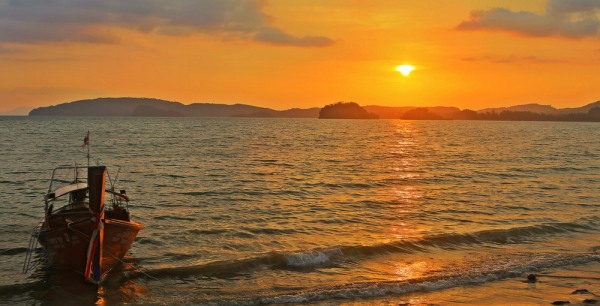 Sunset at Ao Nang beach
Duration: 3 days 2 nights
Tour Highlights:
This tour is designed for holidaymakers who are looking for a short getaway in an island paradise. There will not be many activities proposed in this Krabi itinerary, instead, several places will be recommended for relaxing and fine dining. The best place to enjoy sunset in Krabi will also be proposed.
Places of Interest:
Hong Island Lagoon, Hong Island, Pakbia Island, Lading Island, Wangsai Seafood Restaurant, Ao Nang Street, Ao Nang Night Market.
Day 1: Arrival to Krabi – Ao Nang Beach Hotel

Arrives Krabi Airport in the morning and proceed to the transportation ticketing counter. Depending on your preference, transportation from Krabi Airport to Ao Nang area is affordable. For taxi and van, it will cost you about 600 THB to 1100 THB per trip where transfer with a bus will cost you about 150 THB per trip per person.  The journey from Krabi Airport to Ao Nang will takes about 30 minutes.
If it is too early to check in to the hotel, keep your luggage in the hotel and hire a tuk tuk to the nearby Ao Nang street for breakfast or lunch. There are plenty of food choices along Ao Nang street.
In this krabi itinerary proposal, we suggest to stay in the Holiday Inn Resort Krabi. This 4 stars resort is located within walking distance to the Nopparathara Beach and in close proximity with the Ao Nang street. The swimming pool is simply captivating and the resort's amenities are top notch. Perfect for a relaxing getaway in a luxury property at affordable cost.
After breakfast or lunch in Ao Nang Street, back to hotel for check in. You can either hire a tuk-tuk or walk back to the resort.
Along the street, you should be able to find some day trip providers with a number of tour options in Krabi on sales, one of the most popular trips is Hong Island tour. You can either sign up for the speed boat package or long tail boat package, both offers unique experience for the travelers. If you are an active traveler, you may sign up for the package with kayak as add on. The Hong Island Package will cost you in between 900 THB to 1500 THB per person. Some of the providers tend to provide the same package with dirt cheap price, take note that you should sign up for a package that includes returns transfers between piers and your hotel, personal insurance, first aid kit, guide, all necessary snorkeling gears, meals and etc. For a hassle free vacation in Krabi, you may want to sign up Hong Island Package online with reputable online travel agent.
Once you have done signing up for tour and checking in to the resort, you can either relax in the resort and enjoy a glass of champagne by the pool or hire a tuk tuk to explore in the Krabi Town.
For dinner, plenty of choices available in Ao Nang street or Krabi Town. After dinner, check out Ao Nang Street Market for souvenirs.
Recommended place for dining: Lunch/dinner in one of the many street stalls or restaurants in Ao Nang street or Krabi town.
Day 2: Hong Island day tour

After breakfast, the tour operator will be at your hotel for pick up to the departure point. In this Hong Island package, you will visit Hong Island Lagoon, Pakbia Island, Lading Island and Hong Island. In any of these islands, you can expect to see plenty of beautiful marine creatures in crystal clear waters and unspoiled beaches, perfect for snorkeling, scuba diving and sunbath.
Hong Island Lagoon

Pakbia island

Lading Island

Hong Island
After the Hong Island trip, you will be transferred back to your hotel. By now, it should in the late afternoon. You can either refresh in the room or proceed to the swimming pool for a relaxing swim.
At around 6pm, visit Wangsai Seafood Restaurant for a delicious seafood dinner. You can either enjoy a comfortable 20 minutes evening walk from Holiday Inn resort or hire a tuk-tuk from the resort. There are many food choices available in Wangsai Seafood at affordable price.
What is better than having fine seafood cuisine with spectacular sunset view as backdrop? Wangsai Seafood Restaurant is the best place to enjoy the beautiful sunset view in Krabi.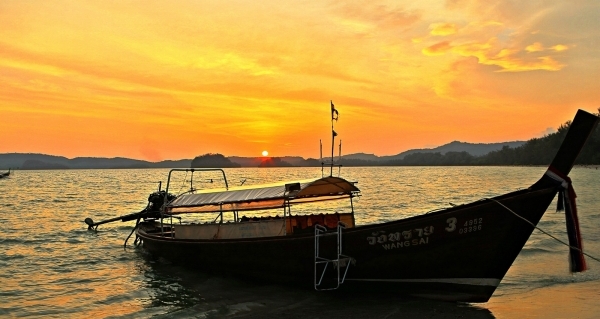 After dinner, enjoy a leisure walk at the beach to enjoy the windy atmosphere.
Recommended place for dining: Wangsai Seafood Restaurant
Day 3: Departure from Krabi

After breakfast, hire a taxi and depart for Krabi Airport.
Photo credit: ahdar
Related Tours:
Hong Island Tour