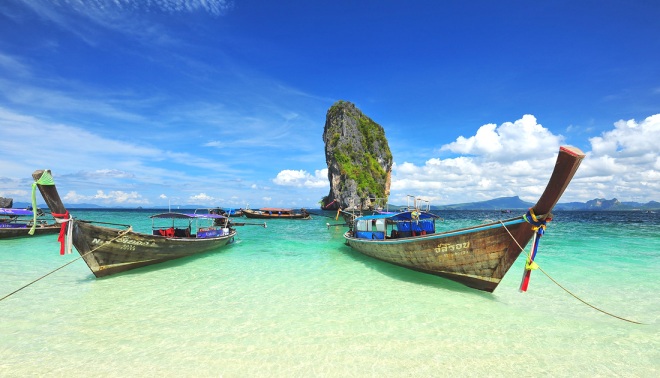 Clear Turquoise Water on Poda Island
Poda Island or "Koh Poda" is an offshore limestone island. Neighboring Tup Island, Mor Island and Chicken Island, Poda Island is the largest island in the Mu Koh Poda archipelago.
Poda Island is surrounded by beautiful beaches, with white sandy shores, clear turquoise water, and colorful coral reefs. The island has a long beach towards the east, where you will see people chilling out under the shades of palm trees, swimming in the sea, and sunbathing. It is also a great place for snorkeling and scuba diving. 20 meters off the coast, you will be amazed by the abundant marine life and interesting coral reefs the Andaman Sea has to show. You can also go on island hopping either on hired long tail boat or on kayak around the archipelago.
During low tide, you can observe the "Talay Waek" or "divided sea" phenomenon, where a Y-shaped sandbar is seen linking the 3 neighbouring islands – Tup Island, Mor Island and Chicken Island – or literally divides the sea. If you are in to a bit of adventure, you may want to kayak all the way to the nearby Railay Beach area which will take an hour of paddling.
The archipelago is located approximately 8 km off the shore of Ao Nang. From Ao Nang, you can hire a long tail boat which costs around THB2,200 return and same price for island hopping.
Alternatively, the cheaper way is getting on a long tail boat "taxi" which costs around THB300 return per person. However, you have to wait for a minimum of 8 passengers on the boat. One-way trip from Ao Nang to Poda Island takes approximately 30-40 minutes.
Opening hour and entrance fee:
The Mu Koh Poda archipelago is administered as a national park under Haad Noppharat Thara-Mu Koh Phi Phi National Park. There is a THB100 entrance fee per person, but is usually paid by the tour agency if you visit the island on a tour. The archipelago and Poda Island are open daily from 8.30 am to 6.00 pm.