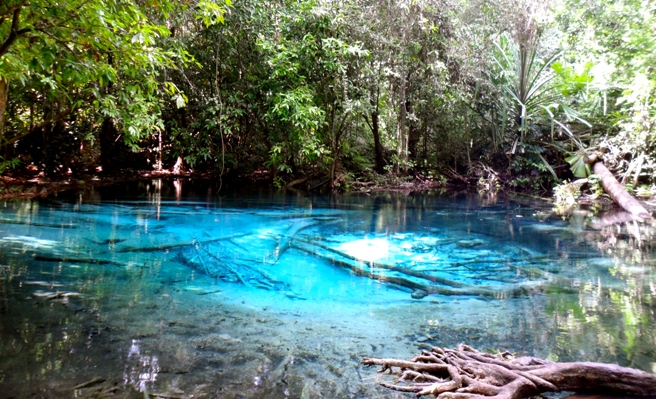 The Emerald Pool (credit: travelingroundtheworld.com)
Emerald Pool or "Sra Morakot" in Thai language is a national park under "Khao Phra Bang Khram Nature Reserve". Hidden in lush green rainforest, this natural pool is approximately 23 meters wide and 1-2 meters deep. Emerald Pool is also known as "Crystal Pool".
From the main entrance / car park, walk for 800 meters and you will reach Emerald Pool. Water in the pool flows naturally from the hill above and is pale green in colour. However when the temperature goes up, the pool turns greenish-blue. Emerald Pool is a nice place for swimming and relaxing, especially in the morning when the crowd is lesser.
Besides Emerald Pool, there are other smaller pools around the area worth exploring. Another 400 meters walk from Emerald Pool will bring you to Blue Pool. This is a beautiful pool with deep aquamarine-blue water, but is not suitable for swimming. 1,400 meters hike from Emerald Pool is a 200 meters-deep pool named "Sra Gaew Pool". Its water is turquoise in colour, suitable for swimming, and yet not as crowded.
During your visit here, note that food, cans, shampoo, and detergent are prohibited items. Remember to bring enough drinking water as the pool water is not suitable for drinking due to its high mineral content. The pool sides tend to be slippery.
The national park is located approximately 55 km from Krabi Town and 75 km from Ao Nang. Most tourists visit Emerald Pool as part of a tour but you can also choose to hire a taxi or drive here on your own. For those driving to Emerald Pool, get on to Highway 4 and once you come across Talod Gaew intersection, drive towards the "Trang" direction. You will pass by Nua Klong and reach Klong Thom. Here you will see sign post on your left indicating "Sra Morakot" or "Emerald Pool".
Opening hour and entrance fee:
Emerald Pool is open daily from 7.30 am to 5.30 pm. Entrance fee is THB200 per person for tourists (THB20 for locals), and THB20 for parking.