Krabi Tourist Attractions, Activities and Hotels Guide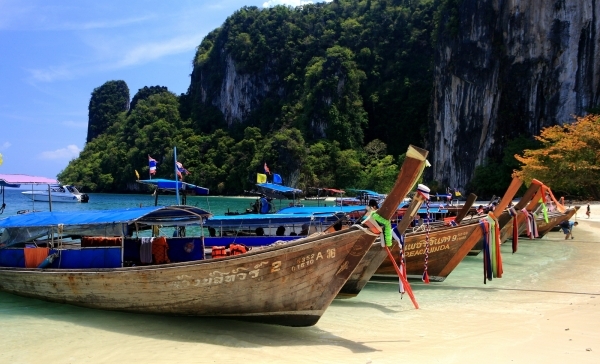 Line up of the eye catchy long tail boats along Hong Island Beach
Krabi, a province in Southern Thailand that lies along the coast of Andaman Sea, is one of the best tourist destinations in Thailand for island and beach holiday. Thanks to its plentiful of attractions such as white sandy beaches, crystal clear water, spectacular underwater marine life, amazing national park with hot springs and waterfalls, Krabi has become one of the most preferred holiday destinations in Thailand among locals and international travelers.
Top Attractions in Krabi:
Recommended Itineraries in Krabi:

3 Days Leisure Tour
This itinerary is perfect for those who are looking for a short weekend getaway in Krabi. The itinerary suggests perfect place for sunset, islands hopping and hotel with great deal.
4 Days Nature and Island Tour
For travelers who are looking to explore the exotic nature, beautiful islands with pristine beaches and enjoy dining in hilltop restaurant.
5 Days Sun, Sea, Nature & Culture Tour
This 5 days itinerary in Krabi simply offer some of the best of what Krabi has to offer. You will experience sun, sea, nature and culture in this 5 days tour.