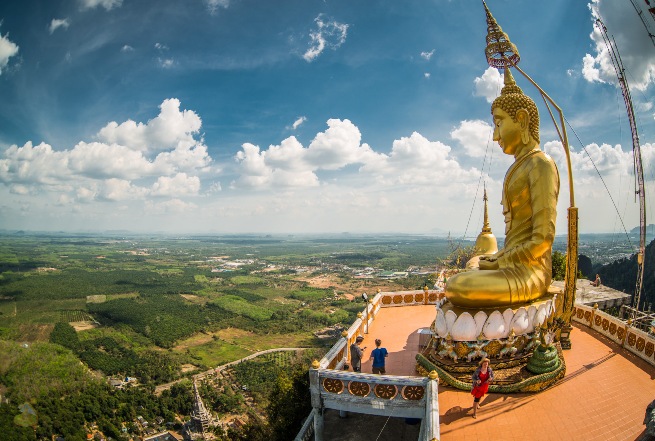 Golden Buddha Statue at the summit of Tiger Cave Temple
Tiger Cave Temple, also known as Wat Tham Sua, is a Buddhist temple based on the teaching of Vipassana. The temple was founded in 1975. Legend has it that a huge tiger used to live in the cave and made loud vicious roars once in a while. Later on, a group of Buddhist monks and nuns shifted to the cave to meditate and live. Since then, the huge tiger migrated to another mountain and had never set foot in the cave again. That is how the naming of "Tiger Cave Temple" came about. According to another legend, the naming of the temple actually refers to tiger paws on the wall of the cave.
Tiger Cave Temple is both a religious site and an archaeological site. Surrounded by mountains, caves, jungles, and forests, the temple is home and meditation center for Buddhist monks and nuns. Challenge yourself and walk up the 1,237 steps staircase to the summit of the temple. You will be amazed by the 278-meter tall golden Buddha statue at the summit. This is also one of the best spots to get a panoramic view of the whole of Krabi.
As an archaeological site, the temple is part of the many limestone caves in the area. The more well-known caves include Tum Chang Kaeo, Tum Lod, Tum Luk, and Tum Khon Than, on top of Wat Tham Sua itself. Walk around the area and you will see ancient artefacts including pottery remains, stone tools, molded Buddha footprints, as well as decorated skulls and skeletons. There are also many old and growing trees, including a 1000-year-old tree. Beware of monkeys around the area. They are pretty playful and can be a nuisance to tourists.
The temple is located approximately 3 km from Krabi town. In the town, look for the songthaew stop at Maharaj Road ("Maharaj Soi 7") / opposite the police station. Blue songthaew heads toward the direction of Tesco Lotus, passing by the temple and the airport. A songthaew is a local bus that looks like a truck. Alternatively, you can take motorcycle taxi to the temple for THB25, tuk-tuk for THB200, or taxi for THB200-250.
If you are coming from other towns, look for the Krabi bus station at Talat Kao. You can board any songthaew or bus heading east on Highway 4 to Trang direction, which will pass by Maharaj Road. Renting a motorbike to get around will be a good idea, it costs approximately THB150-250 per day.
Opening hour and entrance fee:
The temple is open daily from 7.30 am to dusk / night. If you plan to watch sunset at the summit of the temple, take note that the 1,237 steps staircase becomes rather dark after sunset. Torchlight will come in handy.