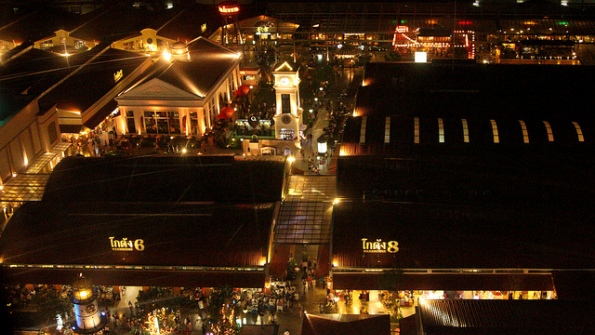 Asiatique night view from the Ferris Wheel

Duration: 4 days 3 nights
Places of interest: Central World Plaza, Zense Bar, Siam Paragon, Siam Square, Siam Center, Harnn Heritage Spa, Chatuchak Weekend Market, Chinatown, Khao San Road, Asiatique the Riverfront, Distil Bar.
Highlights: This itinerary is designed for travelers who are looking for a shopping tour in Bangkok. The popular rooftop bars, restaurants and spa center are also recommended to supplement the tour in greater diversity.

Day 1: Arrival in Bangkok – Central World Plaza – Zense Bar

Upon arrival in Bangkok, proceed to check in to the hotel. After check in and refresh in the hotel, visit Central World Plaza in Chit Lom, the second largest shopping complex in Asia. On arrival to Central World, you can either start your shopping tour or proceed for lunch. The Nara located at the Beacon Zone in 7th floor of Central World is a good place for tasting traditional Thai foods. After lunch, continue to shop in the complex till evening. The Twinings Tea Boutique located at the Atrium Zone in first floor of Central Chidlom is worth for a visit to enjoy a relaxing afternoon tea.
In the evening, visit the Zense Bar located in the Zen Shopping Mall for dinner and enjoy the beautiful sunset view over Bangkok city. After dinner, visitors can either continue to order some drinks and enjoy the beautiful night view of Bangkok or proceed for transfer back to the hotel.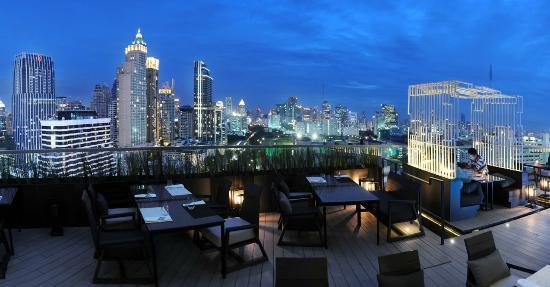 Day 2: Siam Paragon – Siam Square – Siam Center – Harnn Heritage Spa

After breakfast in the hotel, visit the hottest Siam shopping district in Bangkok for a full day shopping tour. Your first stop should be in Siam Paragon, this is a shopping mall where you can find plenty of international brands available to shop from. If you are traveling with children, they will sure fall in love with the Asia biggest aquarium, Siam Ocean World Bangkok. For lunch, the Food Hall in the ground floor of Siam Paragon has plenty of choices to suit every appetite.
After lunch, visit the nearby Siam Square. Siam Square is not a shopping mall but a range of shops formed in several streets opposite to Siam Paragon. Here you will find a great diversity of items ranging from clothes, jewelery to electronic items and games. For tea break, Som Tam in Soi 5 is one of the must visit for Papaya Salads.
After your shopping in Siam Square, the Siam Center should be your next stop. In Siam Center, you will find mostly local Thai brands and the most iconic fashion shop is the Forever 21 (XXI Forever). Although this is a local brand but it is also very famous among international visitors. For dinner, you should visit the Zen located in 4th floor of Siam Center, this is Japanese restaurant well favored by the locals.
| | | |
| --- | --- | --- |
| Siam Paragon | Siam Square | Siam Center |
| | | |
After a full day of shopping, you must be very tired at the end of the day. Visit the Harnn Heritage Spa in Siam Paragon to enjoy a relaxing spa and massage session before moving back to the hotel. The Harnn Signature Siamese Jasmine Therapy is a must try for every visitor.
Day 3: Chatuchak Weekend Market – Chinatown – Khao San Road – Asiatique the Riverfront – Distil Bar

As this is the 3rd day for your 4 days shopping trip in Bangkok, visit some of the local famous markets to brush up your bargain skill. Your first stop today should be in Chatuchak Weekend Market (available on Saturday and Sunday only). Unless if you are eager to browse through every section in the market, otherwise just pick some of the sections that really catch your attention and stay for 3-4 hours. It is almost impossible to browse through every single shop/stall in a one full day visit. (download Chatuchak Weekend Market map here)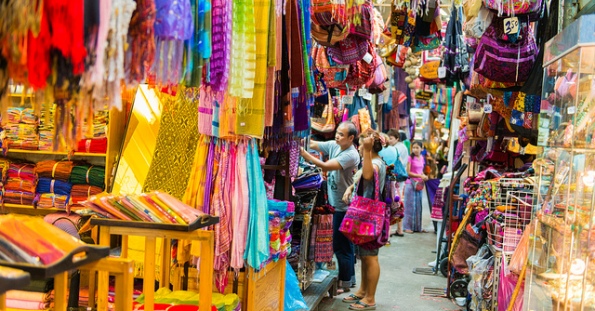 After the market visit, proceed to visit Chinatown and Khao San Road. There are plenty of street stalls and restaurants around this area where you can sample some Thai local cuisines here. There are also plenty of stalls selling souvenirs and this is the best time for you to shop for some souvenirs to bring back to your home country.
In the evening, take a boat ride to Asiatique the Riverfront to take in the sight of this beautiful landmark in Bangkok and experience the atmosphere in the Asia's largest night market. There are more than 1500 shops and over 40 restaurants in Asiatique, perfect for the shoppers! Other than shopping and dining, be sure to watch the popular Calypso Cabaret Show.

Before heading back to the hotel, pay a visit to the Distil Bar located in The Dome of State Tower. Order a glass of chilled cocktail or champagne while enjoy the spectacular view over Bangkok city.
Day 4: Departure for home

After breakfast in the hotel and done with the check out process. Proceed to transfer to the airport for your flight back home.
Recommended Hotels in Bangkok:
1. The Berkeley Pratunam
Located in the entertainment district with wide range of dining and shopping choices.
Reserve through Agoda.com
2. Baiyoke Sky Hotel
The sky bar offers magnificent view over the vibrant city.
Reserve through
Agoda.com
3. GLOW Pratunam Hotel
Located in strategic location with good service and spacious room at affordable price.
Reserve through
Agoda.com
4. Bangkok City Hotel
One of the best mid range hotels in city centre.
Reserve through
Agoda.com
Browse all Hotels in Bangkok >>
Need helps in setting up itinerary for your vacation in Thailand? Contact us