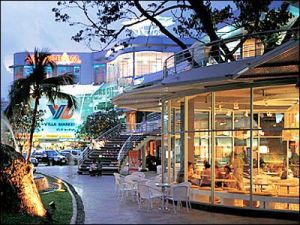 J Avenue

Thong Lo, also known as Thong Lor or Thonglo, is widely known as the hippest and chicest area in Bangkok. Most of the attractions and activities are centralized in the Thonglor street (Soi Sukhumvit 55) with H1 Project and J Avenue the most attractive places.
Other than being recognized as the most hippest tourist attraction in Bangkok, Thong Lo is well preferred by the expatriates from the western countries and Japan. This is why there are plenty of high rise apartments, trendy restaurants, designer furniture shops and spa centers available in the area.
Attractions in Thong Lo




Marry Me Wedding Studio

Siam Paradise Night Bazaar

H1 Project

Penny's Balcony

J-Avenue

Geo Concept Store

Thonglor Midtown

Hotels in Thong Lo



Luxury
Mid Range
Budget
Salil Hotel Sukhumvit-Soi Thonglor 1
1 Bedroom Suite at Thonglor BTS Station
Rainforest Guest House
Somerset Sukhumvit Thonglor Bangkok
Nantra De Comfort Hotel
Sawasdee Sukhumvit Inn Hotel
Pan Pacific Serviced Suites Bangkok
Grand Tower Inn Sukhumvit 55 Hotel
1Yolo Hostel
The Residences Keyne Sukhumvit Thonglor
Padi Madi Guest House

MHC Guest House

Centre Point Sukhumvit – Thong Lo Hotel

Nantra Retreat & Spa

26 Guest House

Browse all Thong Lo Hotels >>

Where and What to Eat in Thong Lo

Ramen Champions

-

1 of the 6 most famous Ramen restaurants from Japan, Ramen Champions is the most preferred by the locals.

Location: Arena 10 Thonglor Soi 10, Sukhumvit Road, Klongtan-Nua, Bangkok.

Palm Cuisine

-

Peaceful environment and fine cuisines are the words used to describe Palm Cuisine. The grill lamb is a must try.

Location:

522/2 Thong Lor Soi 16, Sukhumvit 55 Road, Wattana, Bangkok.

To Die For Restaurant

-

To Die For is located within the H1 project and most visitors are here to enjoy dining in the secluded opened garden within the restaurant.

Location: H1 Place Soi Sukhumvit 55, Sukhumvit Road, Kongton-nua, Wattana, Bangkok.

Tuba - The best restaurant in Bangkok to enjoy fusion Thai cuisines. Location: 34 Room 11-12A, Soi Ekkamai 21 (Soi Jamjun), Sukhumvit 63, Klongton-nua, Wattana, Bangkok.

Cheesecake House - For the cheesecake lover, there are a vast variety of cheesecakes available for selection in Cheesecake House. Location: 69/2 Soi Thonglor 20 (Soi Ekkamai 21), Sukhumvit 55, Kongton-nua, Wattana, Bangkok.
Mae Varee – The homemade mango sticky rice is the signature food in Mae Varee. Highly recommended by the international artists. Location: 1 SOi Thong Lo, Sukhumvt 55, Bangkok.

Vientiane Kitchen – As the name suggests, Vientiane Kitchen is famous for its Laos cuisines and Thai cuisines. You will also like the cultural performance and Thai boxing performance. Location: 8 Sukhumvit Soi 36, Naphasap Yaek 1, Kongton, Kongtoey, Bangkok.
Log Home – A restaurant that combines Japanese cuisines and western cuisines. Perfect for those who need plenty of selections. Location: Soi Thong Lor 18, Sukhumvit 55, Kongton-nua, Wattana, Bangkok.
Cakewalk – Another iconic cake house in Bangkok, famous for its designer cakes. Location: 21/3 Grand Heritage Comdo Soi Thonglor 13, Sukhumvit 55 Road, Wattana, Bangkok.

Spring & Summer – Enjoy your lunch with the huge green field in view. Good for those who need a peaceful place for dining in the bustling Bangkok. Location: 199 Soi Promsri 1, Sukhumvit Road, Klongton-nua, Bangkok.