Calypso Cabaret Show at Asiatique the Riverfront

Duration: 7 days 6 nights
Places of interest: Chopsticks Hill, Hua Hin Night Market, Black Mountain Water Park, Hua Hin Beach, Chatuchak Weekend Market, Grand Palace, Wat Phra Kaew, Wat Pho, Wat Arun, Asiatique the Riverfront, Erawan Shrine, Central World Plaza, Khao San Road, Chinatown, Siam Paragon, Siam Discovery Center.

Transportation: BTS, Chao Phraya Tourist Boat, Chartered Car/Van.

Where to stay: Any hotel in Hua Hin (Hua Hin), Hotel near Siam BTS (Bangkok)

Advanced preparation: Hotel booking (see our recommendation below), Chartered Car/Van booking
Highlights: This tour is designed for family with young children. Travelers can expect less extensive traveling and activities but still able to enjoy on what Hua Hin and Bangkok has to offer. Traveler will also get the chance to visit some of the popular temples in Bangkok as well as the famous markets and malls around the city.

Day 1: Arrival to Bangkok – Transfer to Hua Hin – Chopsticks Hill – Hua Hin Night Market

Arrives Bangkok in the morning and proceed to meet the pre-booked driver for transfer to Hua Hin. The journey from Bangkok Airport to Hua Hin will takes about 2.5 to 3 hours depends on the traffic condition. For travelers who are on last minute arrangement without booking for a transfer in advanced, there are quite a number of choices available in the airport, one way transfer from Bangkok to Hua Hin will cost you in between 1500THB to 3500THB depends on the size of the transport required.
Upon arrival at Hua Hin, proceed for lunch and check in to the hotel. After check in, visit Chopsticks Hill (Khao Takiab) to enjoy the magnificent hill top view over Hua Hin Beach and explore the famous Khao Takiab Temple at the hill top. Chopsticks Hill is located at about 15km from Hua Hin town centre. Traveler can either hire a taxi or songthaew for transfer to the Chopsticks Hill.

Proceed to Hua Hin Night Market and enjoy your dinner in the night market before transfer back to the hotel.
Day 2: Black Mountain Water Park – Hua Hin Beach

After breakfast in hotel, visit Black Mountain Water Park, a cosy water park perfect for family and children. The wave pool is one of the must try and the kids will definitely love the slides and numerous rides available in the water park. Admission fee for adult is 600THB and 300THB for child.
After a fun filled stay in the water park, continue your journey to Hua Hin Beach. Have a leisure and relaxing walk on the white sandy beach or hop on to the horseback for a leisure ride while enjoying the spectacular sunset view from the beach. After the beach visit, head on to Hua Hin Seafood Restaurant to enjoy fresh seafood cuisines cooked in Thai style.
Transfer back to hotel for early rest after the dinner.
Day 3: Transfer to Bangkok – Chatuchak Weekend Market

After check out from your hotel in Hua Hin, proceed to transfer back to Bangkok. Check in to your Bangkok hotel upon arrival and proceed for lunch.
In the afternoon, visit the famous Chatuchak Weekend Market for shopping and dinner. There are more than 10,000 shops divided into 27 sections and it is almost impossible to explore every each of the shop from a single visit. It is recommended to download the Chatuchak Weekend Market map and decide on the type of the items to shop before visit the market. Getting to Chatuchak Weekend Market is easy, travelers can either opt for MRT (Kampheang Phet station) or BTS (Mo Chit station). Also to take note that Chatuchak Weekend Market is only available during weekend.
After the market visit, hop on to the BTS or MRT for transfer back to your hotel. Alternately, you can also hire a metered taxi if it is approaching late night.
Day 4: Grand Palace – Wat Phra Kaew – Wat Pho – Wat Arun – Asiatique the Riverfront

After breakfast in the hotel, hop on to the nearest BTS and alight at Saphan Taksin BTS station. Get a day pass for Chao Phraya Tourist Boat from the Central Pier (Sathorn) for your visit to Grand Palace, Wat Phra Kaew, Wat Pho and Wat Arun. Check out our comprehensive Chao Phraya Boat guide for ticketing and pier to pier attractions.
After the visit to some of the most popular riverside tourist attractions in Bangkok, proceed for transfer back to the Central Pier and hop on to the Asiatique Service Boat to visit Asiatique the Riverfront. There are plenty of shopping opportunities and dining options in Asiatique, stay here until late evening before you call it a day and back to hotel. Also, be sure to watch the Calypso Cabaret Show in Asiatique.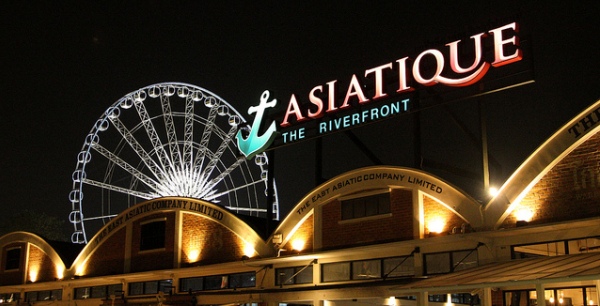 Day 5: Erawan Shrine – Central World Plaza – Khao San Road – Chinatown

After breakfast in the hotel, visit Erawan Shrine (located near to BTS Chit Lom), the most popular Chinese temple in Bangkok. After the temple visit, walk to the nearby Central World Plaza for shopping and lunch.
In the afternoon, visit Khao San Road to sample some of the best street stall foods in Bangkok. Coconut ice cream and Phad Thai are some of the popular foods in Khao San that you should not miss. There are also quite a number of cafes and restaurants along Khao San Road where you can enjoy a relaxing afternoon with a cup of high quality coffee and cakes.
In the evening, hop on to a tuk-tuk and proceed to the nearby Chinatown. Here, you will find a lot of Chinese shops and restaurants selling bird's nest, shark fin soup and variety of Chinese stuffs. Spend at least 1 hour in Chinatown before walk in to any of the restaurant for dinner. After dinner, pay a visit to one of the many massage center to get yourself pampered after a full day of exploration. Back to hotel after the massage.
Day 6: Siam Paragon – Siam Discovery Center

Proceed to the Siam shopping district after an early breakfast in the hotel. Siam can be reached easily via BTS by alighting at the BTS Siam station.
Visit Siam Paragon as your first destination in Bangkok for day 6. For ladies, turn on your shopping mood and for children, visit the largest aquarium in Asia, the Siam Ocean World Bangkok. After Siam Paragon, visit the nearby Siam Discovery Center for Japanese buffet lunch in Oishi Grand and get close with the "famous people" in Madame Tussauds Bangkok. Continue your shopping in Siam Discovery Center until evening and walk in to one of the many restaurants in the shopping mall for dinner.
Day 7: Depart for home

After breakfast and check out from the hotel, proceed for transfer to the airport and catch your flight for home.
Need helps in setting up itinerary for your vacation in Thailand? Contact us