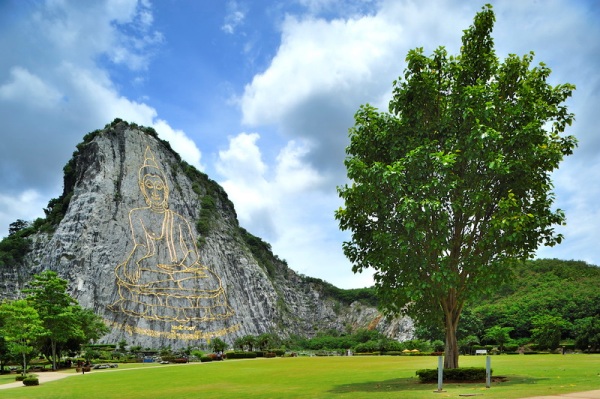 Giant Buddha Image at Buddha Mountain

Duration: 5 days 4 nights
Places of interest: Pattaya, Million Years Stone Park & Crocodile Farm, Pattaya Walking Street, 2Sky Pattaya-Rocketball, Koh Larn Coral Island, Central Festival Pattaya Beach, Buddha Mountain, Silverlake Vineyard, Anek Kuson Sala, Mini Siam & Mini Europe, Chocolate Ville, Chinatown, Lopburi Sunflower Field, PB Valley Winery Estate, Palio.

Transportation: Taxi and chartered car/van

Where to stay: See all hotel recommendation below.

Advanced preparation: Hotel booking (see our recommendation below), Koh Larn Coral Island tour booking (for day 2), Pattaya car charter booking (for day 3), Khao Yao car charter booking (for day 4).
Highlights: Experience the charming nightlife in Pattaya and enjoy the spectacular views of the Bangkok suburbs.

Day 1: Arrival to Bangkok – Pattaya – Million Years Stone Park & Crocodile Farm – Pattaya Walking Street – 2Sky Pattaya-Rocketball

Arrival to Bangkok in the morning to proceed for transfer to Pattaya. Check in to the hotel upon arrival in Pattaya and proceed for lunch. After lunch, visit the famous Million Years Stone Park & Crocodile Farm for a leisure walk in the beautifully landscaped park and enjoy the many exciting shows and activities with the crocodiles. Spend at least 3 hours in the park before leaving for Walking Street.
Upon arrival to the Walking Street, check out the 2sky Pattaya-Rocketball to raise your adrenalin by being thrown to 50 meters high. This is a very famous activity in Pattaya and well preferred by young travelers. After the thrilling ride, hunt for dinner in one of the many restaurants and street stalls along Pattaya Walking Street. One of the recommended restaurants for dining is the Pattaya Beer Garden where you can enjoy Thai foods or Western foods with a glass of beer while enjoying the spectacular view of sunset.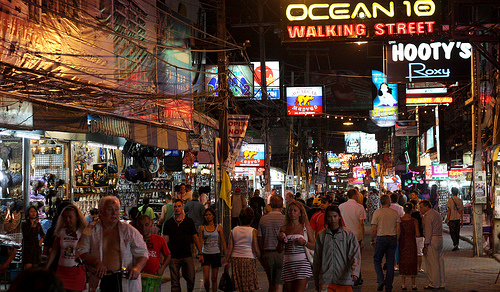 After the dinner, walk along the Pattaya Street to experience the gorgeous nightlife with the locals and tourists from around the world. When you are ready for a stop, look for a massage center to get yourself pampered or visit one of the bars or cafes for a drink before you call it a day in Pattaya. Take note that Pattaya Street may not be a family friendly tourist place in Pattaya.
Day 2: Koh Larn Coral Island – Central Festival Pattaya Beach


After breakfast in the hotel, wait at the hotel lobby for pick up to join the Koh Larn Coral Island Tour (7-8 hours tour). Koh Larn is a very good place for water activities, the beaches here offer some spectacular opportunities for sun bath and the crystal clear water here is perfect for snorkeling or diving. For those who do not want to get wet, check out from the local tour operator around the beach and join the coral viewing tour, this tour allows you to view the beautiful coral from a glass bottom boat without having to get wet.
After the Koh Larn Coral Island tour, back to your hotel for refresh and proceed to visit the Central Festival Pattaya Beach, the largest beach front shopping complex in Asia. Spend 3-4 hours for shopping and enjoy your dinner here before moving back to hotel.
Day 3: Buddha Mountain – Silverlake Vineyard – Anek Kuson Sala – Mini Siam & Mini Europe – Bangkok – Chocolate Ville – Chinatown

After breakfast, proceed to meet your chartered car driver. Visit Buddha Mountain (Khao Chee Chan) to see one of the largest Buddha image in the world and stop at Silverlake Vineyard to enjoy the beautiful natural view of the vineyard with Khao Chee Chan as backdrop. The vineyard is perfect for photographing enthusiasts and for those who wish to bring back some grape products and wine as souvenirs. After a short stop at the Silverlake, visit Anek Kuson Sala, a temple & museum featuring breathtaking collection of art and sculpture from Thailand and China. Make sure you explore every floor before leaving for lunch and other attractions. After lunch, it is time to explore the world in Mini Siam & Mini Europe. Here, you will find plenty of architecture models for some of the famous buildings in Thailand, Europe, US and Asia. Mini Siam & Mini Europe is a very good place to improve your geography knowledge, especially for the kids.
After a visit to several attractions in Pattaya, you should now proceed for transfer back to Bangkok. For travelers who charter a car, the service should includes the transfer between attractions in Pattaya as well as for transfer to your Bangkok hotel. After check in to your hotel and a short rest in the room, order a taxi from the hotel lobby for your visit to Chocolate Ville. The journey from Bangkok city to Chocolate Ville should takes you less than 20 minutes (subject to traffic condition) and the best time to visit is during the evening where you can get plenty of spectacular photo shooting opportunities. There is also open space restaurant in Chocolate Ville, you can either take your dinner here or expose to more dining choice in the next destination, Chinatown. There are many food choices in Chinatown and some of the iconic must try foods are bird nest and shark fin soups. If you are looking to sample the most famous seafood around Chinatown, visit T&K Seafood for some really magnificent seafood choices.
| | |
| --- | --- |
| | |
Your day 3 itinerary should end after a relaxing foot massage in Chinatown.
Day 4: Lopburi Sunflower Field – PB Valley Winery Estate – Palio

After breakfast in the hotel, meet your driver and begin your journey to Khao Yai. On the way to Khao Yai, drop by at Lopburi sunflower field (travel between Nov and Jan) to see the beautiful scenery of sunflower in full bloom. After a short stop at the sunflower field for photo shooting, continue your journey and visit the nearby PB Valley Winery Estate. This is another great spot for photo shooting and for visitors who'd like to get to know more about the numerous grades of grape and wine can also join the wine tasting tour provided by the winery. There is an onsite restaurant where you can enjoy your lunch before proceeding to the next destination.
In the afternoon, continue your journey to the Palio, an Italian themed shopping center where you can take in the beautiful view of Italian architecture and shop for souvenirs. Make sure that you have spare battery for your camera as Palio has never failed to mesmerize the photographing nerds.
Check in to your hotel in Khao Yai and enjoy a night in this beautiful and peaceful place.
Day 5: Departure from Bangkok
After breakfast, transfer to the airport for your flight back home.
Need helps in setting up itinerary for your vacation in Thailand? Contact us