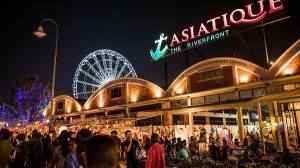 Asiatique the Riverfront

The base for luxury hotels in Bangkok, most of the hotels in Saphan Taksin area are built along the Chao Phraya River. Marriott Hotel, Mandarin Oriental Hotel, Millennium Hilton are just a few to name.
There are also a number of first class restaurants in Saphan Taksin area, the Sky Bar Sirocco and Distil are among the luxury sky bars in Bangkok that worth for a visit. The night view over Bangkok city and Chao Phraya River is simply magnificent from the bar. Also worth to mention that Saphan Taksin is the oldest residential area in Bangkok with a lot of antique shops scattered around, for the antiques collection enthusiasts, Saphan Taksin is a must visit.