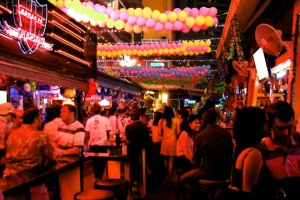 Nana Nightlife

Distinct from any other areas in Bangkok, Nana is unique for its lively and attractive night entertainment. Soi Sukhumvit 11 is one of the must visit streets in the area with plenty of cafes, bars, restaurants and the most popular Bed Supperclub running here. Nana is perfect for visitors who are looking to experience the most charming nightlife in Bangkok.
As most of the cafes and restaurants near to Nana BTS are only open after the sunset, visitors are recommended to visit the nearby Phrom Phong or Thong Lo for shopping before paying a visit to Nana in the evening.
Attractions in Nana




Bed Supperclub

Nest Bar

Q Bar

Villa Market

Hotels in Nana



Luxury
Mid Range
Budget
Ambassador Hotel Bangkok
iCheck Inn Nana
World Inn
Adelphi Suites Hotel
Ever Rich Hotel
Star Inn
The Landmark Hotel Bangkok
On8 Sukhumvit Bangkok Hotel
Best Value Inn
Grand Sukhumvit Hotel Bangkok
Eight Plus Hotel

Suk11 Hostel

Grande Centre Point Hotel Terminal 21
Maxim's Inn

Orchid Place

Browse all Nana Hotels >>

Where and What to Eat in Nana

Mrs Balbir's

-

Offering the most authentic Indian cuisines in Bangkok, Mrs Balbir's is well preferred among locals and international tourists The set meal with 11 types of Indian foods is one of the signature cuisines offered by the restaurant.

Location: 155/1-2 Sukhumvit Soi 11/1, Bangkok.

Old German

-

Relaxing atmosphere with plenty of European foods and cocktails choices, Old German is good for those who like to enjoy their meals peacefully.

Location:

Grand President Tower III, 11 Sukhumvit Soi 11, Klongtoey, Bangkok.

Zanzibar

-

Enjoy eating in the center of tropical rainforest? Visit Zanzibar to enjoy its Italian cuisines while listening to the live jazz music.

Location: 139 Soi Sukhumvit 11, Klong toey, Wattana, Bangkok.

Van bar - A mobile bar modified from a Van, enjoy your beer under this unique and romantic setting. Location: Soi Sukhumvit 11, Klongtoey-nua, Wattana, Bangkok.