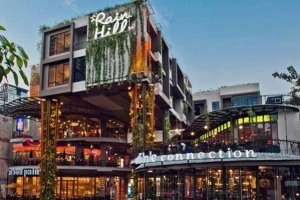 Rain Hill Plaza

Phrom Phong is not a famous attraction in Bangkok but the diversity here often attract visitors to drop by for a day or two. With K-Village shopping center and Rain Hill Plaza located strategically in Phrom Phong, the area has slowly become one of the newest shopping hub in Bangkok with boutique stores, cafes and restaurants easily accessible. Spa centers are widely available to suit all requirements and needs.
Attractions in Phrom Phong




A Square

K-Village

Rain Hill

Naraya

Minohana Spa

Hotels in Phrom Phong



Luxury
Mid Range
Budget
Emporium Suites by Chatrium
Nantra Sukhumvit 39 Hotel
26 Guest House
Hilton Sukhumvit Bangkok
BKK Home 24 Boutique Hotel
Honey House 2
Arize Hotel Sukhumvit
24 Inn
Rainforest Guest House
Double Tree by Hilton
Dubliner Place

Phromsuk Mansion

Davis Hotel
41 Suite Bangkok Hotel

MHC Guest House

Browse all Phrom Phong Hotels >>

Where and What to Eat in Phrom Phong

Scoma's

-

A good place for tea break. Try the coconut cake and the spaghetti with strong wine aroma .

Location: B204-205, K Village, Soi Sukhumvit 26, Bangkok

Kiou Tempo Japanese Restaurant

-

The famous Ramen restaurant in Kansai is now in Bangkok. For the Ramen lovers, Kiou has some Ramen specialty for you.

Location:

Sukhumvit 47, Bangkok

Bo.lan

-

Taste the most authentic Thai cuisines in Bo.lan. Other than the foods, you will enjoy the atmosphere in the restaurant.

Location: 42 Soi Pichai Ronnarong, Sukhumvit 26 Road, Bangkok

Je Ngor's Kitchen - Well known among locals with 9 outlets in Bangkok. Try the spicy fried crabs, one of the signature dishes in Je Ngor's Kitchen! Location: 68/2, Sukhumvit Road 20, Bangkok

Seafood Market - The largest seafood buffet restaurant in Bangkok! The vast variety of seafood will sure to raise your appetite. Location: 89 Soi Sukhumvit 24, Sukhumvit Road, Bangkok.

Bei Otto - Operated by German with over 20 years history offering German and European cuisines. Well preferred by the local European expatriates and visitors. Location: 1 Soi Sukhumvit 20, Sukhumvit Road, Bangkok

Duc de Praslin Belgium - For chocolate lovers, Duc de Praslin Belgium is a must visit. There are more than 100 varieties to choose from! Location: G/F, Fenix Tower, Soi Sukhumvit 31, Bangkok.