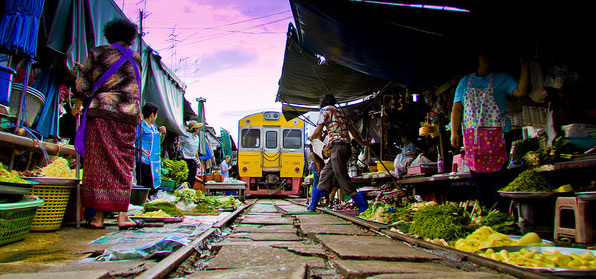 Train passing by while street vendors conducting business in Mae Klong Train Market | Credit: Thaibis

Highlights: Witness how the local vendors carry on with their daily business in Maeklong Railway Market and Damnoen Saduak Floating Market. Enjoy cultural Thai dance, Thai boxing and various cultural performances in the beautifully landscaped Rose Garden.

Places of interest:
Maeklong Railway Market
Maeklong Railway Market is located in Samut Songkram and can be reached with about 90 minutes drive from Bangkok city centre. You will not see many of the stalls selling souvenirs although this is a touristy place, instead, you will get to experience the daily lifestyle on how the local vendors conduct their business on a railway. Take note on the train arrival timing and ask your tour guide on the best spot to shot the best photo for this amazing unique scene.
Damnoen Saduak Floating Market
Have you ever surfing around a market on a boat? If not, Damnoen Saduak Floating Market is the best place to have such experience. It is no doubt that this is a touristy market and some visitors even claimed that the items sold here are overpriced. It is always good to brush up your bargain skill before buying any items from the vendors. Overall, it is a good experience for the first time visitors.
Rose Garden
A family friendly tourist attraction in Damnoen Saduak with numerous Thai cultural shows and elephant performances perfect for the kids. For visitors who wish to be pampered and relax in the Rose Garden, book a spa session and enjoy.
Itinerary:
Pick up from your hotel in Bangkok at around 7am and proceed to Damnoen Saduak Floating Market. On the way to the market, make a stop at Mae Klong Train Market and palm sugar production plant. Carry on to visit Damnoen Saduak Floating Market after witness the local lifestyle of a lively market and see how sugar is being made. Proceed to Rose Garden after the floating market visit, enjoy the Thai Cultural Show and lunch in the garden and proceed to transfer back to your hotel in Bangkok.
Tour duration:
11-12 hours (7am to 6pm)

Tour type:
Private guided tour/public group tour with English speaking tour guide
Tour package price:
1400 THB to 4700 THB (Private tour – depends on number of guests)

600 THB to 800 THB (Public group tour – depends on number of guests)