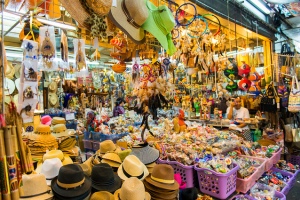 Chatuchak Weekend Market

Recognized as the largest weekend market in Thailand and South East Asia, Chatuchak Weekend Market homes to more than 10,000 street stalls selling diversified of items ranging from clothing to pets and plants.
The weekend market is only available during weekend from Friday to Sunday with all the stalls separated into 27 sections. Although the visitors to the markets are increasing year after year, the price of the items are still maintained and cheaper than many other areas within Bangkok. The best shopping venue in Bangkok for the budget shopper!