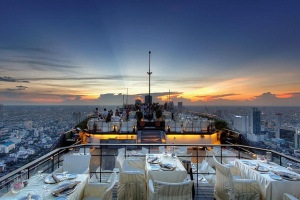 Vertigo Grill & Moon Bar

The most famous old shopping district in Bangkok with the Patpong Night Market being the most crowded street, Silom is well preferred by Japanese and the westerners. With plenty of Japanese restaurants, massage centers, Japanese style hostels and rooftop bars in the region, Silom is good to visit at night to enjoy its charming nightlife.
Attractions in Silom




Silom Complex

Vertigo Grill & Moon Bar

Pat Pong Night Market

Jim Thompson Thai Silk

Hotels in Silom



Luxury
Mid Range
Budget
Somerset Park Suanplu Bangkok
Chaydon Sathorn
YHA Bangkok Downtown
Crowne Plaza Bangkok
Ibis Sathorn Hotel
The Urban Age Hostel
W Bangkok Hotel
I Residence Sathorn
Lumphini Home Stay BKK
Holiday Inn Bangkok Silom
The Aim Sathorn Hotel

T.T Guesthouse

The Sukhothai Bangkok Hotel
The Sunrise Residence

Eve's Guesthouse

Browse all Silom Hotels >>

Where and What to Eat in Silom

Naj

-

The most famous Thai restaurant in Silom, the signature Thai style cold platter is a must try. The newly built trendy bar is perfect to enjoy a glass of chilled champagne.

Samai Seik Chicken Rice

-

There is no air conditioner, designer style renovation nor top notch customer service, but there are still boatload of visitors coming for its Hainanese chicken rice. Try it for yourself!

Coffee Society

-

Free wifi, 24 hours operation and dedicated smoking zone. Average coffee quality but good for a short stop.



Hajime Robot Restaurant

- A robotic themed Japanese and Korean buffet restaurant with plenty of choices. Enjoy the foods and see the million dollar robot in action.

Treecreeper - Enjoy 5 stars cuisines at affordable price. Try the smoked salmon salad and charcoal grilled steak. You will be craving for it after the first visit!

nahm - Located in The Metropolitan Bangkok Hotel, nahm is a Michelin class restaurant from Europe. The chief chef is strive to provide the most authentic thai cuisines to the guests, if you are not able to take sour or spicy foods, be sure to highlight to the waiters.

Zanotti – The best Italian restaurant in Bangkok for tasting the most authentic Italian cuisines. One of the most preferred Italian restaurants by the locals and tourists.

Eat Me Art Restaurant – For visitors who like to admire fine art while enjoy a mixture of international cuisines, Eat me Art is your best bet. After the dinner time, the restaurant will turns into a bar where the guests are able to enjoy some best alcoholic beverages till late night.