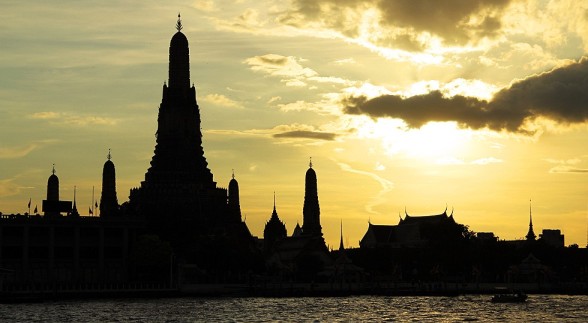 Sunset at Wat Arun

Duration: 5 days 4 nights
Places of interest: Grand Palace, Wat Pho, Wat Arun, Wat Phra Kaew, Asiatique the Riverfront, Chatuchak Weekend Market, Terminal 21, Floating Market, Train Market, Amphawa Market, Erawan Shrine, Platinum Fashion Mall, Central World, Siam Paragon, Siam Discovery, Khao San Road, Chinatown.
Highlights: This tour is designed for travelers who are looking to discover the diversity of Bangkok. You will get the chance to explore some of the Bangkok's most popular temples and shopping in the most crowded and biggest market in Asia, the Asiatique Riverfront. Sample bird nest and seafood in Chinatown while discovering the lifestyle of local Chinese community.

Day 1: Arrival to Bangkok – Grand Palace – Wat Phra Kaew – Wat Pho – Wat Arun – Asiatique

Arrival to Bangkok in the morning and proceed to hire a taxi for transfer to hotel. Alternately, if you are traveling in a group with less than 4 persons, you may want to travel to your hotel in Siam area with Airport link and BTS (for arrival in Suvarnabhumi Airport only). Take airport link from the airport and interchange with BTS at Phaya Thai station. From Phaya Thai, take BTS for transfer to BTS Siam station. This is a good alternative for saving some traveling expenses. Check out our comprehensive BTS guide.
Upon arrival at Siam station, proceed to your hotel for check in. After check in to your hotel, you may want to find some places for lunch before you continue with your journey to the next destinations in Bangkok. There are quite a number of dining choices in Siam area.
After lunch, hop on to the BTS (Silom line) again for transfer to Saphan Taksin BTS station where you will need to board a boat to cross Chao Phraya River. The public boat transfer for crossing Chao Phraya River is operated by Chao Phraya Express Boat co., get a day pass from the ticketing counter and hop on to the boat for transfer to the Grand Palace, the first tourist attraction in day 1. Check out our Chao Phraya Express Boat guide and avoid being cheated by the illegal "ticketing counters".
Alight at the Tha Tien (N8) pier and walk towards Tha Tien market, you will reach to Grand Palace with about 10 minutes walk. After the Grand Palace visit, proceed to visit Wat Phra Kaew and Wat Pho with both wats located in close proximity with Grand Palace. You should be able to finish the visit for these 3 attractions in less than 3 hours. Now, it should be around evening time and you should proceed to visit Wat Arun (also known as Temple of Dawn) to explore the impressive architecture of the temple while enjoying the beautiful sunset view.
After the Wat Arun visit, board the boat again and transfer back to the Central Pier (Sathorn), get on to the Asiatique service boat to visit the largest night market in Asia, Asiatique the Riverfront. There are more than 1500 shops and over 40 restaurants in Asiatique, take your dinner in one of the restaurants in Asiatique and explore the night market till late night. Make sure you watch the Calypso Cabaret Show and get on to the Ferris Wheel to enjoy the spectacular night view of Asiatique from the top. Get a taxi from Asiatique to BTS Saphan Taksin or back to your hotel after a fun filled night in Asiatique the Riverfront.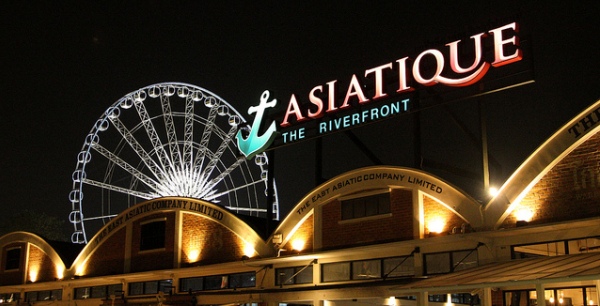 Day 2: Chatuchak Weekend Market – Terminal 21
After breakfast in hotel, proceed to Chatuchak Weekend Market (weekend only). There are more than 10,000 shops in Chatuchak weekend market scatter across 27 sections with  diversified of items from local foods, antiques, plants, pets, books, groceries to furniture and clothes available to shop for. You will need a full day tour in Chatuchak weekend market but it is impossible to browse through every single shop. It is recommended to download the market map here and decide what to shop for before visit the market. Getting to Chatuchak Weekend Market is easy, you can either take the MRT and alight at Kampheang Phet station or hop on to the BTS and hop off at BTS Mo Chit station.
After the market visit, it should be in the evening time by now, for those who are still energetic with shopping mood still on, proceed to Terminal 21, an airport themed shopping center with a unique design in each floor is waiting for your visit in Sukhumvit road. Continue your shopping journey here and enjoy fine dining in one of its restaurants. You can easily reach here with BTS, Terminal 21 is located in close adjacent with BTS Asok.
After a full day shopping tour in Bangkok, you should recharge in the hotel before continuing your tour for day 3.
Day 3: Floating Market – Train Market – Amphawa Market (Day Tour)

For your day 3 in Bangkok, join a day tour to visit some of the famous markets in Bangkok suburbs area. You can either sign up for this tour at your hotel front desk or pre book the tour online. One of the recommended day tours in Bangkok is Floating market, Train market and Amphawa market day tour. Visiting these markets will give you a good overview on the daily lifestyle for the Thai locals. It is also good to know that this tour is only available during weekend (Friday to Sunday).
For visitors who prefer to stay a night in Amphawa, there are many choices available, check this out.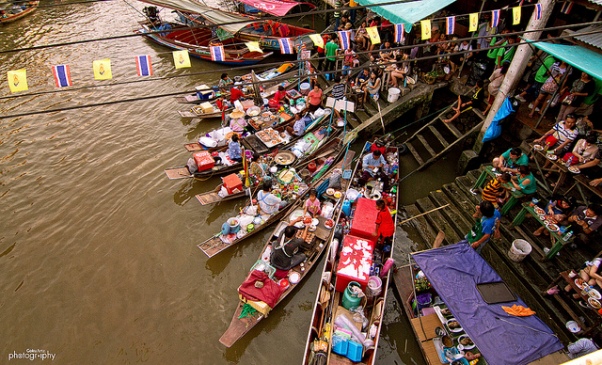 Day 4: Erawan Shrine – Platinum Fashion Mall – Central World – Siam Paragon – Siam Discovery – Khao San Road – Chinatown – T&K Seafood
After breakfast, hop on to the nearest BTS station and alight at Chit Lom BTS station. Erawan Shrine is just located beside Grand Hyatt Erawan. Erawan Shrine is the most famous Chinese temple in Bangkok, not only recognized by the local Chinese community, the temple is also famous among oversea visitors. After a short visit to the temple, proceed to the nearby Platinum Fashion Mall, the biggest wholesale shopping mall in Bangkok where you can find plenty of shops selling clothes, shoes, handbags and various accessories. Spend at least 2 hours for shopping and lunch before proceed to Central World Plaza. Central World is the second biggest shopping mall in Asia with more than 40 brands on board after its reopening in 2010.
After a visit to several attractions in Chit Lom, hop on to the BTS again for transfer to Siam area. Siam is the most lively area in Bangkok with the giant shopping mall Siam Paragon and Siam Discovery being the major attractions here. Spend at least 3 hours to explore the malls before leaving for Khao San Road to sample a series of tasty local delicacies. Phad Thai and Coconut Ice Cream are some of the must eat in Khao San Road. The best time to visit Khao San Road is around 5pm and visitors can either proceed to MRT Hua Lamphong follow by a short taxi transfer or take the Chao Phraya River boat by alighting at Phra Arthit (N13) follow by a short walk to Khao San Road. Khao San Road is also the best place for backpackers as there are plenty of backpacker lodges available to suit all budget, check this out.
With a short tuk-tuk transfer, you will arrive to the Chinatown. Sample some of the top quality bird's nests along the street and proceed to T&K Seafood for dinner. Please expect long queue as the restaurant is very famous among locals and international tourists.
After a fun filled and yet exciting tour in Bangkok, it is recommended to visit one of the many massage centers around Siam area before heading back to your hotel. Be pampered and enjoy being massaged by the well trained massage professionals.
Day 5: Departure from Bangkok
After breakfast in your hotel, order a taxi for transfer to the airport. If you are departing from Suvarnabhumi Airport, check out our BTS guide for more airport transfer information.
Recommended Hotels in Bangkok:
1. The Berkeley Pratunam
Located in the entertainment district with wide range of dining and shopping choices.
Reserve through Agoda.com
2. Baiyoke Sky Hotel
The sky bar offers magnificent view over the vibrant city.
Reserve through
Agoda.com
3. GLOW Pratunam Hotel
Located in strategic location with good service and spacious room at affordable price.
Reserve through
Agoda.com
4. Bangkok City Hotel
One of the best mid range hotels in city centre.
Reserve through
Agoda.com
Browse all Hotels in Bangkok >>
Need helps in setting up itinerary for your vacation in Thailand? Contact us