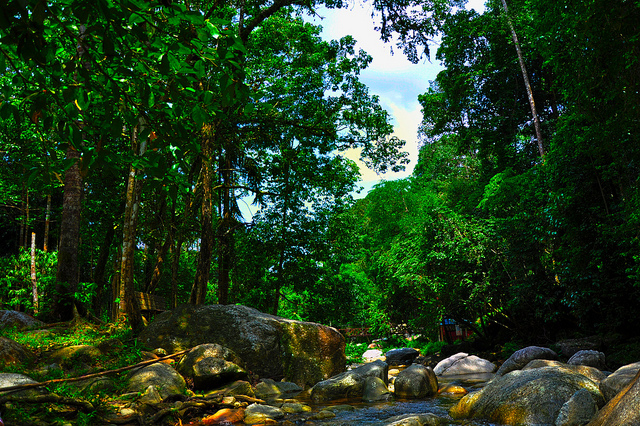 If you are in Malaysia, why not explore the states along the east coast? The state of Terengganu is one of them and is an amazing state that promises so much to do you will find that your stay there is really not enough. Terengganu is an enchanting state that features beautiful stretches of beaches, sunsets that compliment them, waterfalls, nature and unique cultural experiences.
If you are a nature enthusiast, the Setiu Recreation Park is an amazing destination to consider having on your itinerary. It has been deemed the new frontier for Malaysian Agro Tourism and is a great place to fully immerse you in the features of agriculture. Having been designed after the Malaysian Agricultural Park, this recreation park is a must visit that allows you an experience like no other. Live a day in the life of a farmer in a chalet. Enjoy your stay here as you wake up each morning in a chalet, in the middle of an oil palm plantation or in a tropical fruit paradise and experience life in the slow, relaxed and enchanting lane! The site of the park is set amidst the beautiful rain forest and features rivers flowing through it, caves and even waterfalls nearby. There is definitely so much to see and do in Setiu Recreation Park. Explore the trails and keep an eye open for the many unique flora and fauna that call the park their home.
The park covers a wide area and will definitely take more than a day to complete your exploration. Here is also a great place to learn more about the agricultural activities as well as the many aquaculture activities. Learn more about how the oil palm is processed and see first-hand, how it is processed in to the oil that you see in the bottles on shelves. Besides exploring the fruit orchards, the rain forest reserves and the agro forestry, why not try your hand at cooking? The Setiu Recreational Park features many ponds on site that offer visitors a catch of a variety of fish. Spend the evening fishing at the ponds and then head to the kitchen to display your culinary skills with your catch! There is nothing better than having your own catch for dinner!
The park features many accommodation and convenient facilities to make your stay and experience here a pleasant and memorable one. There are more than 20 chalets to choose from that offer you a comfortable stay and 3 hostels nearby that will be great for families as well.