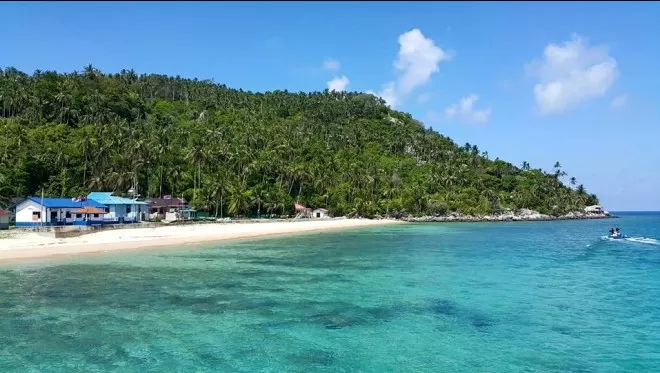 A secluded tropical island that offers crystal clear sea waters and white sandy beach, Pemanggil Island located off the coast of Johor is one of the perfect destinations for family getaway. The island is less famous among locals as most of the visitors head to the nearby Tioman Island, with this fact, the island is receiving less visitors and make it an unspoiled paradise ideal for snorkeling, mountain trekking, sport fishing and island hopping.
Things to do in Pemanggil Island
Pemanggil is well known a fishing heaven, if you are looking for a fishing tour, Pemanggil Island is a great destination that provides you with good experience in deep sea fishing. It is a hassle to bring all your fishing equipments if you are taking a long haul flight, no worries, the island has all the fishing gears, fishing tackles and fishing rods that you will need for your deep sea fishing enjoyment in the Pemanggil Island. Black Marlin, Giant Trevally, Sailfish, Dorado, Shark, Stingray, Tuna, Grouper, Spanish mackerel and Cobia are just a few to name out of the big pool of species mangling in the water.
Other than being famous as a fishing heaven, the island is also known for its beautiful marine life in its crystal clear sea waters. If you are diving enthusiasts, the white sandy beach couple with some fantastic snorkeling spots will definitely provides you with an unforgettable holiday in Malaysia. If you love to take adventurous challenges, then you should get to the hilltop which allows you to enjoy the beautiful scenic view of the island.
Where to Stay in Pemanggil Island
Within the island, there is a resort, in fact the only resort called Lanting Resort. This resort is built on a hilly rock where you can enjoy a bird's eye view of the beach and sparkling clear water from the room. The resort not only offers you a room to stay for a night or two, but it also provides a series of activities to their visitors. Snorkeling, scuba diving, jet skiing are some of the water sports activities that the resort able to arrange beside island hopping boat tour that allows you to experience the culture of the islanders. If you are going in a group, you can even enjoy the water sports facilities such as telematch and beach volleyball.
If you prefer to stay indoors and get yourself relax, there are a series of indoor games like monopoly, dart, playing cards, mah-jong and etc for your enjoyment. On top of that, you can also enjoy the inhouse karaoke service as well as to watch the classical movie that you wouldn't find it elsewhere. Dining service is another point worth to mention, you will love the local and western servings with all the fresh seafood on the table. I am sure you will also love the BBQ dinner on the beach!
Where is Pemanggil Island and How to get there
Pemanggil Island is located about 45km east of the Mersing port, it takes about 1.30 hours to 4.30 hours to reach the island from port depending on the mode of transportation. (Qatamaran boat – 1.30 hrs, Ferry – 2.45 hrs, and Fishing boat – 4.30 hrs). To get to the Mersing jetty is easy and convenient, there are plenty of coach providers available and you need about 6 hours to reach the jetty if you are departing from Kuala Lumpur. However, if you are touching onto Johor Bahru International Airport, you need less than 3 hours journey to reach the Mersing port.