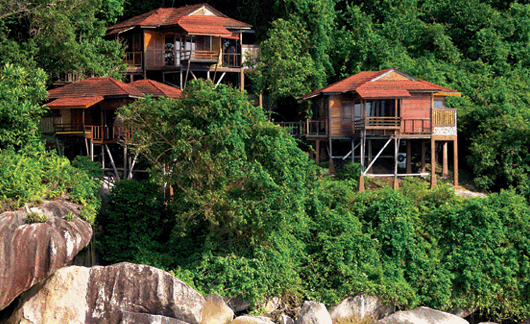 Depending on how you wish to enjoy your vacation in Malaysia, there are diversified of accommodations for every type of traveler can be found within Malaysia. Ranging from state to state, city to city, most of the accommodations in Malaysia available from backpackers hostels to luxury all inclusive resorts for vacationers who wish to enjoy their holiday in Malaysia in style. A trend of home stay type of accommodation has grown up in the recent years, especially in the more secluded countryside areas.
Most of the home stays type of hotels in Malaysia tends to provide a more home-like feel with smaller rooms and comfortable spaces. Normally run as a family business, staying in these hotels offer the travelers a good insight into the culture and customs of Malaysia. A good place to learn some local languages and dialects, you can expect to receive a more personal level of service.
If you wish to experience a luxury holiday in Malaysia, then there are a lot of hotels and resorts in Malaysia can be reached to meet your preference. From private baths with spa to personal tours and excursions, these resorts and hotels are great for a stress free holiday, where you do not need to lift your finger to get a thing done.
You can either stay in Kuala Lumpur to tour the rest of the states in Peninsular, or you can check in from hotel to hotel when touring from one state to the other. If you are on tour in the East of Malaysia, then you may want to stay in Kota Kinabalu of Sabah to tour around the Borneo Island. Most of the accommodations in countryside areas are spectacular as they provide a tranquil escape from the hustle and bustle in the larger cities. On the other hand, if you wish to enjoy a fun and noisy vacation in Malaysia, then checking into most of the hotels in Kuala Lumpur will let you experience the best of the city has to offer.
Searching for accommodations in Malaysia is fairly easy. Nevertheless, if you are visiting Malaysia during peak seasons (festive holidays and school holiday), making a pre-book on the hotel is highly recommended. Most of the hotels in Malaysia do accept online booking, some hotels would require prepaid and some does not require.