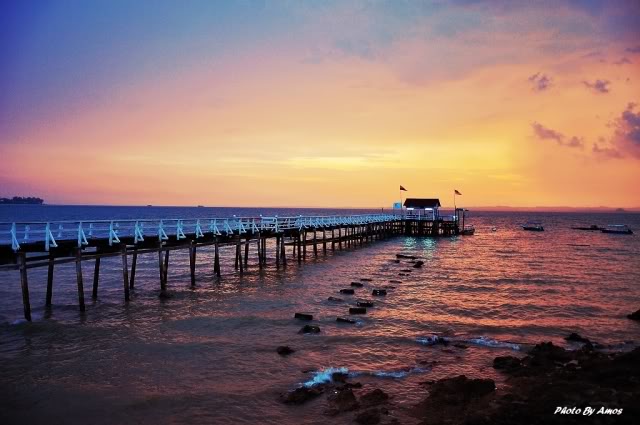 If you are enjoying your holiday in Malaysia, why not head over to the state of Johor and explore the charming state and the many sights, tastes and beautiful small town villages that await you here. The state of Johor is the southernmost state on the Peninsular of Malaysia.
Attractions in Sibu Island
Sibu Island (also known as Pulau Sibu) is situated on the eastern part of Johor. This beautiful island will definitely take your breath away. It is a perfect gateway if all you want is a secluded spot, with a beautiful view of the never ending horizon and an amazing stretch of white sandy beach to take lazy evening strolls on. Sibu Island is the best place to have your honey moon at as well.
The island faces the South China Sea and comprises several smaller islands. The main island which is the largest is called Sibu Besar which literally translates as Big Sibu Island. It is a short boat ride from the peninsular and you will definitely love the view of the horizon and beyond from the stretches of beaches here. Do keep your eyes open for the friendly creatures here. The island is also home to a quaint fishing village. The village of Duku plays home to about forty fishermen families and you will definitely be mesmerized at the charming village that is set on the beautiful beach that looks out to such a scenic view. You will find many fishermen boats here lining the beach. The stilt houses are definitely a sight not to be missed.
Things to do in Sibu Island
Get into the water and discover the beauty of the underwater world in the waters here. Scuba diving is definitely a must-do activity if you are in Pulau Sibu. You will see a diverse variety of fish, coral reefs and larger sea creatures; depending on how far out you go. There are many scuba diving facilities around and about the island that will take you on a tour of the beautiful environment under the water.
If you fall in love with Pulau Sibu, why not spend a few days here. There are quite a few resorts that are scattered across the island to choose from. There will definitely be a resort that meets your needs. Do bear in mind that some of the resorts facing the eastern side of the sea will close due to the annual monsoon period in November.
Sibu Island Trip Reports:
1. 2 days 1 night relaxing trip in Pulau Sibu