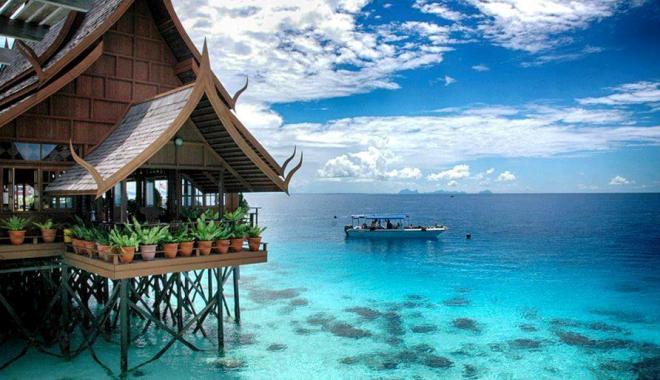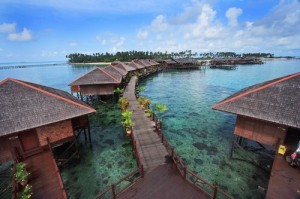 If you are looking forward to spend your holiday peacefully with some thrills in between, the Mabul Island in Semporna of Sabah might just be the right place for you to venture in. The island possesses an intriguing structure that will give one the impression of being in a water village at first glance. The location of the island is also strategic enough for one to be able to escape from the chaos in the big cities and seek for calm and tranquility in the island.
Muck Diving Paradise in Mabul Island
The Mabul Island is also the best place in Sabah if one would like to experience muck diving. Muck diving on the island will also allow you to experience a different exposure to the underwater world, in which you would also be able to witness beautiful underwater marine life while enjoying the coldness and relaxing moment when you are exploring the underwater world. The activity of muck-diving is very limited in the state of Sabah, and the Mabul Island is where you can experience one. Diving here you can expect to see blue-ringed octopus, flamboyant cuttlefish, bobtail squids and mimic octopus wandering around the reefs.
The location of the island also makes the surrounding of the island – no matter on land or underwater – to appear magnificent, especially the underwater view, which the clear blue sea with the support of beautiful corals and extraordinary marine life will make you feel as though you had been transported to a whole new underwater world. This is also the perfect chance for you to take out your camera and snap beautiful pictures of the underwater world in which the underwater species swim pass swiftly while joining you for a relaxing and meaningful exploration of the underwater world.
Tranquil and Untouched Sandy Beach in Mabul Island
The island's beach is also a nice place for you to hang out with your friends and family. You can simply lie down on a mat and enjoy the gentle sea breeze while allowing the sun to add more tans on your body. You can even organize a picnic session on the beach which will help you in enhancing your bonds between you and your friends and your family members.
Where to stay in Mabul Island
The comfortable and jaw-dropping chalets available on the Mabul Island are top-notch and are definitely eligible to provide you with the best comfort after a whole day long of exploration on the island. The setting of the chalets is also unique in its own way, allowing you to even stay and walk on top of the ocean while you take stunning pictures of the sceneries to wow your friends when you return to your home country.
The diversified of accommodation options here ranging from budget to mid range and luxury resort, whether you are on a budget diving vacation or looking for a luxury island retreat, Mabul Islands has everything to suit all budget and needs. For those who prefer to stay away from Mabul, the nearby Kapalai Island is also perfect and spectacular with its gorgeous chalets built on stilt above the water.
Where is Mabul Island and How to Get in
Mabul Island is a tiny island off the South Eastern coast of Sabah and is situated at about 15km away from Sipadan Island. Visitors to Mabul Island has to make their way to the Semporna town and most of them transit via Tawau by domestic flight from Kuala Lumpur or Kota Kinabalu or by bus, van, taxi or pre arranged resort pick up from Sandakan, Sukau or Lahad Datu. From Semporna, it takes about 45 minutes by speed boat to arrive to Mabul Island.
For visitors from Sipadan Island, Mabul Island can be reached with a 30 minutes boat ride arranged by the resort.