Best Travel Agency in Malaysia
Founded in 2013, Holidaygogogo Tours Sdn Bhd offers a diverse range of local and international tourism products. Licensed under the Ministry of Tourism (MOTAC) and registered under the Malaysian Association of Tour and Travel Agents (MATTA), Holidaygogogo delivers reliable transportation services, as well as relevant travel and tourism information within Malaysia.
Core Products
Island Tour Packages
Beach Resort Tour Packages
Cruise Packages
Custom made private tour
Transportation arrangement (MPV charter, Van charter, Tourist Coach charter, Air Ticket, Ferry Ticket, Bus Ticket)
---
Enjoy Worry-free Trip with Expert Planning
We specialise in island tour packages, transport arrangements, hotel booking for both inbound and outbound, and ticketing-related products. As a reliable travel agency in Malaysia, we offer travel guidance and prompt response to mitigate any unnecessary risks or unexpected predicaments while travelling — ensuring a safe and hassle-free journey, always.
---
Our Vision
To become Malaysia's leading best travel agency, delivering memorable travel adventures through our extensive range of personalised travel tours and packages for Malaysia & Global destinations.
---
Our Mission
As a trusted travel agency in Malaysia, Holidaygogogo strives to provide a reliable travel solution, from flights, accommodation, and transportation to tours and activities.
---
Our Values
Personalised Service
We create tailored itineraries and cater to various preferences, interests, budgets, and specific constraints to ensure you get the most out of your trip.
Prompt Reply
Delivering helpful and accurate responses, we make sure you receive immediate travel expert assistance with any travel-related enquiries or concerns as soon as possible.
Competitive Price
To provide outstanding value, we regularly offer flash sales and monthly promotions with significant discounts on specific tourism products or services.
---
Our Strengths
Licensed Under MOTAC
Licensed under MOTAC, we offer utmost protection and security for travellers by fully complying with all regulations set forth by travel industry authorities.
Five-Star Rating
Going above and beyond for customer satisfaction, our five-star rating on both Google Reviews and Facebook is a testament to our quality of service and support.
Online Booking
We implement online booking to deliver a modern solution for your travel needs while saving time and effort.
First-Time Visitor Friendly
We help novice travellers to stay safe and navigate their next trip like a professional by presenting comprehensive information about the destination.
---
Our Team
Mr Simon Lee
Founder, Sales & Marketing Director
In Sept 2013, Mr Simon founded Holidaygogogo Tours Sdn Bhd through his hobby website (holidaygogogo.com), which was incepted in 2010. He was the sole person in charge before hiring his first employee, Mr Soo, in 2016. Mr Simon is heavily involved in customer service and marketing development.
Ms Tan Chin Teng
Co-Founder, Finance & Admin Director
Ms Tan oversees Holidaygogogo's finance-related matters, assuring accurate and precise transactions. She also actively recruits talented individuals to join the agency and ensures strict compliance with internal administrative procedures.
Mr Soo Ch
Senior Customer Service Executive
Since joining Holidaygogogo, Mr Soo has advanced from a sales coordinator to a senior customer service executive. Currently, he handles customer service and enquiries and preparing sales orders and in/out payments.
Ms Anna Choong
Customer Service Executive
Ms Anna was a freelance tourist guide or docent, skillfully planning itineraries and tour routes with her travel knowledge. Ms Anna has successfully completed the Malaysia City Tourist Guides Course from GIT Academy.
Nasha Natasha Zulkifli
Customer Service Executive
Ms Nasha graduated with a Diploma in Tourism Management. After working in different industries, she returned to the travel world by joining Holidaygogogo as a customer service executive.
Ian Yap
Customer Service Executive
Mr Ian has experience as a tour coordinator, handling enquiries and applying for guests' Visas. At Holidaygogogo, Mr Ian manages customers' various enquiries and solves their travel problems.
Nurul Aqilah binti Ishak
Online Marketing Executive
Graduated with a Bachelor of Science (Hons.) Tourism Management, Ms Nurul began her career journey in the travel world as an operation assistant trainee. Now, she develops and manages Holidaygogogo's social media content.
Ernida Mohd Nyisak
Account & Admin Executive
Ms Ernida performs daily cash functions, including A/P and A/R tracking, payroll transactions, expense management and various reconciliations. She also coordinates month-end closing processes as well as reviews financial statements and tax audits.
Sui Lan
Product Development Manager
Ms Sui Lan has ample experience in tourism, beginning her journey as a nature guide at Langkawi. She was also a supervisor eco-guide cum sustainability coordinator for a Brunei company, handling and monitoring countless tours.
Contract Staffs & Freelancers
A group of contracted staffs and freelancers working round the clock to develop useful travel content, providing our customers an easy to refer travel guide for easier travel planning, all for FREE.
---
Your Go-To Travel Agency in Malaysia
Travel is made easy with Holidaygogogo. Reach out to us to learn more about our services.
Location
Our office is located in Setia Alam, Selangor.
Address: No 47-1, Jalan Setia Gemilang BG u13/BG, 40170, Setia Alam, Selangor.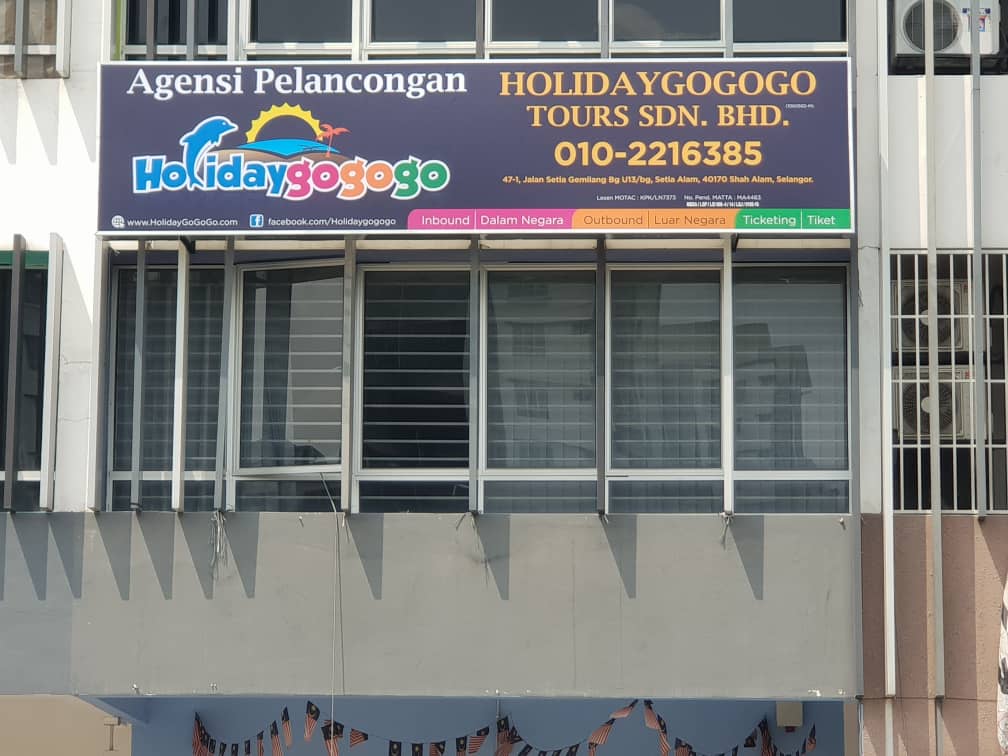 The easiest way to get in touch with us is via Whatsapps:
-> +6010-2396385 (For travel products)
-> +6016-3796385 (For travel products)
-> +6016-3526385 (For travel products)
-> +6016-6016385 (For travel products)
-> +6010-2216385 (For Marketing & Collaboration)
-> +6016-6136385 (For New Product Development & Partnership)
Company Bank Details
Account Name: Holidaygogogo Tours Sdn Bhd
Account Number: 5128-4851-0541
Bank: Maybank (Malayan Banking Berhad)
Swift Code: MBBEMYKL