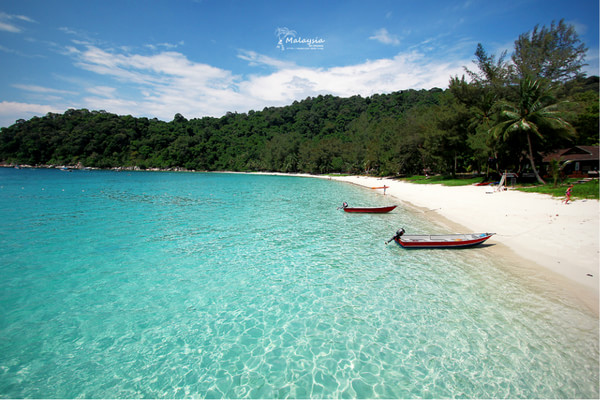 The east coast of Malaysia is known for its beautiful beaches, islands and magnificent underwater world that promise tourists and locals a spectacular getaway, Perhentian Island (or Pulau Perhentian) is one of these islands that will ensure an exciting and romantic holiday for both the family and honeymooner.
Things to do in Perhentian Islands
Pulau Perhentian is the ultimate romantic destination and secluded gateway for those looking for a quiet holiday far away from the busy and bustling cities. The island is just 20 km away from the coast of the main land and is by far one of the most beautiful islands in the country. The palm-fringed sun-kissed beaches, turquoise blue water and the never ending horizon are just perfect for an idyllic holiday under the sun. There is nothing better than just spending a day lazing on the beach or just swimming in the clear water.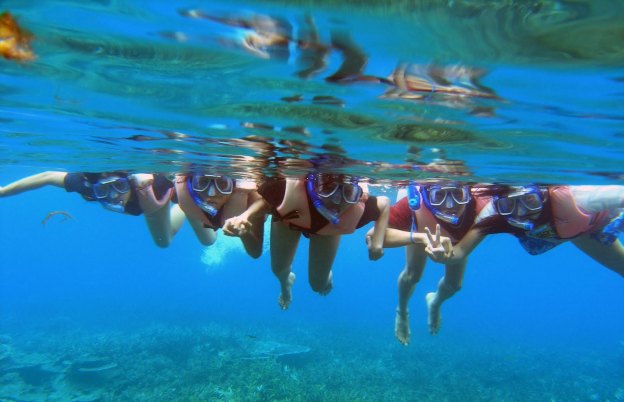 There are two islands in Perhentian; the Perhentian Kecil and Perhentian Besar. Whichever island you may be on, the beautiful white sandy beaches with tranquil sea waters and the tropical rainforests nearby are the ingredients that make for a memorable holiday with your loved ones. Snorkeling in the crystal clear water is not to be passed off for anything else. The fun is in the water too! Once you are in the water, you will definitely enjoy yourself as you explore and discover the beautiful ecosystem here. There are many creatures that come close to the shore and there is nothing more memorable than being able to be surrounded by these beautiful sea creatures. Scuba diving is also another activity that you should try out if you are able to do so. The waters here hold many secrets and corners to explore. There are a few ship wrecks to explore here as well and you will definitely love the experience of being surrounded by large schools of fish. Some of the famous residents here are sea turtle, shark, diversified of fish species and plenty of beautiful corals.
If you like to do a little bit of walking, there are several walking trails that lead to viewpoints overlooking beautiful shorelines. The most popular viewpoint is the Lighthouse Towers, here, not only to enjoy the spectacular view and you will also get to enjoy the excitement of water jumping. As part of the effort to support ecotourism, visitors can also take parts in the Turtle Conservation Program organized by the Department of Fisheries. Not only to participate in various conservation activities, volunteers can also get close to this wonderful species and learn more on how to protect their ecosystem from being disturbed.
Where to stay in Perhentian Island
There are many accommodation options in both islands, ranging from backpacker hostel to all inclusive resorts that suit all type of budgets. Most of the resorts do offer snorkeling and diving tour that covers transportation and accommodation as part of the all inclusive package. If water activity is not your type, you can also simply relax on the beaches and enjoy a glass of chilled champagne at the same time, many resorts in Perhentian Islands do provide onsite restaurant and bar.
How to get in to Pulau Perhentian
Perhentian Islands can only be reached via speed boat from Kuala Besut jetty and the boat service will normally get very crowded especially during the holiday seasons and weekends. From the jetty, it is about 40 minutes journey to reach either the Perhentian Besar or Perhentian Kecil island. By reserving your boat tickets in advanced you will skip the crowd and enjoy a hassle free vacation on the island. Also, check with the boat operators for daily transfer schedule so you can plan the trip flexibly.
Travel to Perhentian viaKota Bharu by Air
The nearest airport from Kuala Besut Jetty is Sultan Ismail Petra Airport in Kota Bharu, located at about 1 hour away by car. Daily regular flights are available from Kuala Lumpur (KLIA, KLIA2 or Subang Airport) operated by Malaysian Airline, Air Asia and Firefly respectively. In case that the flight to Kota Bharu is fully booked, you may also book a flight to Kuala Terengganu in which the town is located at about 2 hours away from Kuala Besut Jetty.
Taxi fare between Kota Bharu Airport and Kuala Besut jetty – Approximately RM80-100 per way.
Taxi fare between Kuala Terengganu Airport and Kuala Besut jetty – Approximately RM130-150 per way.
Visitors can also book the land transfer with their respective resort or travel agent which will cost about RM30 to RM60 per way depending on the pick up location.
Travel to Perhentian via Kota Bharu by Train
The nearest train station (KTMB) is Tanah Merah station, it is about 50 minutes journey on the road to Kuala Besut jetty.
From Singapore or Johor Bahru – take the overnight train with Timuran Express which is normally arrives at Tanah Merah station at 7am.
From Kuala Lumpur – Hop on to Express Wau overnight train that schedule to hit Tanah Merah station at 10am on daily basis.