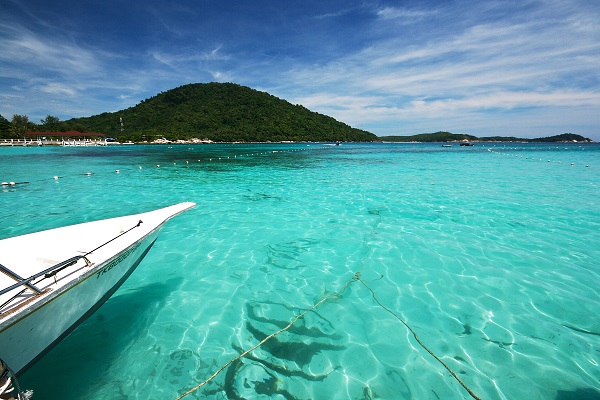 Located 21 km off the coast of Terengganu, Pulau Perhentian consists of the islands of Perhentian Besar (Big Perhentian) and Perhentian Kecil (Small Perhentian). The name Perhentian means 'stopover point' in Malay, referring to the islands' traditional role as a sanctuary for fishermen and ancient traders plying the eastern and western sea routes. Both islands are covered by an untouched primitive jungle that also acts as a stopover for migratory birds. Their coasts are fringed by powdery white sandy beaches, windswept palms and surrounded on all sides by sapphire blue waters. Its excellent underwater seascape is lush with a wide variety of soft and hard coral gardens, large sea turtles and diverse marine life.
Pulau Perhentian was chosen by a CNN survey in 2013 as the 13th Best Beach in the world. In 2010, The Lonely Planet Travel Guide Book recognized Pulau Perhentian as the 5th Best Beach to Swing the Hammock. Both the islands offer options for accommodation and facilities that suit discerning travellers of all ages and budgets.
Pulau Perhentian Besar, for those who long for tranquility!
For those who plan to visit Pulau Perhentian with their family, Pulau Perhentian Besar is the best choice for them. Pulau Perhentian Besar is suitable for those who want to enjoy the tranquility of the islands. There is a lot of beach that you can visit here for example, Pantai Teluk Dalam dan Teluk Pauh. Besides, most of the snorkeling point is located at Perhentian besar such as Blue Lagoon, Turtle Point, Shark Point and Coral Garden. You do not have to worry about accommodation here as there is a lot of resort and hotel that you can choose if you want to stay in Perhentian Besar.
Pulau Perhentian Kecil, main attraction for tourist and those who love to have fun.
Shout out to those who want to enjoy their stay at Perhentian to the fullest! Pulau Perhentian Kecil is the ultimate answer for you guys! Different from Perhentian Besar, this stop suitable for those who love to have fun. One of the main attractions for tourist here is 'Nightlife and Party' at Long Beach where people usually hang out and party all night long. Therefore, for those who cannot stand noisy place and party, yau may want to stay away! However, you may want to stop by during daylight to visit 'Perkampungan Nelayan' to see their daily activities and the famous Kincir Angin. The view from the top of Kincir Angin is the most beautiful that you can find in Pulau Perhentian.
Attractions in Pulau Perhentian
As Pulau Perhentian is famous for the mesmerizing nature and clear blue beach, you won't find museums or galleries as the main attractions. Instead, people come here to relax and unwind while enjoying the wonderful nature.
Teluk Keke
Located at southwestern side of Pulau Perhentian Besar, this beach houses several beautiful corals. If you enjoy snorkeling, you should not skip this place when you are here. Besides, you can easily reach this beach without boat. You can just walk along the beach from Big Beach towards south and Teluk Keke is about 10 mins walk away.
Turtle Sanctuary Beach
Turtle Sanctuary Beach is one of the beaches where you should stop by and enjoy snorkeling activity. Covered with soft white sands, blue skies and crystal-clear water, your snorkeling experience will be totally difference. You can swim with varieties of fish and see colorful coral reefs and if you are lucky, you may come across the main attraction of this beach which is the large sea turtles! I bet your children will enjoy these experiences the most.
Teluk Pauh
Teluk Pauh is one of the nature attractions located at Pulau Perhentian Besar. You will definitely fall for the charms of this place once you arrive here. Teluk Pauh is famous for its crystal-clear water and it looks like a natural swimming pool. This is the best location to swim to your heart content as the water level is not too deep and your swimming experiences will feel thousand time better here! Locals here also prepares 'water taxi' services and you can come and experiences it yourself.
Kincir Angin D'Lagoon
If you want to view the whole picture of Pulau Perhentian, Kincir Angin D'Lagoon is the answer. It is one of the attractions located at the highest peak of Pulau Perhentian Kecil. You will see the most beautiful view of Pulau Perhentian once you set your feet on this this peak. Kincir Angin D'Lagoon act as an 'observation deck' of this island and you can see 360    full view of Pulau Perhentian from here.
Lata Air Berani
Although Pulau Perhentian is packed with beautiful and interesting places, the most unique attraction is Lata Air Berani. Why is this place crowned as the most unique place? It is due to the natural small pond that formed on the shore of Pulau Perhentian Besar that never dried! The mysterious pond never fails to attract people to spend their time here and swim to their heart content. The water is as cool as ice and very refreshing to your body.
Things to do in Pulau Perhentian
Snorkeling in the 'heaven of marine life'
Pulau Perhentian is definitely 'heaven on earth' for people who love to explore underwater world. The beauty of the beach, sea creatures and nature attract tourist from all over the world to come and enjoy it. The beautiful coral and diversity of fish can keep people in the water for hours. There is no wall between you and the wonderful sea creatures at all! You can swim together with them as close as you want like Ariel and Flounder in 'Little Mermaid' movie. Children will love it the most as they can experiences what they saw on the movie in real life. But again, adults might enjoy it too since it might happen only once in a lifetime. You can visit Pulau Rawa, Pulau Burung, Tanjung Basi, Teluk Pauh and Long Beach to experience the best snorkeling moment ever.So, make sure to include these place in your holiday itinerary!
Jungle Trekking and enjoy green untouched forest!
Pulau Perhentian is unique as most of the islands remained untouched and this helps preserved the islands native nature beauty. Not only the beaches but the jungles also being kept maintaining its original form. Therefore, you can easily see that the jungles are very beautiful and green. Hence, aside from water activities jungle tracking is amongst the popular activities. People enjoy jungle trekking both during the day and night. Therefore, for those who don't have any interest in water activities you can still come here and enjoy the Mother Nature without going into the water. If you wish to do jungle trekking in Perhentian Kecil, it's possible to walk almost the entire way around using d'Lagoon as a starting and finishing point. There is a trail leads from d'Lagoon to Turtle Beach, Adam&Eve Beach and lastly to the wind turbines. The whole trail only takes 1 hour to be completed. If you wish to continue, this trail will eventually lead you to the Long Beach.
Beach Hop and discover Perhentian's endless beautiful beaches.
Although snorkeling is one of the activities that you must do when you visit Pulau Perhentian, it will be a waste if you only do it once. Therefore, I strongly suggest for you to try beach hopping while you are at it. As you know, there is a lot of beautiful beaches here in this mesmerizing island. All of them display an equally beautiful scenery but why not experience all of them. You might be able to see different sea creature at different beach. Plus, with this activity you can explore more isolated beauties that hidden in Pulau Perhentian. You can take boat and explore more places such as Turtle Beach and Mira. Basically, you can do snorkeling activity while beach hopping. If you want to do it, why not do all out and having no regret later.
Scuba diving to discover the beauty of underwater world
Due to the incredible crystal-clear waters along with the countless of beautiful reefs, Pulau Perhentian is one of the heavens for scuba divers. With a guide from the expert you can dive and discover the underwater realms that homes various sea creature such as sea turtles and various species of shark. Although, the whole Pulau is covered with undeniably beautiful clear beaches that is suitable for diving, there is several places that known as the best spot for diving. For example, Tukun Laut, Terumbu Tiga, Batu Layar, D' Lagoon and Shark Point. Although each of them displays an equally mesmerizing view, you might be able to see different sea creature in each spot.
Some other activities that you can do in Pulau Perhentian:
Watch the sunset at beautiful beaches such as Coral Bay, Long Beach and another private spot.
Want to visit another side of Pulau Perhentian? You can visit local fishing village and see how the locals live and work. If you come early in the morning, you can see the fisherman haul their catch.
Run away from the hassle and enjoy your time alone while kayaking. You can rent a kayak and go it alone or for beginner you may opt for a guided tour instead. This is one of the ways to enjoy the scenery of the island.
Enjoy seafood at a cheaper price in Perhentian Kecil. One of the famous dine spot is Coral bay where you get to enjoy freshly catch seafood by the seaside on the white sand beach.
Enjoy your night life at Long Beach! Party can go all night long here and it is one of the tourist most visited spot. For those who have small kids, this place might be less suitable to be at.