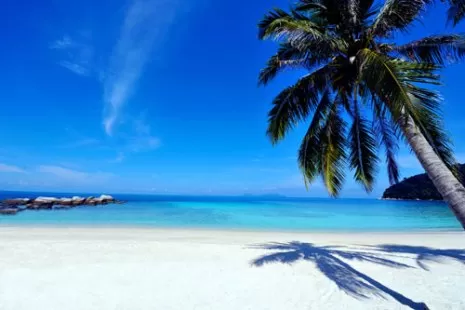 Pulau Lang Tengah or Lang Tengah is a beautiful unspoiled island in Terengganu located at the east coast of Malaysia, featuring white sandy beaches and crystal clear tranquil sea waters with plenty of corals and tropical fish species. Sitting in between the famous Redang Island and Perhentian Island, visitors will basically find no short of options on things to do and place to stay in and the nearby islands.
Lang Tengah Island is known for its virgin exotic beauty and is basically uninhabited. The only people that you can find on this particular island are basically people who work in the island's resorts and tourists. This tropical island is surrounded with shades of greenery and its tropical forests complete with its white sands and clear waters, which adds to its sparkling charm. The island is a magnificent place for honeymoon and for those who are looking for island vacation.
Things to do in Lang Tengah
Exotic flora and fauna make the island a little extra color and the seas of the island home to a variety of different sea creatures and tropical fishes. Lang Tengah also offers some activities for tourists and visitors to enjoy. The popular activities on the island are snorkeling, swimming, diving, fishing, or simply sunbathing. Not only water activities but visitors can also enjoy an adventurous exploration through the jungles by walking through its jungle trails on the island. Jungle trekking here is a great activity for nature discovery as the visitors are able to see a variety of bird and animal species along the trail.
For visitors who prefer to stay still and don't feel like engaging in any activities, simply lay back on the white sandy beaches and enjoy a glass of chilled champagne at the same time is also great.
Where to Stay in Lang Tengah
There are not many resorts in Lang Tengah as most of the resorts are located in the nearby Pulau Perhentian and Pulau Redang. However, there are still a few resorts available on this beautiful island that offers top notch service. One of the resorts available on Lang Tengah is Summer Bay Lang Island Resort. The services provided by this resort are rather good and the amenities here would make your stay a very memorable one.
For visitors who prefer to stay on the more crowded Perhentian or Redang, a boat ride of less than an hour will get you to access more accommodation options.
How to go Lang Tengah
Lang Tengah Island is situated about 40km away from Kuala Terengganu and can be reached by boat via Merang jetty. There is no scheduled ferry operates in this jetty to Lang Tengah and visitors will need to pre-arrange the boat transfer with the resort in Lang Tengah. For last minutes arrangement, you can also find several boat transfer operators at the jetty that departs to the island on daily basis. The journey from Merang Jetty to Lang Tengah Island will take about 40 minutes each way. The nearest airport to Merang Jetty is Sultan Mahmud Airport in Kuala Terengganu.
There are also several boat charter operators who operate transfers from Redang Island, Perhentian Island or Merang Jetty. For easy access to the nearby islands, charter a boat is a good option to move around.
Whether you are looking for a relaxing getaway with your loved one or wish to discover the diversified of underwater marine life in Lang Tengah, there are more than what you can imagine the island has to offer.
Check out our Lang Tengah Package here
---
Whatsapp us to get more details!
Please WhatsApp us by clicking the WhatsApp Button.

We are reachable by call too:
+6010-2396385
+6016-3796385
+6010-2216385
You may also fill up the Inquiry Form below:
[wpforms id="86470″]