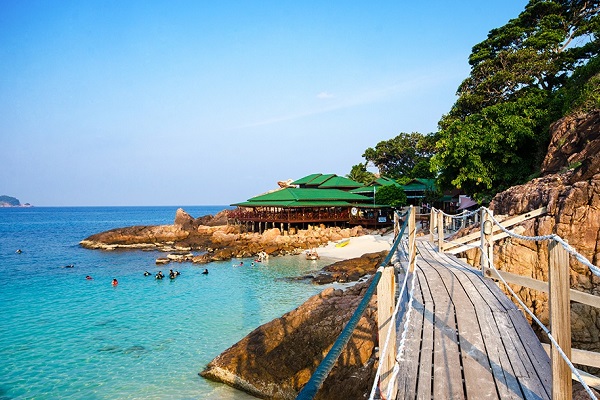 Located at about 45km of the coast of Terengganu, Redang Island (Pulau Redang – 热浪岛) is the largest island in the state. It is famous for its pristine beaches, fabulous dive sites, crystal clear water and picturesque views. The most popular beach is the 800m Long Beach (Pasir Panjang) where most of the resorts and chalets dotted along the shore.
---
Things to do in Pulau Redang
Snorkeling in the tranquil, crystal clear water to see colorful fishes and corals.
Scuba diving to discover the shipwrecks and other interesting features of the waters here in Pulau Redang. There are more than 30 dives sites near Pulau Redang.
Catch sunset from Long Beach and sunrise by evening cruise.
Trekking to see the diversified tropical plants and animals.
Turtle watching.
Night party!
Build sand castles with kids.
Get sweat by playing a round of beach volleyball or beach soccer.
Pamper yourself by signing up a spa package.
Sit back, relax and do NOTHING!
---
Pulau Redang Travel Q&A
How to travel between Johor and Pulau Redang
How to travel between Singapore and Pulau Redang
How to travel between Penang and Pulau Redang
How to travel between Kuala Terengganu Airport and Shahbandar Jetty/Merang Jetty
How to travel between Kota Bharu Airport and Shahbandar Jetty/Merang Jetty
---
Pulau Redang Tours & Packages
---
Recommended Resorts in Pulau Redang
---
Nearby Attractions