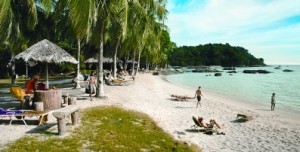 Known to be the Jewel of Kedah, or in the Malay language, more commonly known as Langkawi Permata Kedah, Langkawi Island is positioned roughly 30 kilometers off the shoreline of north western Malaysia located within the state of Kedah. Bounded by beautiful blue-green sea and unsoiled white sand, Langkawi Island is a famous attraction among locals and foreign tourists.
Attractions in Langkawi Island
Despite Langkawi being a small island, it still has a lot to offer in various aspects. Tourists can be occupied with many different types of activities and diverse places to go! For one, Langkawi Island has numerous beaches to visit, such as Cenang Beach, Datai Bay, Tanjung Rhu, Burau Bay and Andaman. Visitors that just want to have some sun, sand and sea would be spoiled for choices here!
Not only beaches, but there are also various tourist attractions that worth for a visit. Visitors who love to see animals in action are recommended to visit the Crocodile Farm, Bird Paradise and the Underwater World where there are tremendous showcase of the unique species in this tropical country. If you are looking to see some local landmarks, head on to Kuah Town where you will be able to see the eagle monument stand firms at the Eagle Square. If you are chocolate lover, there are a lot of shops within the town that sell duty free chocolates imported from other parts of the world, Australia, Switzerland and Netherlands are just a few to name.
Get a cable car ride to Mount Machincang for about an hour of fun-filled adventure. Explore the heights of the amazing forests as you sail by the beautiful scenery. On the way up, visitors will also get the chance to discover the Seven Wells Waterfalls, a place where you will see water streams from the mountain falls into 7 pools. For visitors who wish to see the waterfalls up close can also opt for a walking tour. After the cable car ride, visit the Oriental Village, an Asian-inspired village that is filled with many restaurants, traditional activities and even performances.
Things to do in Langkawi Island
One of the common activities to do in Langkawi would be island-hopping, whereby tour guides would bring visitors around and explain the formation of the islands that resemble something, such as the Pregnant Maiden Island. These tours would take roughly four hours and during the tour, visitors would be in awe as they know about the history of the islands. Diving and snorkeling enthusiasts should go nowhere other than to visit some of the magnificent diving and snorkeling spots within the island, Pulau Payar Marine Park is definitely a place that every scuba diver and snorkeler should pay a visit as the park offers great diving spots to discover magnificent underwater marine life that you will not get to see elsewhere.
Attractions in Pulau Langkawi:



Recommended Hotels in Pulau Langkawi, Kedah:
1. Meritus Pelangi Beach Resort & Spa
Among the best resorts in Langkawi, close to the lively Cenang Beach.
Reserve through Agoda.com
2. Resorts World Langkawi
A hotel near to Cenang Beach praised for its nice view and superior staff service.
Reserve through
Agoda.com
3. One Hotel Helang
A stone throw away from the Langkawi Airport.
Reserve through
Agoda.com
4. Casa Fina Fine Homes Hotel Cenang
Value for money accommodation and easy access to the Cenang Beach.
Reserve through
Agoda.com
Browse all Hotels in Pulau Langkawi, Kedah >>
Get in & around in Pulau Langkawi:



There are numerous ways to reach Langkawi Island, air travel is the easiest way as there is a international airport in Langkawi. Tourists can easily have a direct flight to this island from Kuala Lumpur, Penang, Singapore, Phuket and even Hatyai. For visitors who wish to stay up close with the ocean, travel by boat is also a good option, whereby tourists can travel via the Langkawi Ferry. Visitors from Thailand can depart from the Telaga Harbour, and there is no worry as they operate twice a day, having double shifts to suit the convenience of visitors.
Seeing that this island is not huge, it adds to the convenience of getting around. Tourists can easily get around the island by getting a cab, or simply by renting a car, motorbike, scooter or even travel healthily; bicycles! Take note that the island will get very full during the peak season (especially during local school holiday and festive seasons), so making a pre book on the transportation that you are going after is always a wise decision.