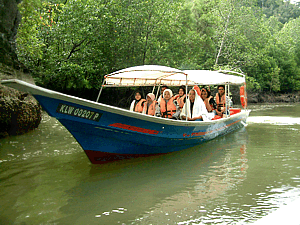 As a tourist traveling around the states in Malaysia such as Kedah, a visit to Langkawi Mangroves should definitely be added to every visitor's to-do list. Considered as an eco-tour, visitors of Langkawi would spend some time getting to know the mangroves more than just about its outlooks.
The Kilim Mangrove Forest is as large as 1310 hectares, which covers the river banks that travel to the estuary. Adjourning from Tanjung Rhu, this four-hour boat ride would be accompanied by a tour guide cum boatman to steer the boat. These tours could be arranged by the resort itself on any particular day at any convenient time. Not to worry, as these tour guides provided by the resorts are able to converse in English and therefore they would be able to unfold the information about the mangroves without a hassle.
Apart from being an insightful trip, this tour also provides an educational approach, especially for families with children. Why? This serves as a change for children to gain knowledge about the ecosystem outdoors, instead of being bounded indoors! Children would find these trips fascinating as they learn about the flora and fauna in a more enlightening way.
Then again, if tourists are on slightly tighter budget, they could also rent their own boat and share the costs among the ones that are on board. Although they boatman may not be as fluent in the preferred language, but either way they would still be able to take visitors through the beautiful mangroves that surround them as they sail through the river.
Not only would tourists be surrounded only by mangroves, but they would also be able to spot eagles in the sky whereby the boatman would demonstrate an 'eagle-feeding' session, aquatic creatures in the river such as crabs and various types of fishes which includes the strange land-fish, and kingfishers! Even luckier, the sight of otters would amaze visitors as they swim by the boats or get spotted fishing to feed their young.
As the boat gently sails, visitors would come across certain caves like the Bat Cave, or the Cave of Stories. Numerous bats would be found hanging from the top limits of the cave, which is an uncommon sight as bats aren't easy creatures to be spotted. As for the Cave of Stories, a past history has led to this cave to be carved with Arabic inscriptions on its wall.
By the time all these are accomplished, the visitors would be led back to shore, and by then they would have realized that four hours were gone, just like that. Well, time passes by quicker when one is having fun!
Recommended Hotels in Pulau Langkawi, Kedah:
1. Meritus Pelangi Beach Resort & Spa
Among the best resorts in Langkawi, close to the lively Cenang Beach.
Reserve through Agoda.com
2. Resorts World Langkawi
A hotel near to Cenang Beach praised for its nice view and superior staff service.
Reserve through
Agoda.com
3. One Hotel Helang
A stone throw away from the Langkawi Airport.
Reserve through
Agoda.com
4. Casa Fina Fine Homes Hotel Cenang
Value for money accommodation and easy access to the Cenang Beach.
Reserve through
Agoda.com
Browse all Hotels in Pulau Langkawi, Kedah >>