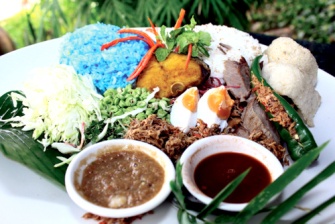 Located in the north-eastern corner of Peninsular Malaysia is the state of Kelantan.
It is a state which is full of paddy fields, fishing villages, and beautiful beaches as well. The majority of the people in Kelantan are of Malay ethnics. They practice very specific Malay traditional cultures and the Malay dialect is somehow a little bit different from other parts of Malaysia.
This slight variance in culture is due to Kelantan's relative isolation and predominantly rural lifestyle.
Nevertheless, it has some very nice Malay cuisines here that are worth trying when you visit Kelantan. They are simply mouth-watering!
Here are our top suggestions for what to eat in Kelantan!
The Kelantanese Cuisine
Before we go to the list, you should know a little bit about Kelantan cuisine. Kelantan cuisine is heavily influenced by Thai cuisine and, due to the similarities in taste between both cuisines, is extremely well-liked among Malaysians.
It makes extensive use of coconut milk, even more than any other Malaysian cuisine. Their curries are creamy and rich, with a flavor that is reminiscent of its Thai origins.
Many of the tourists who come to Kelantan do so to sample the local cuisine, which you can't find easily in other parts of the country. Sugar is one of the ingredients in their kitchen, and as a result, you can expect a sweet taste to many dishes here.
Alright, now let's answer your big question: what to eat in Kelantan?
Nasi Kerabu, Nasi Dagang and Nasi Tumpang
Nasi kerabu is a type of rice, which is either in black, yellow or white. Often it is served together with raw vegetables and fish "sambal", a famous and fragrant chili sauce. Another rice dish would be Nasi Dagang, which consists of glutinous rice in red color and is eaten with fish curry and raw pickles.
Nasi Tumpang is a special dish that comes with various rice and curry and is served wrapped in triangular banana leaf. Thick curry, eggs, cucumbers, and spicy coconut flakes are traditional ingredients for Nasi Tumpang, but modern versions also include other ingredients and condiments.
While it was once a popular dish among fishermen and farmers, Nasi Tumpang is now more commonly enjoyed as a hearty meal to start the day. You can find it in many Kelatanese 'kopitiams' or food joints.
Laksam and Solok Lada
Laksam is a traditional recipe where it is made from rice powder with white coconut milk curry. There is fish meat in Laksam as well. Upon serving, it is often added with raw vegetables called "ulam".
The other type of food is called "Solok Lada". It is basically a stuffed chili and is filled with coconut flesh, fish meat, and coconut milk. These two are Kelantan traditional food at its finest and are definitely a must-try.
Sambal Daging, Gulai Darat and Budu
One special side dish (which also doubles as a sauce) you ought to try when visiting Kelantan is the Sambal Daging, which is prepared by cutting the meat into tiny pieces and cooked with special local spices. The other 2 types of sauces are Gulai Darat and Budu. Gulai Darat is a spicy curry sauce best served with rice and Budu is a sauce made from fish meat and blended finely to eat together with grilled fish (Ikan Bakar) or meat.
Ayam Percik and Jala Mas
Ayam Percik is a well-known traditional dish in Kelantan. It is grilled chicken with coconut milk, lemongrass, onions, galangal, and other spices. It is a very special dish loved by the locals and visitors as well. It's usually eaten with rice and vegetables. The chicken is marinated in the spices for several hours or overnight. The sauce is made separately, and when the chicken is fried, it is basted with it to make a delicious, rich exterior taste. So yummy!
For most people, whenever they think of Kelantan, Jala Mas comes to mind. Jala Mas is a popular mouthwatering 'kuih' made from eggs and sugar and is a must-try food as it is only available in Kelantan. It is sometimes known as Royal Cake because it looks delicate. If one were to slowly savour it, thread by thread, you will find that it is very tasty and fragrant.