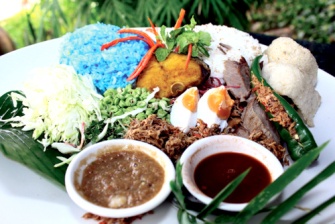 Located in the north-eastern corner of Peninsular Malaysia is the state of Kelantan. It is a state which is full of paddy fields, fishing villagers and beautiful beaches as well. Majority of the people in Kelantan are of Malay ethnics. They practice very specific Malay traditional cultures and the Malay dialect is somehow a little bit different from other part of Malaysia. Nevertheless, it has some very nice Malay cuisines here that are worth trying when you visit Kelantan.
Nasi Kerabu, Nasi Dagang and Nasi Tumpang
Nasi kerabu is a type of rice, which are either in black, yellow or white. Often it is served together with raw vegetables and fish "sambal", a famous and fragrant chili sauce by the Malay. Another rice dish would be Nasi Dagang, it consist of glutinous rice in red colour and are eaten with fish curry and raw pickles. Meanwhile Nasi Tumpang is a special dish that comes with various rice and curry and is served wrapped in triangular banana leaf.
Laksam and Solok Lada
Laksam is a traditional recipe where it is made from rice powder with white coconut milk curry. There is fish meat in Laksam as well. Upon serving, it is often added with raw vegetables called "ulam". The other type of food is called "Solok Lada". It is basically a stuffed chili and is filled with coconut flesh, fish meat and coconut milk. These two are Kelantan traditional food and are definitely a must try.
Sambal Daging, Gulai Darat and Budu
Some of the special side dish and sauces you ought to try when visiting Kelantan is the Sambal Daging, which is prepared by cutting the meat into tiny pieces and cooked with special spice. The other 2 types of sauces are Gulai Darat and Budu. Gulai Darat is a spicy curry sauce best served with rice and Budu is sauce made from fish meat and blend into sauce to eat together with grilled fish or meat.
Ayam Percik and Jala Mas
Ayam Percik is a well-known traditional dish in Kelantan. It is grilled chicken with coconut milk and some other herbs. It is a very special dish loved by the locals and visitors as well. On the other hand, Jala Mas is also a popular mouthwatering cake made from eggs and sugar and is a must try food as it is only available in this state in Malaysia. It is sometimes known as Royal Cake.