Kuala Lumpur is the Federal Territory of Malaysia. It is a busy and lively city that offers great shopping, nature wonders and variety of good food. With a mix cultures from different ethnics of Malays, Chinese and Indian, there are many things to explore and food to try on. The highlights of Kuala Lumpur are no doubt its eating, shopping and nightlife .
Nasi Lemak and Ikan Bakar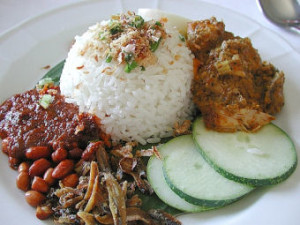 Other than Malay, Chinese and Indian food, there are also some cross cultural influences like Mamak food of Indian-Muslim and Nyonya food of Malay-Chinese mix. For Malay food, the first that come in mind would definitely be the Nasi Lemak. is popular among the locals to eat as breakfast. Basically Nasi Lemak is a spicy dish with coconut rice, cucumber slices, ikan bilis (fried anchovies) and roasted peanuts, boiled egg mix together with curry chicken, beef or squid and wrapped in banana leaf . Some of the famous place to have scrumptious Nasi Lemak would be Nasi Lemak Antarabangsa located at Jalan Chow Kit, Madam Kwan's Restaurant located in major shopping malls like Suria KLCC, Bangsar Shopping Mall, Mid Valley and Village Park Restaurant at Jalan SS21 Meanwhile,Ikan Bakar is another popular Malay dish with the fish marinated in spicy sauce and grilled using charcoal. Normally stingray is used for the dish. Sometimes vegetables like ladies fingers and eggplants are added as well. Visitors can enjoy this dish at Tang Lin Food Court near the KL Bird Park and Butterfly Park and Ikan Bakar Medan located at Jalan Bellamy, just behind the Istana Negara.
Nasi Goreng Pattaya and Satay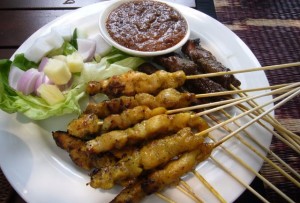 Nasi Goreng Pattaya, is a kind of fried rice wrapped in fried egg and always come served with chili sauce and cucumber. It is a famous food especially when you visit the Mamak stalls in Kuala Lumpur. It can be found in almost all the Mamak stalls and food court of most shopping malls too. One of the good places to taste it is at Santai Restaurant and Café in Taman Tun Dr. Ismail. Whereas Satay, are barbecued beef or chicken pieces in skewers. You will then dip into sweet and spicy peanut sauce when you eat. Onion, cucumber and "Ketupat" (rice cubes wrapped in palm leaves) are served together with satay as well. You can head to Zaini Satay at Ampang Jaya or Satay Station at Kampung Pandan for the scrumptious satay.
Hainanese Chicken Rice and Wantan Mee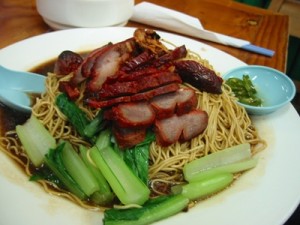 Hainanese Chicken Rice, a Chinese dish where the aromatic butter rice is served together with steamed or roasted chicken. The spicy chili and ginger sauce is a must to compliment the chicken rice. Some of the favorite chicken rice spots are Tim Kee chicken rice shop at Bandar Baru Sri Petaling, Loke Yun Ampang Chicken Rice Restaurant in Pekan Ampang and Nam Heung Restaurant in Mid Valley Megamall. Besides, Wantan Mee is another well-known local cuisine. Basically it is a soup or gravy based noodle served with prawn or pork dumplings and thin slices of roast pork or minced chicken. Visitors may also try the Koon Kee Wan Tan Mee at Jalan Hang Lekir or Hung Kee Wantan Mee at Jalan Loke Yew.
Roti Canai and Tandoori Chicken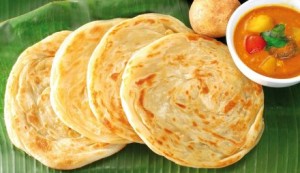 Roti Canai is a pancake like cuisine prepared by the Indians here. A very common food, you can find it easily anywhere. It is delicious and very affordable. It is round shape dough stretched and fried on a griddle then to eat with Dhall or meat Curry that served together. Visitors can taste it whenever you walk into any of the Mamak stalls here. Some of the famous places are Steven's Corner at OUG Jalan Klang Lama, Devi's Corner at Bangsar Baru and Restoran Mosin at Taman Tun Dr. Ismail. On the other hand, Tandoori Chicken are found in the same restaurants mentioned here too. The chicken are marinated with tandoori masala, red chili powder and other spices and then cooked in an earthen oven. It is a little bit spicy and best eat when dip in mint sauce.
Restaurants and Foods Reviews: