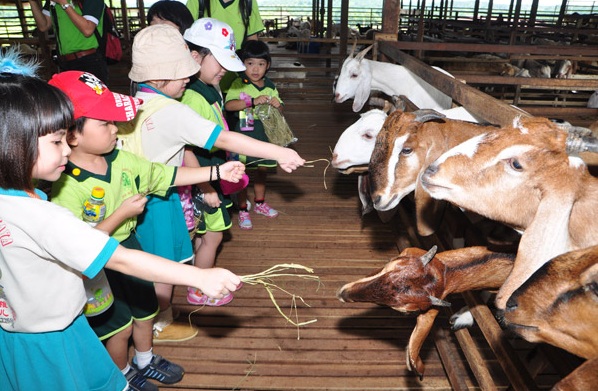 Day 1:
01:30PM – Arrived at UK Agro Resort
02:00PM – Check-in to respective dormitory or chalet
02:30PM – Free on own leisure after check in
03:00PM – Afternoon tea break
03:30PM – Bus Ride Farm Tour
06:30PM – Enjoy sunset
07:00PM – BBQ Dinner/Set Dinner
08:30PM – Flying lantern
09:00PM – Night safari
Day 2:
08:30AM – Breakfast
10:00AM – Archery
11:00AM – Sheep challenge
12:00PM – Check out from resort
12:30PM – Proceed for lunch and bid farewell to UK Farm
1 night accommodation in the selected room type.
1 breakfast, 1 lunch, 1 dinner and 1 tea break.
3 hours guided farm tour to visit feedstock processing factory, sheep pens, baby goat feeding, goat milk processing centre, ostrich park, Jakun village, fruit farm, nursery,  mushroom and vegetable farm.
Animal feeding (goat grass, ostrich corn, goat milk), archery (each pax 1 doz) and flying lantern.
Additional activities other than stated in the include section.
6% GST effective 1st April 2015.
Exact tour itinerary is subject to change based on the weather condition and any other conditions that may affect the itinerary. Final decision is to be made by the tour company.
Guest for dormitory have to bring along with their own shower towel, body soap and hair shampoo.
Dormitory is opened for sharing basis, especially during peak season.
Children age between 3-12 years old are entitled with child rate.
Outside food and pet are not allowed in UK Farm.
BBQ dinner will be served with minimum 10 guests, otherwise set dinner will be served.
Complimentary usage on Karaoke and open stage between 7.30pm to 10.30pm for booking with 20 guests and above.
Peak season rate will be applied for Friday, Saturday and School Holiday (Malaysian and Singapore).
UK01
Tour Price: RM (per person)
2015 UK Farm Agro Resort Package Price
1 April 2014 – 31 March 2015
Dormitory
Single
Twin

Triple

Quad

Child
158
N/A
N/A
N/A
Adult
178
N/A
N/A
N/A
Chalet
Single
Twin

Triple

Quad

Low

Peak

Low

Peak

Low

Peak

Low

Peak

Child
N/A
N/A
210
260
190
220
170
200
Adult
330
440
230
290
210
240
190
220
UK Farm Resort Online Booking: Check Availability and Ask for Best Price
[customcontact form=1]