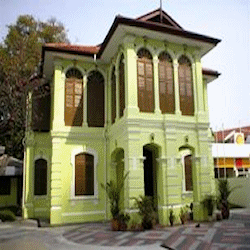 Situated at No. 20 in upper Penang Road is none other than the Residence of Ku Din Ku Meh (Segara Ninda), which is one of the numerous places in Penang Island that has been under the effort of the government to have them restored with the sole purpose of retaining the rich cultural value and historical worth. Used to be owned by Tengku Baharuddin bin Tengku Meh, this residence is now a budget hotel for visitors from around the world!
A little past history about Tengku Baharuddin is that, he was of the Kedah Malay race that administered Setul. Being part of the administration, he even had his writings and administration works preserved at the Thai National Archives in the city of Bangkok. Besides being literate in the Malay language, he was also fluent in Thai, and contributed his effort in modernizing the district's supervision. This man of wonders had further introduced the advancement in various fields such as trade and commerce, education and agriculture. His effort, being widely recognized, soon had him dubbed as 'Raja Setul'. In the later years, he soon settled down with a woman from Penang Island and resided at Jalan Penang, which was also his trading post.
Also known as 'Segara Ninda', the Residence of Ku Din Ku Meh is positioned in the hustle and bustle place of the upper Penang Road in Georgetown. As of today, this residence is managed by the descendents of Ku Din Ku Meh, and the warm hospitality provided by them is enough to have visitors return again for future short stays!
The Residence of Ku Din Ku Meh would allow visitors to experience life in the 19th century seeing that the place was preserved as how it was the last time.
Recommended Area to Stay in Penang:
Batu Ferringhi
Line up of beach front resorts from budget to luxury along Batu Ferringhi Beach.
Georgetown
For those looking for boutique style hotels and countless of cosy backpacker hostels.
Gurney Drive
A series of luxury hotels with fantastic sea view. Eateries and night entertainments are within walking distance.
Bayan Lepas / Airport
For business travelers.