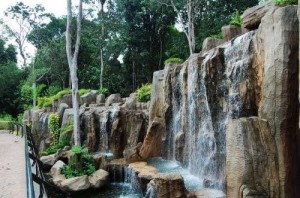 If you are into plants and animals, then head for the Taman Botanikal Melaka (aka Melaka Botanical Garden). Previously known as Hutan Rekreasi Air Keroh, it is approximately 92.5 acres in size. Inspired by the Chief Minister of the state of Melaka in 2006, the park provides a breath of fresh air to city dwellers and tourists alike. You can enjoy a myriad of tiny little gardens, each one specializing in a focused variety of plants in this garden. They are the Yam Garden, the Bamboo Garden, the Orchid Garden, and the Herb Garden. There are also a Pre Historic Garden, where you can find stone models depicting some 15 different species of dinosaurs, and a Story Park where sculptures of animals found in local Malay and international folklore are erected. Some of the characters here include the famous tortoise that challenged a rabbit to race with him, and won the event, thanks to the rabbit's arrogance.
Amidst the garden is a hanging bridge to take you across from one side of a river to the other. Have a go at it before visiting the Malaysian Book Village – which is essentially a kampung (village) house stuffed with books. The Book Village forms part of the government's effort to increase reading interest amongst the people. Here, you can browse through many old and new books, and purchase the ones that take your fancy. Then, proceed to the Melaka Forest Museum nearby for a brief look at what the Malaysian tropical forest has to offer.
The entire garden can be leisurely explored and enjoyed in a few hours, and during the time you will be covering quite a lot of grounds. There are signboards all around so you will not get lost. You might want to try a trekking route and take pleasure in studying the flowers and trees around. Alternatively, try out the Botanical Garden Buggy Ride, where you can drive the buggy for as far as 4 km in about 30 minutes. The garden has more than 14 electrical cars that can carry 5, 6, and 8 passengers. For motorcycle lovers amongst you, rent and ride a motorcycle to cross the grounds. It will prove to be an interesting experience indeed!
Ideal for children and adult tourists who love outdoor activities, you can look for a spot after your expedition, and spread your picnic stuff, after which, you can sit back and enjoy a carefree afternoon basking under the sun.
Recommended Area to Stay in Melaka
Jonker Street
For those looking for culture exploration and food trails. Also known as a backpacker paradise.
Melaka Raya
A gateway to all the city attractions with wide range of accommodation options.