A perfect destination for family vacation and honeymoon, Cameron Highlands has so many things to see and do to offer for its visitors. Located in the state of Pahang and about 3 hours drive from Kuala Lumpur, spending a holiday in Cameron Highlands allow you to enjoy the beautiful scenery set amidst the tropical rainforests while enjoying the cooling climate that hard to find elsewhere.
Enjoy the Scenic View of Tea Plantations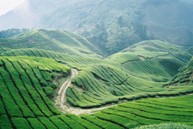 A trip to Cameron Highlands will not be complete without paying a visit to the tea plantations here. Not only to get a chance to taste a cup of tea locally grown in a tropical country, visitors will also get the chance to enjoy the picturesque tea plantations line up across the valley. Thousands of photographers come all the way to Cameron Highlands each year just to catch the best moment on the beautiful scenery here, especially during sunset.
For the Strawberry Lovers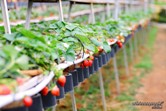 If you are strawberry lover, the strawberry farms in Cameron Highlands will sure to mesmerize you. Visit the farm and pluck the strawberries as much as you like, of course you have to pay during checkout. Don't worry about the price as you will normally get to buy the strawberries at cheaper price as compared to those you found in the hypermarket.
Take a Stroll in the Vegetable & Fruit Farms
Another good place for photographing is the vegetable and fruit farms available on the highland. You will basically find these farms in Tringkap or Kuala Terla where most of the farms allow visitor to step in for a stroll. If you wish to bring back some locally grown fruits or vegetables, these are the best place to fill up your shopping bucket.
Buy Some Flowers for your loved One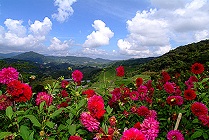 Along the way from Brinchang to Kampung Raja and around Bertam Valley, you will find plenty of flower nurseries and gardens. The flowers that you see from the towns or cities area are mostly supplied from the nurseries and gardens in Cameron Highlands. Generally, some of the most common flowers grown here are carnations, roses, dalia, chrysanthemum, fuschia, geranium and gladioli. You can buy flowers here or any markets around the highland at cheap price.
Getting Up Close with Honey Bees and Butterflies
If getting up close with the floras in Cameron Highlands is not something that you like to experience, then head to the honey bee farms and butterfly farms located around the highland. In the honey bee farms, there is a great diversity of honey products that you can consider to buy back for souvenirs or for your own consumption.