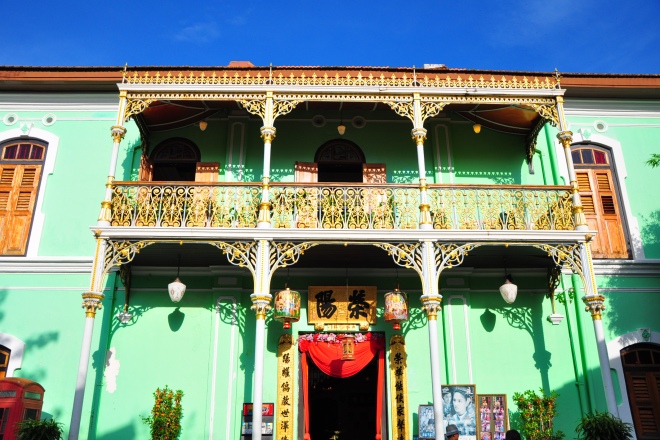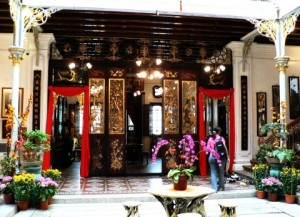 Feel like having a break from the city life just to have a different lifestyle for a day or two? Well, look no further as the next most interesting way of life would be to have a Baba and Nyonya experience at the Pinang Peranakan Mansion! Visitors that reside in this accommodation for a night or so would feel the atmosphere of being in a typical home stay of a Baba and Nyonya and makes it possible for visitors to discover more of their customs and traditions!
The owner of the mansion was a man from China named Chung Kee Quee. His only intention to Penang Island was to earn an income as an immigrant from China, but being deeply influenced by the culture of the Straits Chinese, or in a more familiar term known to most locals, the Peranakan culture, he fell in love with it. Soon after that, he had this mansion built under the influence of the Peranakan culture.
Visitors that stay in this mansion would then realize the English ceramic tiles, the beautiful yet elegantly-carved wooden panels as well as the iron-casted work that has been done in certain areas of the mansion. With all these features, the mansion is indeed a wonder to many.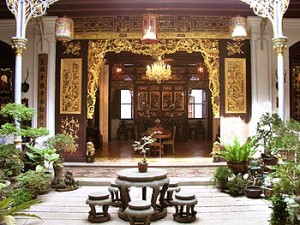 From the interior point of view, visitors would sight numerous artifacts along the antiques as well as collectables when they enter the premise. Walking through, they would be at the waiting lounge, proceed into the western-style dining hall which situates the 'tok panjang', a slang term for the long dining table. Apart from the Peranakan culture, it is seen in this dining area that there are European-inspired tables, hubs and wooden-cased mirrors.
In the Peranakan culture, the kitchen is considered the most important part as it is the heart to the home, and that is why visitors would come to realize that the kitchen, equipped with various utensils, is situated right towards the end of the mansion is larger!
One floor above and visitors would be at the family living hall. Upstairs, they would see bedrooms as well as a traditional bridal room that has a typical Nyonya matrimonial bed. Not only that, there is also a sewing room that has objects from the past, such as antique fascinating brooches, a large vintage standing camera, embroideries and also the infamous beaded shoes!
Like mentioned, visitors would notice that besides the Peranakan culture, they would also realize that the stairs are also European-inspired!
This infamous mansion is open to public every day from 9.30 am to 5 pm; applicable to public holidays too!
Recommended Area to Stay in Penang:
Batu Ferringhi
Line up of beach front resorts from budget to luxury along Batu Ferringhi Beach.
Georgetown
For those looking for boutique style hotels and countless of cosy backpacker hostels.
Gurney Drive
A series of luxury hotels with fantastic sea view. Eateries and night entertainments are within walking distance.
Bayan Lepas / Airport
For business travelers.