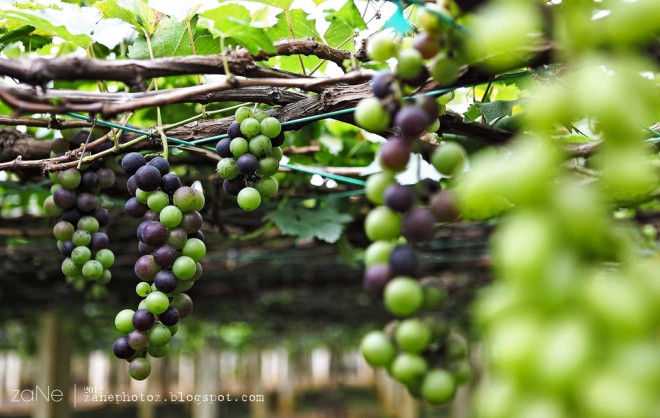 Beris Lake Vineyard is the first grape vineyard in the state of Kedah and is fast growing in prominence due to its commercial success in growing grapes in a nation that is better known for tropical fruits.
The vineyard covers an area of 34 acres planted with about 6000 grapevines and is located just beside the serene Beris Lake. Take a stroll in the vineyard and learn how grapes are planted in Malaysia as well as its dietary benefits. Grape-enthusiast will very likely be able to identify the grape variants available here such as White Malaga, Black Opal and Loose Petite, to name a few. For a fee, visitors are allowed to pick and harvest their own grapes. Otherwise, purchases are available at sale kiosks. Visitors will find that not just raw grapes are on sale, but the vineyard has taken the effort to produce a variety of grape-based products such as soap and lotion as well as jam, cakes and beverages. Visitors tired from strolling the vineyard can rest by lake and enjoy its tranquility.
Beris Lake Vineyard in Kedah is one of the few spots in Malaysia that produces grapes and is definitely worth a visit.
Beris Lake Vineyard is located in the town of Sik in Kedah. It is about 50km away from Gurun Toll Plaza.
The map of Beris Lake Vineyard and the direction to get there is illustrated as below: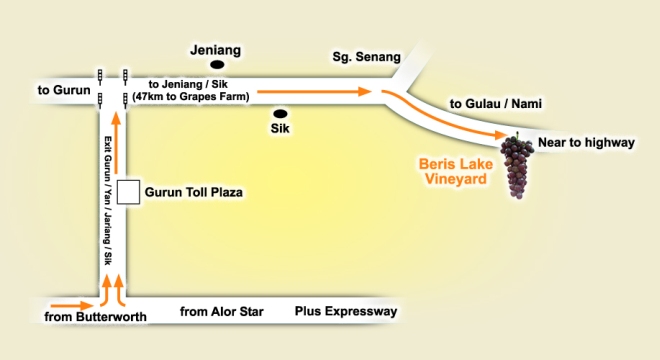 Opening hour and entrance fee:
Beris Lake Vineyard opens daily from 9am to 6.30pm.
Entrance fee (Adult): RM6 (13 years old and above)
Entrance fee (Child): RM3 (7 – 12 years old)
Self harvesting: RM50 per KG
Recommended Area to Stay in Kedah:
Pulau Langkawi
The best island destination for seeking true escape complemented by a range of activities.
Alor Setar
A gateway to all the city attractions with accommodation from budget to mid range available to choose from.