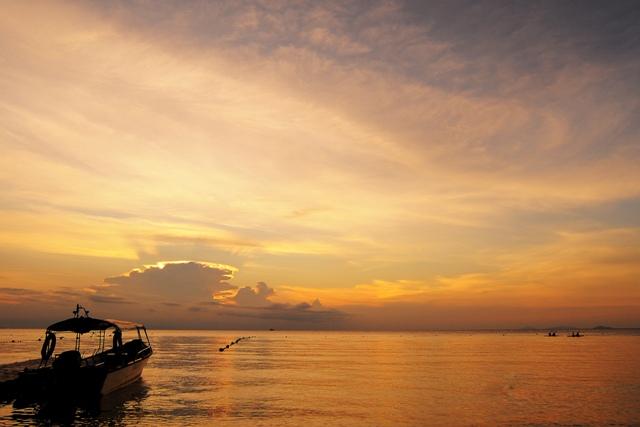 The states along the east coast beckon you to come and visit them and be a part of the beautiful heritage and charm that they offer tourists from around the globe. Terengganu is one such state that gives you the opportunity to relax, have an adventure and enjoy a fun-filled day, all at once!
The island of Bidong is a charming destination that you should visit if you love places that have a story to it. And it certainly does not hurt that the island of Bidong is also a very beautiful island to visit.
This was the island that at one time played home to over 40,000 Vietnamese refugees in a tiny part of its southern tip. The island is forty minutes away by boat ride from the city of Kuala Terengganu and is a beautiful place that promises sun- kissed beaches, sunsets and a beautiful view of the never ending blue and the horizon and beyond.
Island Story
The story of the island is that the Vietnamese refugees known as the Boat People escaped here from the harsh realities of communism in Vietnam. The island also became a refuge for those fleeing the cruel Khmer Rouge regime in Cambodia. Many fled here and occupied the southern region of this island. The refugees definitely settled in quickly in this beautiful island and were helped by the Malaysian government and other non-governmental bodies. Till this day, if you travel around the island, you will discover schools, salons, restaurants and grocery stores still standing although most of the refugees have gone on to new lives and some were repatriated back to their home countries. There are many interesting sites to explore on the island. The island has many buildings like schools,longhouses and temples that were kept standing with the help of locals but still, some lack the proper maintenance and you can see trees growing out of some of these structures here.
Today, the island is no more a home to refugees fleeing harsh realities in their home country. Instead, it is a place tourists come to enjoy themselves, to gateway from the bustling cities and have an escapade in this pristinely beautiful island. The island has a jetty and is a great place to just spend an evening watching the sun set. The view from the coast line is superb and promises first class seats to the most beautiful sunsets you can enjoy with a loved one.