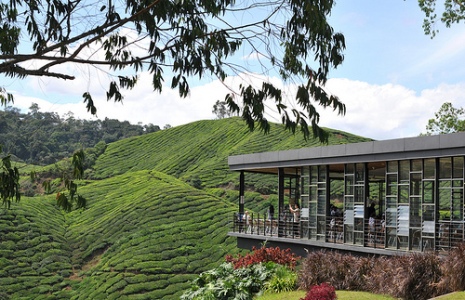 Brinchang is a township located in Cameron Highlands with an altitude of 1450m above sea level. It is the highest and second most touristy town in Cameron Highlands after Tanah Rata. Restaurants, markets and shops selling numerous local produces are fully packed in the town center.
Things to do in Brinchang
The famous Mount Brinchang is perched in the town of Brinchang, the summit is known for its beautiful scenery over the valley, towns and mountains in the range. Not only attracting nature lovers to enjoy this spectacular scenery from the summit, this is also a preferred shooting point for the photographing nerds. If visitors prefer to explore the beautiful nature on foot, there are also several hiking trails available from the town.
There are plenty of tea plantations, vegetable and fruit farms as well as nurseries available in Brinchang with most located at the countryside areas. Most of the farms and nurseries are open for public visit where visitors will get the chance to purchase some locally grown tea leaves, strawberries, cactus and roses. Butterfly Garden is another popular attraction here. Not only to see a great diversity of butterfly species and there are also lizards, rabbits, snakes and numerous types of insect species on display.
To explore the history and cultural backgrounds of the town, the Time Tunnel Museum and Sam Poh Temple are both worth for a visit. For golf lover, there is one, the only one golf course located near to Brinchang, this 18 holes course is a good place for a swing if you are to try out highland golfing in a tropical country.
Where to stay in Brinchang
As this is a touristy town, there is no short of option on where to stay in Brinchang. Ranging from budget hotels to mid range resorts and hotels can be found here. If you are visiting Cameron Highlands with family or in group, the apartment rental is a good place to stay in. Not only equipped with most of the facilities and amenities you will need for a comfortable stay, most importantly each of the family members will also get the chance to stay together which can definitely be a good bonding session for the family.
If you are planning for a vacation in Cameron Highlands in the near future, it is advised to reserve the room well in advanced as most of the towns (especially Brinchang and Tanah Rata) will be fully packed with local and overseas visitors. To enjoy a hassle free vacation, visitors can also sign up for the tour package available as most of the tour includes transportation and accommodation arrangement.