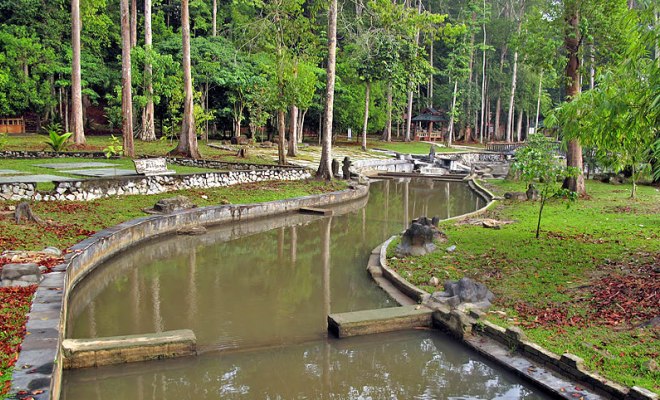 Bukit Panchor Recreational Forest is located within a designated state park. Initially established in 1963, it provides for outdoor recreational activities as well as to promote public's appreciation for forests and ecotourism.
Visitors can find ample space to camp at its designated 8 hectares camping ground that comes complete with basic amenities such as restrooms, barbeque pits even water and electricity supply. There is also a canteen for the convenience of visitors to obtain food and beverages. Being less prominent compared to the recreational forest of Bukit Mertajam means less crowd, more privacy and better enjoyment of the quiet, peaceful surrounding. Located within the forest are several caves opened to visitors, among more famous ones being Kelawar Cave and Tongkat Cave. With the guide of a forest range, visitors can take a 90-minute hike to the caves and be enthralled by a menagerie of fauna along the way.  Visitors can also visit Taman Wetlands, a mangrove forest. A guided tour of the mangrove forest is provided to impart knowledge on the ecology, importance and the variety of flora and fauna of the forest. Picnics can be set up along cooling streams that are perfect for dips.
Bukit Panchor Recreational Forest is one of the few places of interest that brings visitors closer to nature with the highly developed state of Penang.
Bukit Panchor Recreational Forest is located about 10 kilometres from Nibong Tebal, or about 40 kilometres from Bukit Mertajam.
Opening hour and entrance fee:
Bukit Panchor Recreational Forest opens daily from 7am to 7pm and entry is free.