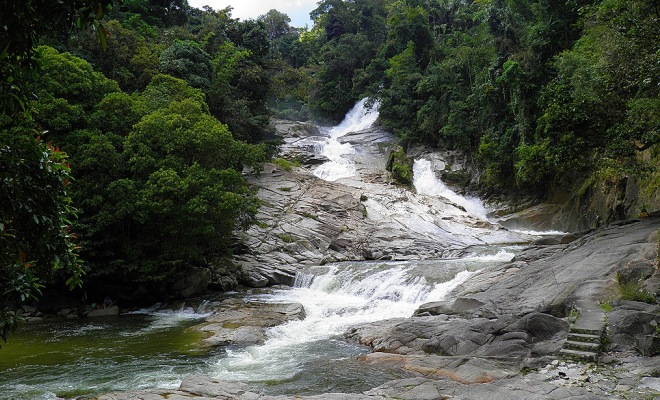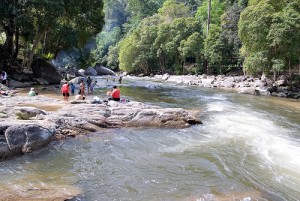 Malaysia is one of the best countries for individuals who love observing beautiful landscapes. Besides of having firm mountains and hills, Malaysia also possesses beautiful seas and beaches that will serve as one of the best eye candies for a nature lover like you. Of course, there are many more precious treasures hidden in Malaysia besides of the seas and the mountains, and one of these treasures that you should not miss is the Chamang Waterfall located in Pahang.
Besides of having the opportunity to view the beauty of the waterfall with your own eyes, you can also grab this chance to further your stamina training. In order to reach the Chamang Waterfall, you would need to trek up the jungle beforehand to finally be able to reach one of the best waterfalls in Malaysia. The Chamang Waterfall is definitely a remarkable visual wonder for many, with its ferocious water gushing down from the top of the hill and the pouring water rushing down towards the stream. It is definitely one good chance for you to capture amazing pictures of your Malaysia trip in order to be kept as a remembrance.
The top stream of the Chamang Waterfall may be too dangerous for one to swim there due to the brutal and fast-moving water; however, you may dip in the pool beneath the lower stream, which the water is more peaceful and calm. Bringing your family and friends together here will contribute to more meaningful bonding sessions and of course, all of you will also get to enjoy the beauty of the Mother Nature in the same time.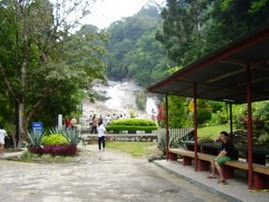 In order to provide more convenience for the visitors of the Chamang Waterfall, facilities such as restrooms and changing rooms are provided. Thus, you would not need to worry that you might be disturbed by unwanted hindrance when you are enjoying the beautiful view of the Chamang Waterfall. Besides, you can also take this chance to enjoy an affordable session of picnicking with your friends and your love ones. Here, you will definitely benefit from hearing the sounds of water hitting the rocks, the chirping of birds from the surroundings of the Chamang Waterfall, and in the same time, enjoying the delicious food you had prepared for your picnic session here in Chamang Waterfall. If you feel tired after the entire jungle trekking up to the Chamang Waterfall, you can even dip yourself in the cool water of the waterfall to refresh yourself and prepare yourself for the next few trips to come.