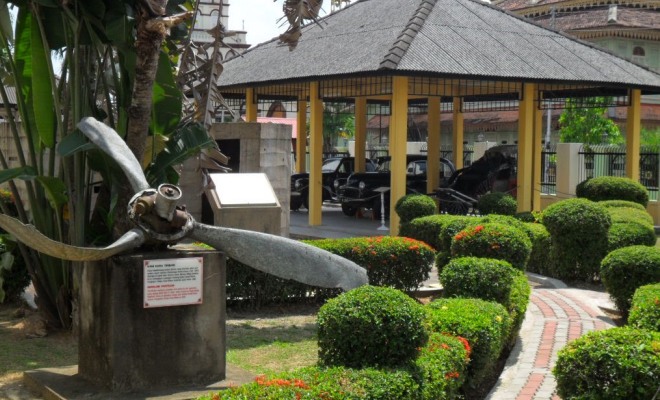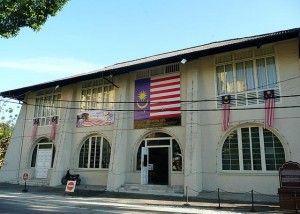 The Kelantan War Museum is also known as 'Bank Kerapu'. Built in 1912 by the Mercantile Bank of India, it was not only the first bank that opened its doors in Kelantan, but also the oldest brick building in the state. With that said, prior to this time, all buildings in Kelantan were made of wood.
You might wonder why is it called 'Bank Kerapu', and what is 'kerapu' by the way? Well, in Kelantanese dialect, kerapu denotes a condition that is not smooth. The surface of the building is cemented using small stones, resulting in a rough and uneven exterior, hence the term 'kerapu' became the adjective used to refer to the building.
The museum stands on a piece of land that belonged to a big name in the olden royal court – that of Nik Yusoff bin Nik Abdul Majid, or more famously known as Pak Nik Soh Pak Nik Ad. Nik served during the time of two sultans, namely Sultan Ahmad (1886-1889) and Sultan Muhammad III (1889-1890). For his loyal service, he was given the title 'Dato' Sri Paduka'. In later years (1894-1900), Nik became the chief Minister of Kelantan.
During World War 2, the building served as a base for the Japanese secret police force (known as 'kempitai'). In this place, all kinds of war-related horror stories took place – for instance, locking up, interrogation, and torture were carried out. It was not until the Japanese lost the war that the building was taken back (following the return of British forces on Kelantan soil) and turned into its original function – that of a bank, specifically, the Hong Kong & Shanghai Bank.
In 1981, the Hong Kong & Shanghai Banking Corporation ceased the use of the building, which then changed its purpose again – this time as an art and craft gallery. In 1992, it started yet another chapter of its life – as a war memorial, particularly focusing on World War II. Documentations of Japanese troops' landing in Kelantan (which started at Pantai Sabak, Pengkalan Chepa on 8th December 1941, of which the same year marked the beginning of the Pacific War) can be found, together with more than one thousand related materials and artifacts.
The history of the tumultuous Kelantan-Thai relationship is also documented, alongside records of the lives of British nationals in Kelantan before and after the war. An old bicycle once used by a Japanese soldier greets visitors of the museum.