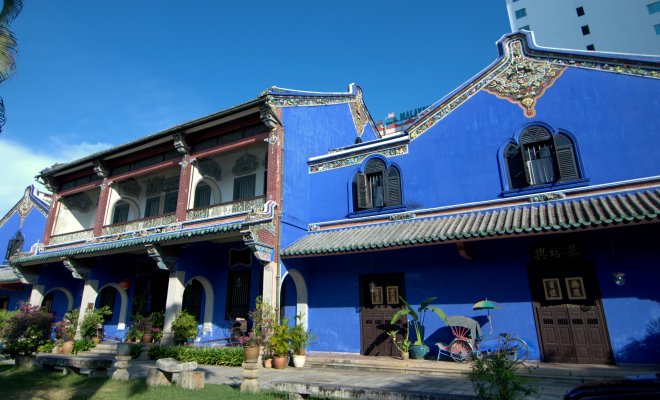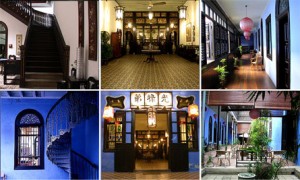 Better known as the "Blue Mansion" for its striking, lime-washed Indigo walls, Cheong Fatt Tze Mansion is an unmissable stop on anyone's trip to Penang. Constructed in the late nineteenth century, the mansion takes the name of a well known Chinese tycoon who maintained a number of abodes in various countries throughout South East Asia. The Blue Mansion is certainly his most elaborate and famous creation.
Laid out in the traditions of Southern Chinese stately homes, the Blue Mansion proudly embraces Western artisanship and Eastern design in the very same building. Scottish cast-iron staircases sit in harmony with lavish Chinese gables while English Art Nouveau stained glass matches perfectly with Chinese calligraphy that adorns the walls.
Conveniently located on Leith Street in the middle of Georgetown, Cheong Fatt Tze Mansion allows guests a peek into an Old World Straits charm while being conveniently situated to enjoy all that Penang has to offer. 16 bedrooms are each individually designed in specific themes and given names like Peony, Batavia and Chang Yu – alluding to a romantic past.
The rooms are centered on five airy courtyards that form the focal point of the buildings, ideal for relaxing in the splendor of an ancient Chinese charm and where guests can enjoy a lavish breakfast every morning.
Granted the prestigious UNESCO "Most Excellent" Heritage Conservation Award in 2000, Cheong Fatt Tze Mansion is a must visit tourist spot even for those that do not stay. There are tours organized daily where knowledgeable guides will regale you with tales of the mansion's past and impress you with the painstakingly detailed restoration process that has brought back all of the Blue Mansion's former glories.
Whether it is for the unique history and architecture or exotic mix of Far East charm, Cheong Fatt Tze Mansion will leave an unforgettable impression for your tour in Penang.