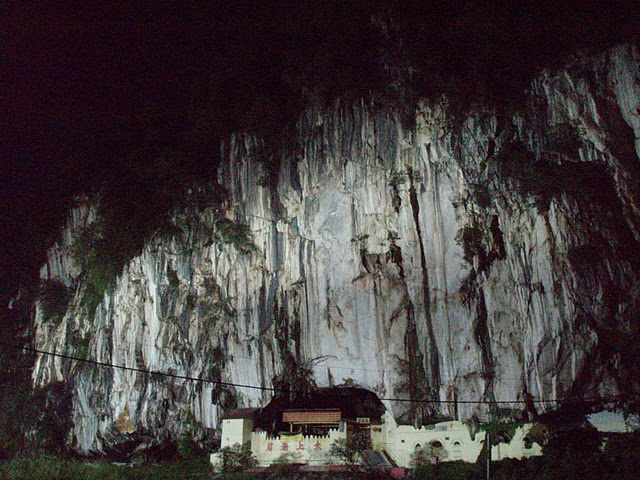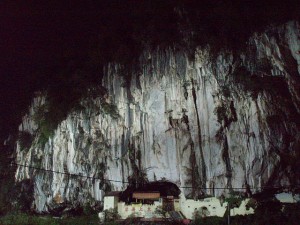 Surrounded by large limestone hills, Cheroh cave holds its specialty. Cheroh cave is located in Ipoh near Kinta Rivers. Your visit to Perak will not be complete if you do not visit this limestone cave. The famous Hindhu temple that was built in this cave is Sri Subramaniar Temple, which has its own history and is very popular to Perak people. No wonder this place is a major attraction for the state of Perak.
Cheroh cave is made of limestone. If you like to learn about limestone, this is the best place. You also would recognize the beauty of the limestone. In this Cheroh cave, the limestone forms a lot of various unique patterns. This makes the cave monopolized by a few religions because they are so amazed at god creation in the cave. History of the caves has occurred since the British colonize Malaysia and bringing in Chinese miners and Indian for rubber plantation.
Every night, the cave will be illuminated by the lights installed by the temple guardians. This facilitates your visit to explore the cave. In fact, this cave looks more beautiful because you will be able to see more clearly, especially for professional climbers who prefer to climb at night because of cold weather. The cave is also easily seen from a distance because it is very beautiful at night due to the lighting.
The most fun activities to do here is rock climbing. The limestone eroded because of rain made this place only has three adventures routes climbing. If you like to join this extreme sport, climbing here is very challenging. You're lucky to participate in this activity because you can see the beauty of Ipoh city that still retains its natural environment and could see the overall beauty of the cave.
Deepavali and Thaipussam festival arrival will brighten the atmosphere in the Cheroh cave. These festivals are very lively and you will be at a loss if you can't see it. There are a lot of shows and fireworks display. This is your opportunity to recognize the religious Hindhu culture in Malaysia. That's why Cheroh cave became so famous when the festivals come.
If you are going to Cheroh Cave by car, you just have to go straight to the north at Jalan Raja Musa Aziz until you spot the limestone cliff on your left. You also can go there with public transportation. Buses are available at the Internal Bus Terminal to Cheroh Cave. You can get taxis at the City Center.
Recommended Area to Stay in Perak:
Pulau Pangkor
The perfect place for seeking true island escape, with just a short ferry ride from Lumut.
Ipoh City
A gateway to all the city attractions with diversified of accommodation options available to choose from.
Taiping
A heritage town rich in tin mining history and serene atmosphere.