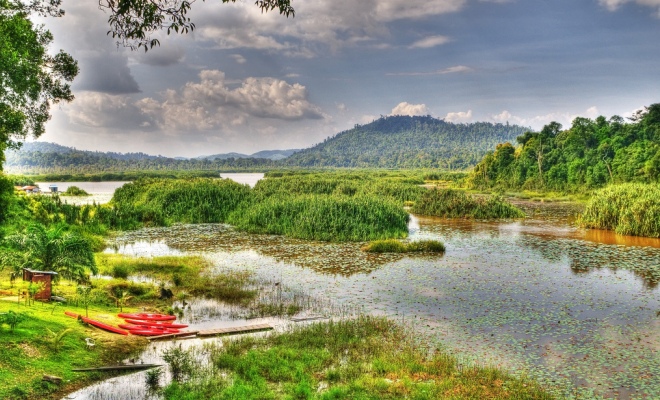 Pahang is the largest state in the Malaysian Peninsular. Most of the land here remains undeveloped; making it a nature lover's paradise and an amazing destination to have a great adventure as you explore the best of nature.
Chini Lake (aka Tasik Chini) is a beautiful freshwater lake located in Pahang. Chini Lake has come under the attention of nature protectors who demand that more be done to preserve the beauty and the ecosystem around the lake for future generations. If you visit Chini Lake, the beauty of this lake still remains but locals will say that its beauty has significantly diminished thanks to illegal loggers and palm oil plantations. The water of the lake used to be so clear; as far as myths and legends surrounding lake go. The local Orang Asli used to drink water from this lake but sadly, pollution has made this quite impossible today. If you are in Pahang stop by and take a good look at Chini Lake and hope that its beauty will be conserved and preserved for as long as possible.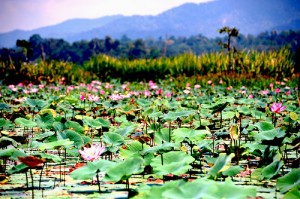 The lake is a little far off and getting there is an adventure by itself. However, if you choose to spend the night here, the best option would be the Chini Lake Resort not far off from the lake. There is also the Kijang Mas Gumum Chalet which are more of home-stay than resort; a great opportunity to meet the friendly locals and see how they carry out their lives so close to the beautiful Chini Lake. Some of the locals who take part in the home-stay program also offer tours around the Chini Lake and this is the best way to gain a much better insight into the history, legends and tales of this beautiful lake.
The best time to start your day at the lake would definitely be early in the morning when the flora and fauna are just waking up and waiting for the sun to rise. The view here is spectacular and you can hear birds calling out to each other; almost as if to wake each other up. This is the lake that has sparked some archaeological interests due to some aerial photographs taken that show unique formations at the bottom of the lake. August and late September is the prime time to visit the lake.