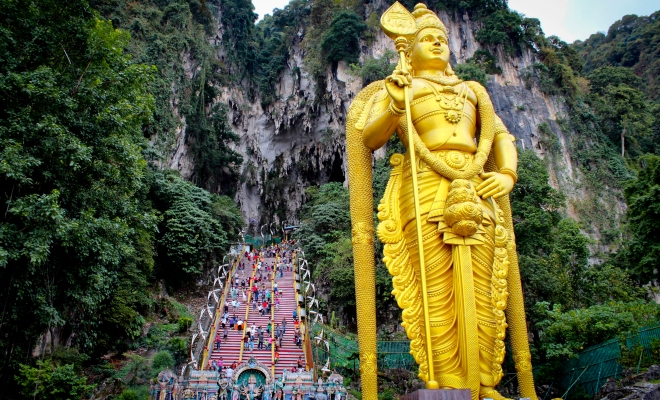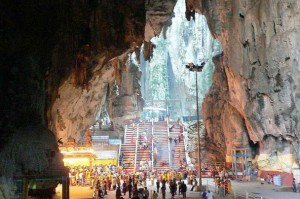 Identified to be a limestone hill in Kuala Lumpur, Batu Caves would sound familiar to most living in that city. Located specifically in the district of Gombak, this cave is especially well-known as a sacred place during the time of the Hindu celebration, none other than Thaipusam!
Discovered in the year of 1892, three main caves are discovered alongside a few smaller ones; each with varying lengths. Visitors can easily reach towards this destination via specific bus lines or taxi, so there is no problem getting there.
Once visitors are at the grounds of Batu Caves, the first distinctive feature they would spot would be the large statue of Lord Murugan, a Hindu shrine that is as large as 140 feet! It is also dubbed the tallest Lord Murugan statue in the world. At the main square, tourists would be able to sight a lot of Indian vendors selling miscellaneous items, from souvenirs to praying items to tit bits and drinks. Besides seeing vendors around, one other thing would not fail to surprise them; monkeys! There will be a lot of monkeys roaming around the area in hope of getting some food like bananas, peanuts or even crisps from tourists. Most visitors are warned when feeding them, so feed at your own risk!
Now, to reach to Batu Caves, visitors would have to climb a number of steps. Specifically, visitors would have to climb 272 small steps in order to reach the sacred place! In the cave, visitors would be able to view other Hindu gods. Besides visiting the Batu Caves, there are also the Dark Cave and the Art Gallery Cave that is open to visitors.
Besides monkeys to watch out for, occasionally there are fruit bats and a unique species of spiders that may catch the attention of visitors that are attentive enough to look out for such creatures.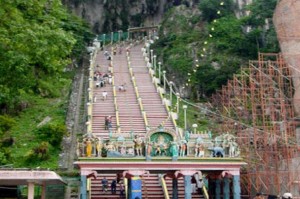 During the festival of Thaipusam, Hindus from around the world would gather at this very spot as a pilgrimage site and there will be a procession that begins in the early morning! It is a nice sight to see as devotees perform numerous tasks such as carry kavadis, which means burden, and is portrayed as a large structured item combined with hooks and skewers that are pierced through the skin!
Besides Batu Caves being a religious site, it is also a spot for rock climbing, and has been such for the past 10 years or so! There are more than 160 routes and is easily accessible, which makes it one of the most popular climbing sites!
Now, does this not make Batu Caves an attractive tourist place to visit?
Recommended Area to Stay in Selangor
Sunway
Gateway to theme park, shopping malls, entertainments and eateries.
Bandar Utama/Kota Damansara
From budget inns to mid range and luxury hotel, perfect for shoppers and leisure travelers.
Batu Caves
Range of budget hotels and provide easy access to Batu Caves, Bukit Tinggi and Genting Highlands.
Sepang / KLIA Airport
Perfect for visitors on transit.