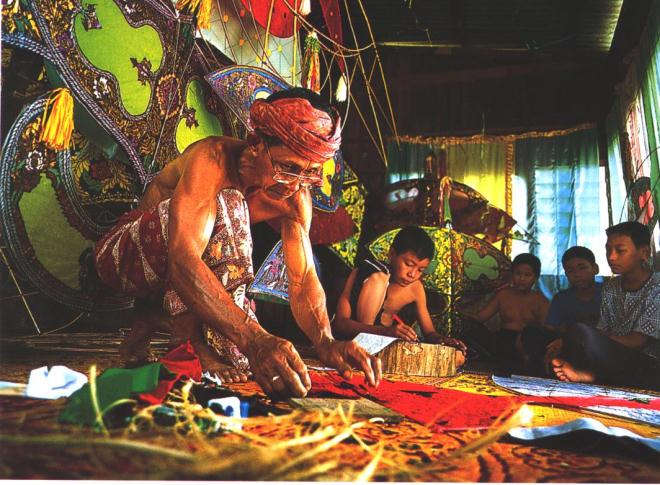 Wau making scene in one of the local village in Kelantan (credit: Muhamad Taufik)
As a state with rich history of culture and arts, it is not surprising that Kelantan has a thriving cottage industry. Therefore, Kelantan is often dubbed as "The Home of the Cottage Industries", producing many beautiful works of practical and ornamental art such as batik and songket cloths, silvercraft and Wau, which is a big kite. There are many small-scale factories in Kelantan where visitors can learn more about these crafts and possible make purchases as souvenirs.
Silver crafting is a traditional art in Kelantan since the ancient times. The shiny metal is skillfully moulded into specific design before carefully marked with patterns on the surface to produce unique markings. Visitors can head to Kampung Sireh, Kampung Badang or Kampung Marak to visit silvercraft factory to see how the art is made.
Songket, known as the "cloth of gold" in Malaysia, is used to be adorned by only royalty. At a factory at Kampung Penambang, visitors will get to learn how the cloth is woven with threads into intricate designs through laborious processes.
Head on to Kampung Puteh, Kubor Kuda or Kampung Badang to visit batik printing factory and learn how the exquisite cloth in beautiful patterns are made. Visitors will learn the various methods of batik printing, from the traditional ones to the more modern processes.
Visitors will find there are many small shops producing hand-made Wau along the road towards Cahaya Bulan Beach. Dropping by one of them, visitors will learn how Wau making is done, starting from the rattan-made skeleton to the body and the intricate design on the body. Visitors will find that there are many types of wau, but the most famous will be the Wau Bulan.
 There are many other cottage industries within Kelantan that can be toured via a tour operator. These beautiful but dying breed of art is definitely a bold statement of culture of Kelantan.