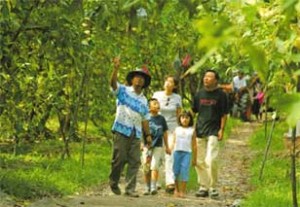 Located on a 100ha of land in Johor, Desaru Fruit Farm provides visitors an exciting learning opportunity about the diversity of tropical fruits in Malaysia. Packed with more than 100 varieties of tropical fruits and plant species, a petting zoo, koi fish pond and numerous attractions, a visit to Desaru Fruit Farm promises a fascinating getaway.
Desaru Fruit Farm is a popular tourist attraction that offers tour packages for visitors. During the tour, visitors will get the chance to learn how to select quality fruits and try out the many local fruits available in the fruit farm. Of course, fruit shopping is a must, and Desaru Fruit Farm offers a wide range of fresh fruits for visitors to take home.
Desaru Fruit Farm is perfect for a half-day tour, and many tour packages can be found to suit different needs and preferences. Whether you are looking for a weekend getaway or wish to spend more quality time with your family, Desaru Fruit Farm will ensure to offer a great experience for everyone. So if you're looking for a unique and educational experience, be sure to add Desaru Fruit Farm to your itinerary.
Click on the link below to find out the package details.
---
Whatsapp us to get more details!
Please WhatsApp us by clicking the WhatsApp Button.
We are reachable by call too:
+6016-3796385
+6010-2396385
+6010-2216385
You may also fill up the Inquiry Form below: