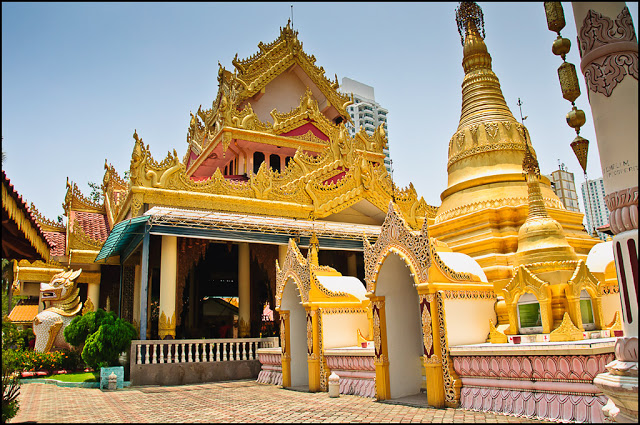 The Dharmikarama Burmese Temple is the earliest Burmese temple in Malaysia. Built way back in 1803, the temple was originally called Nandy Moloh Burmese Temple.
The main draw for tourists and Buddhist devotees to this temple is the unique temple structure. It follows Burmese Buddhist designs that are more elaborate and grand, equipped with intricate designs on the roof, various chandis and stupas.  Photography is highly recommended here to capture the splendid structures. A corridor, called The Grand Corridor, connects the main entrance to main hall. Walking through this passage, visitors will see that ever pillar that supports the corridor structure is also dotted with Burmese-styled carvings. The passage will bring visitors to the most important part of the temple, the main hall, in which a tall statue of Buddha is placed.
Other beautifully designed structures and statues include two chinthes, which is a Buddhist mythical creature that guards the entrance of the main prayer hall, an old pond that houses carp fishes, a bell pavilion and several golden chandis that houses Buddha statues. Visitors will be awed by a new addition to the temple, the Golden Pagoda Bell Tower. From afar, the tower shines in its glorious golden colour from the base to the top of the stupa. Visitors entering the tower will find replicas of ancient Buddhist shrines from 22 different countries, all paying homage to the religion. The 3-storey high tower will bring visitors through various Buddhist artifacts and relics as well as different images of Buddha.
Visitors looking for the structural grandeur, spiritual peace and cultural enlightenment should not miss a trip to the Dharmikarama Burmese Temple in Penang.
Dharmikarama Burmese Temple is located along Burma Lane, the road that connects Kelawei Road and Burma Road. A taxi journey from the town centre takes just 10 minutes.
Opening hour and entrance fee:
Dharmikarama Burmese Temple is opened daily from 5am to 6pm and entry is free.